How to find prospects online: the complete guide
Posted on: January 6, 2021
Reading Time: 15 minutes
Category: Prospecting
`
How to find prospects online: The complete guide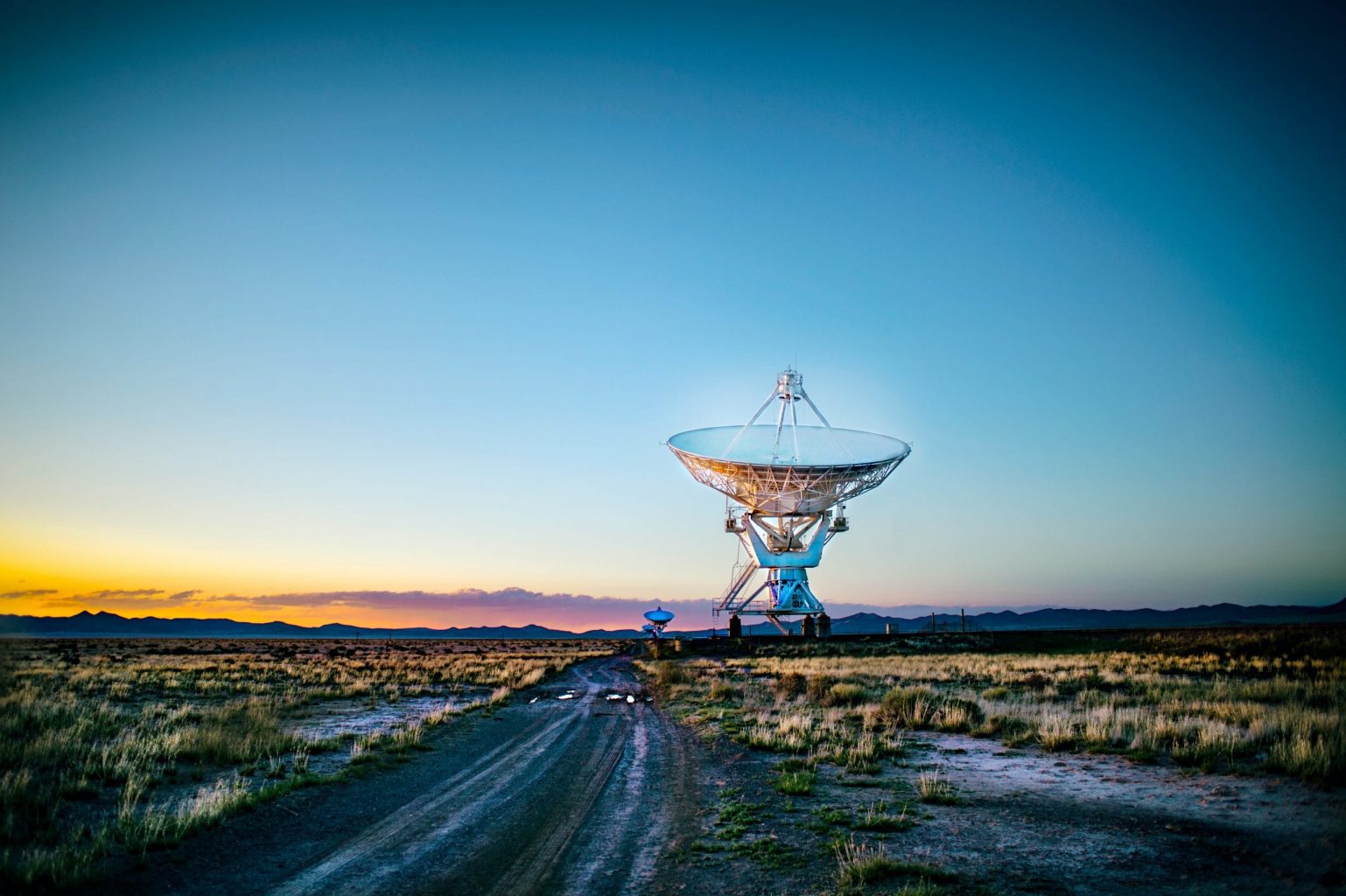 Using multiple channels to find prospects online diversifies your lead sources, increases the number of leads, and ultimately drives more revenue. Despite this, sales prospecting is rarely given the same status as closing a deal.
It's like a football player who takes all the credit for scoring the goals, while his teammate is creating all the opportunities and being ignored by the fans.
While prospecting might be harder and less glamorous than the pitch, the proposal, or the close, we're still big fans.
Finding prospects is as vital as any other part of the sales journey, but it can be a challenge. 42% of sales agents state prospecting is the most challenging stage of the sales process. 71% say that less than half of their initial prospects are a good fit.
Knowing where to find prospects and being sure they fit your target market are both major hurdles. But we do know they are out there, and they are looking: 89% of B2B buyers conduct research online before making purchases. 72% of B2B buyers research potential solutions using social media. 71% start their research with a generic search, rather than a brand-specific one, meaning they are very open to who provides the solution. 
All of this means that there is huge potential for finding prospects online, whether you keep the search in-house or look to bring in a lead generation company.
Prospecting preparation
This article outlines how and where to find prospects online, but before you get to this stage there is plenty of preparatory work that is vital to succeeding.
You should properly identify your target audience, build buyer personas, segment your market, and know your USPs for every product or service that you provide.
These stages are not just 'nice to have' marketing theory. They represent aspects at the very heart of marketing; understanding who you are targeting, how you can help them, and why your solution does that better than anyone else.
If you've done all of that and there still aren't enough leads to satisfy your sales team, the solution is simple. 
You need to work smarter, not harder. What you need are some true, tried and tested tactics to finding prospects online for your business.
So, let's talk tactics.
How to find prospects online using email
Email is regularly cited by marketers as the top driver of leads and revenue. With such a strong return on investment, it's the first channel we'll look at.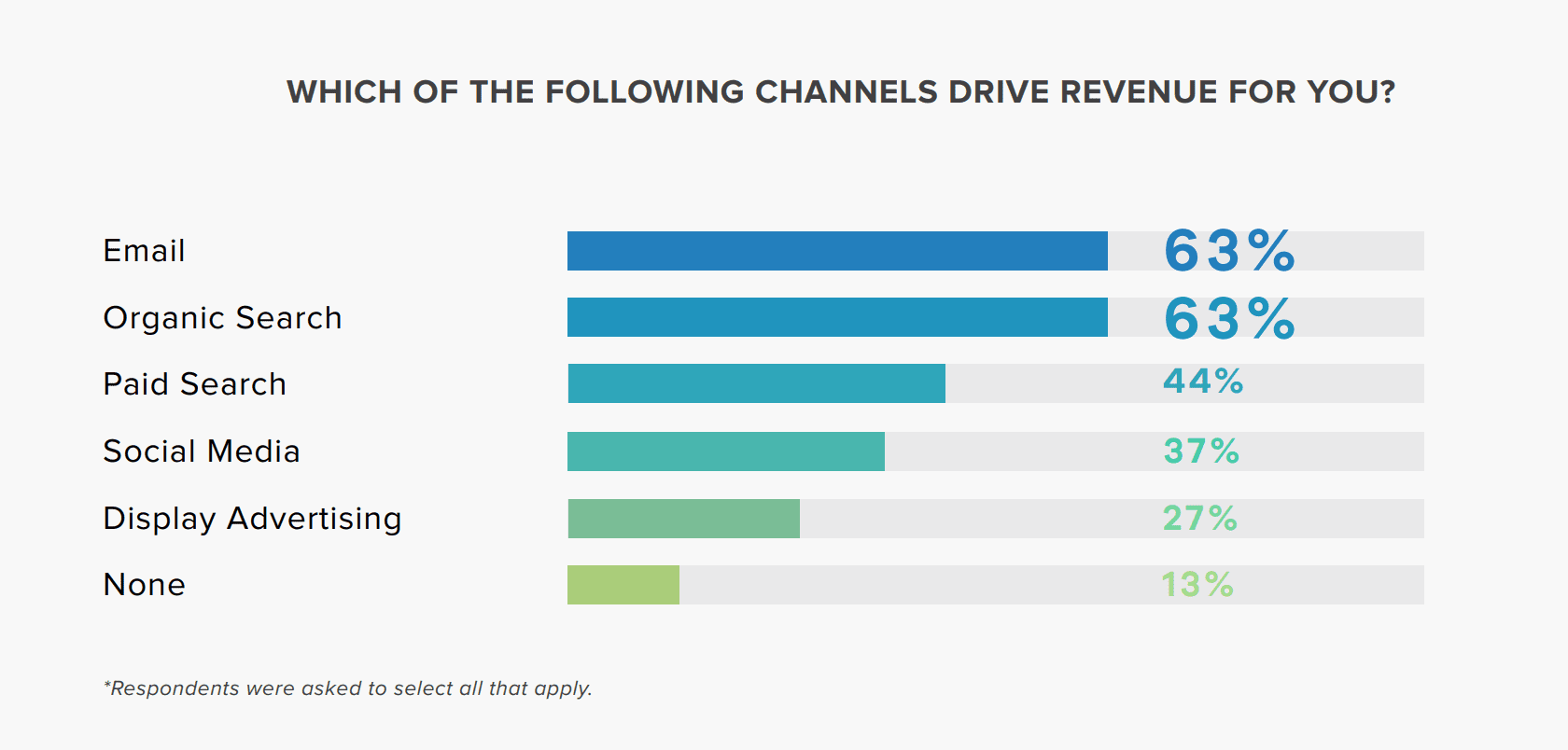 Prospecting
Email prospecting is newer than some of the other marketing channels we'll cover, but it has quickly matured into a vital channel for many.
Done right, prospecting is a mix of direct outbound selling and softer inbound methods. It uses targeted research to deliver a sales message to people who would already be looking for a solution. 
Prospecting starts by mapping your total addressable market. Then you research these ideal customers on social media and verify their email addresses, before sending a short message to introduce your solution to their problem.
Researched, personalised and one to one messaging gives the impression of a natural introduction, not a cold approach. The aim of the email is to schedule a call or meeting to discuss your proposition further. Sales teams pick up leads and naturally build them into their pipeline.
Mapping the market of ideal customers at the start ensures campaigns only focus on target markets. This more direct approach covers the B2B buyers who want providers to find them, but it doesn't exclude others.
For those that want to do their own research, a prospecting email may be the nudge they need to look into your company, so it can help grow brand awareness among the right demographics too.
As inbound marketing has risen in popularity, traditional outbound methods have fallen by the wayside. But modern prospecting is a far cry from cold calling a bought list. This is a highly targeted direct approach, using clever tech and personalised messaging. Read our guide for a full rundown on how to build a targeted sales prospecting list.
We advocate a mix of marketing channels, but prospecting is different from many others. A lead gained from other channels may simply be an enquiry that needs nurturing. 
Any prospecting responses are highly qualified leads that can flow directly into your pipeline. Sales professionals can then naturally pick them up and work their magic.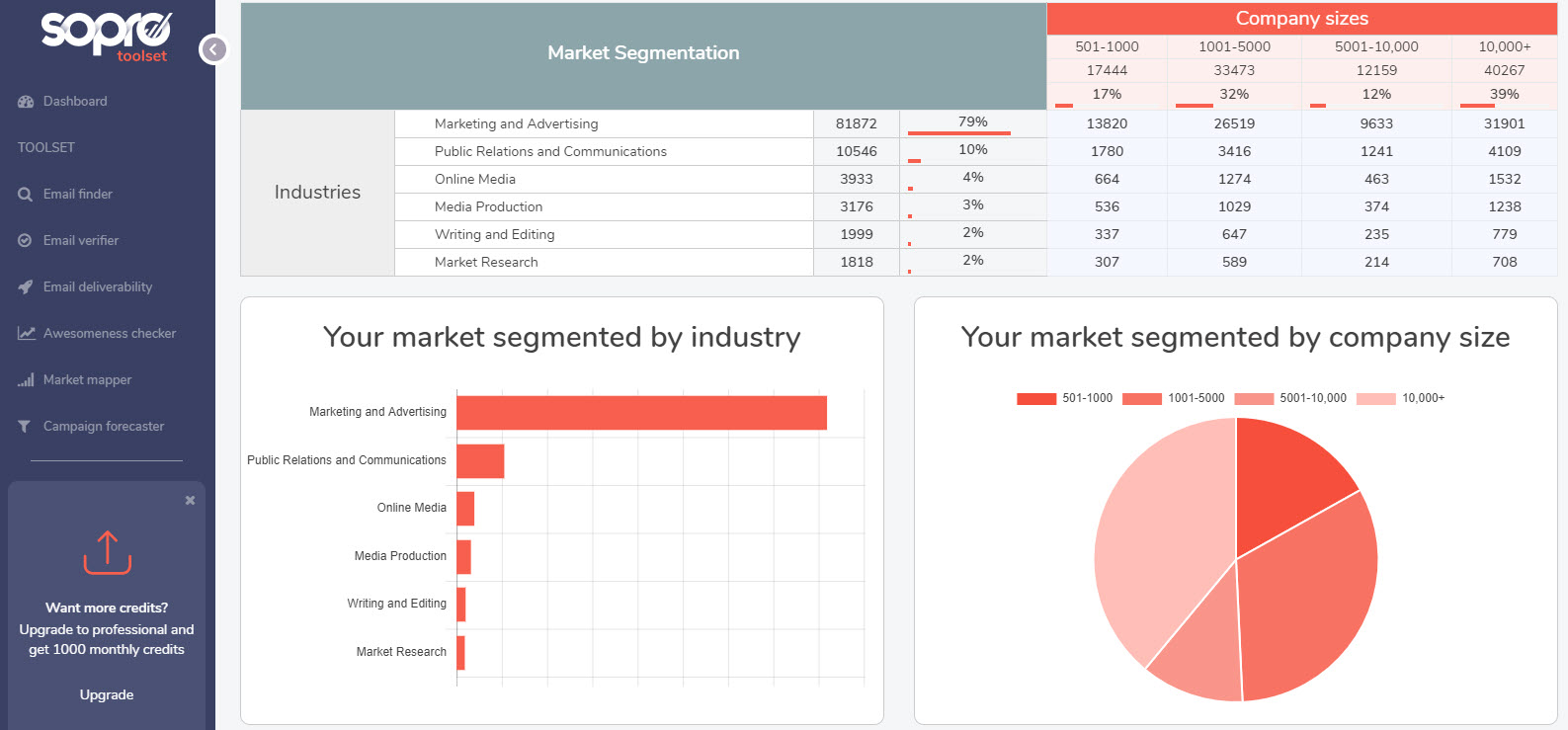 Email marketing
This leads us to an important point regarding email marketing. Not all of your inbound leads are going to be sales-ready. But just because they aren't ready now, doesn't mean that they won't ever buy.
This is the value of traditional email marketing. It delivers revenue by nurturing existing leads rather than driving initial demand.
When finding prospects online, whatever channel you are using, keep in mind that conversions often take multiple touchpoints. A user is unlikely to purchase on the first contact with your brand, but if you capture their email address you can keep them engaged.
Email marketing allows you to amplify your content marketing efforts, share deals and promotions, publish newsletters, promote events and other marketing activities.
All of these efforts allow you to keep nurturing leads, so your business is at the forefront of your target's mind whenever they are ready to buy.
As with a lot of the channels, we'll focus on, segmenting your email database is another step to delivering targeted marketing that increases conversion rates.
Sell more. Book a demo today.
Finding prospects online with social media
Social media is another channel that can be great for lead nurturing. Used well, it can also be a great tool for selling, particularly in the B2B world.
You can find a complete guide here but we've included some clever, cheaper ways to find prospects on social below.
Linkedin campaigns – looking beyond job titles
LinkedIn is undoubtedly a prime channel for targeting B2B sales prospects – it has the reach, ease and effectiveness that make it ideal. Unfortunately, its prime position commands a premium price for advertising.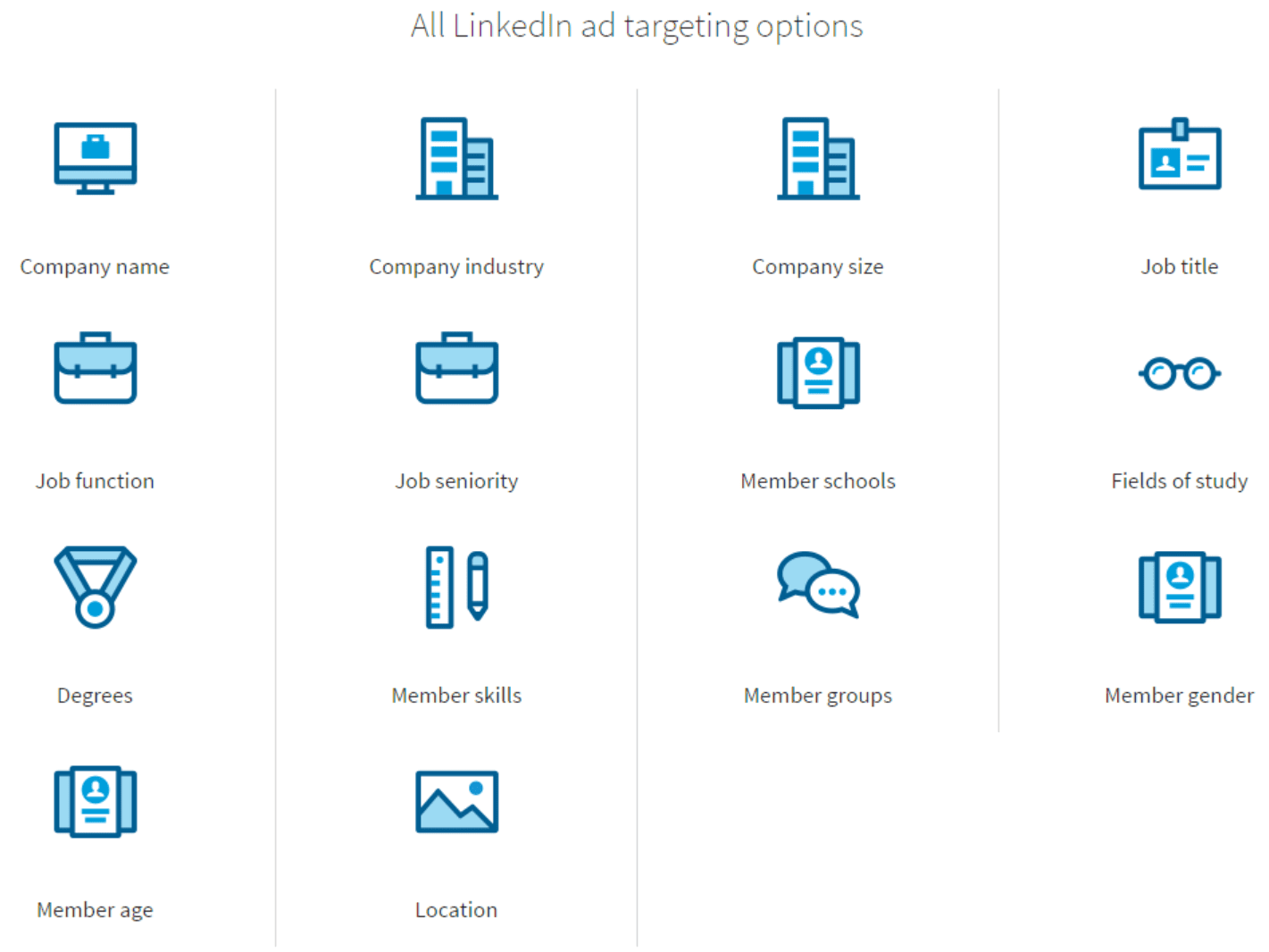 LinkedIn offers many ways to define your ad targeting options. However, most people rely on Job Titles and often use that as their only targeting option.
Job Titles have the highest cost per click (CPC) on the entire platform. You can dilute this by including other targeting options to reach your target market. However, make your audience size too small and those high CPCs will kick in once more.
If you are going to send connection requests to Linkedin prospects as part of your lead gen efforts, you'll want to make sure you've  spruced up your profile first.
Lookalike campaigns
Another tactic to keep costs manageable is to blend together the high cost of those you know are the perfect fit with the lower cost of those not quite so ideal. This helps spread the costs.
You can then use retargeting lists (created using UTM parameters) to get in front of the same audience on cheaper channels, such as PPC and display. Here's a guide to creating and build remarketing lists on LinkedIn for other channels.
Don't forget to exclude those who have clicked your ad from future LinkedIn campaigns – or you'll be paying to target them across two channels.
Social media groups
Social media groups can be a great way to find prospects online, but while you save money, you do have to put in more effort.
According to Sales Hacker, top sellers spend at least six hours a week on LinkedIn. We can only assume they're finding lots of leads there.
And here is one tactic that offers a shortcut to success.
First, you need to find a relevant group (Members Only groups tend to be higher quality)
Make sure it has lots of members
Check the group is active with lots of regular posts and good levels of interaction
Look a little closer – the sort of ratio you are looking for is 80% industry discussion and 20% soft-promotional posts – because you're here to join discussions not sell, sell, sell!
Start participating in discussions, like other people's posts and share their content. The more activity, the better.
Post interesting articles, thoughts, hints and tips – just leave off the promo for now.
Your leads will come from the individuals in the group. Once established, start connecting with members of the group
Once you are connected, the prospects already know you and hopefully respects your opinion. Half your work is done.
You can take this to the next level by creating a whitepaper, a landing page, and then pulling in a couple of favours from the group owner. There are step-by-step instructions for you here.
Finding prospects online using audiences
As we've covered, knowing who you sell to is critical in finding them online. But it's also very useful farther down the pipeline in covering the right subjects and pitching in the right manner.
The ad platforms you use, from PC to display to social media, hold a lot of information that reveals this. After all, it's the heart of their business. 
Using the platforms correctly can gain some really useful insights, whether on Facebook, Google Ads, LinkedIn, Microsoft advertising, Pinterest and even Google Analytics.
Find a new audience within the same platform
In Google Ads you can use the In-Market and Affinity categories to find similar audiences your prospects are part of
Use other specific targeting options to narrow your initial focus
Refining campaigns using insights
You should continually refine your campaigns by taking a look at the demographics for your campaign. You can see which targeting is working and which is shirking.
And here's the icing on the cake: it will show you this information for all sorts of targeting options, whether you're actively targeting these or not.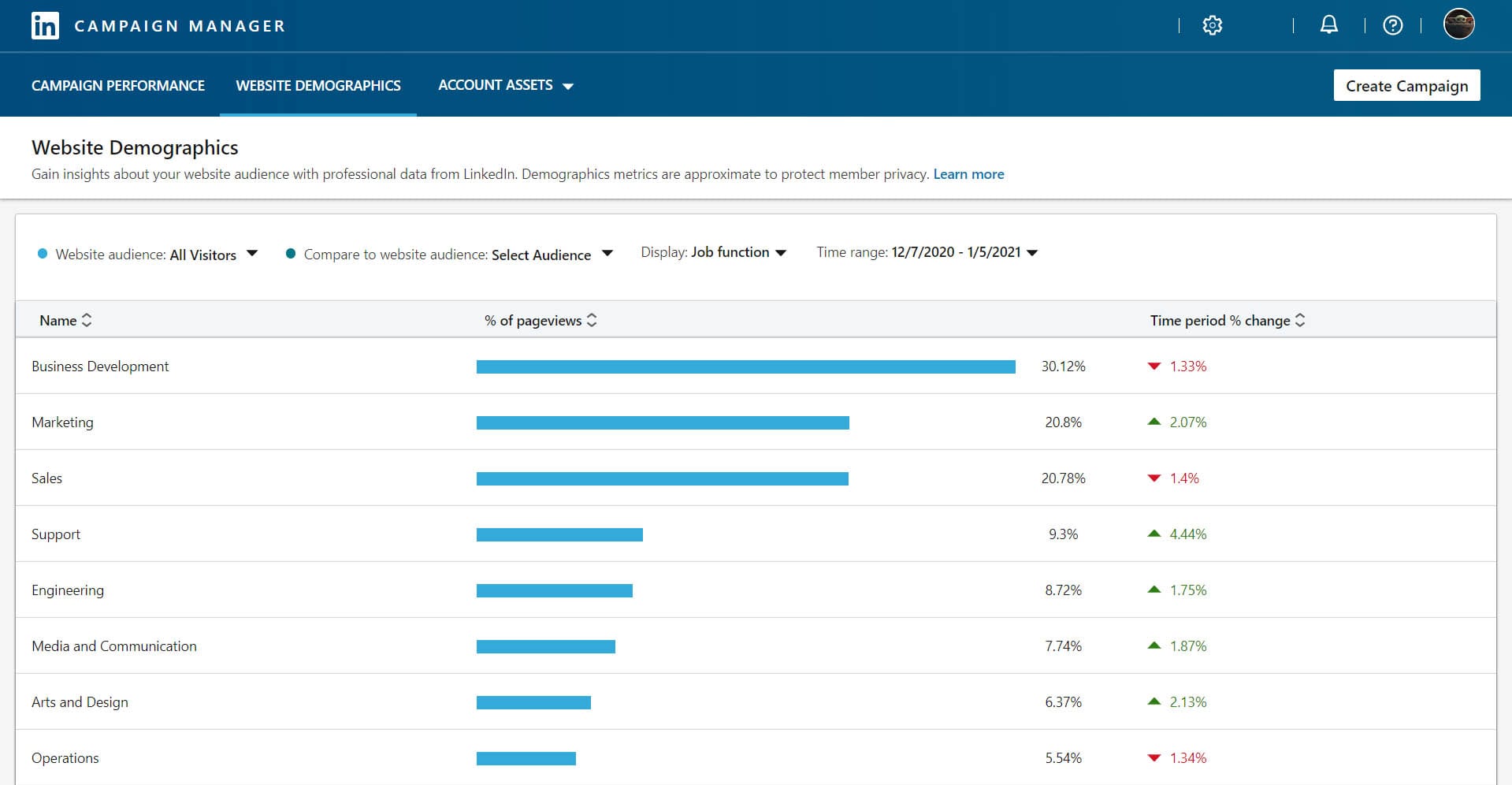 Finding more of the same
You can take a list of your customers and head to Facebook or LinkedIn and upload it to find custom audiences who match their interests and demographics.
You can further refine this but it's a fantastic way to find the sort of audience you know you want.
A similar way to do this is to use LinkedIn's Lookalikes to reach beyond the standard targeting options on the platform and find new users based on algorithmic learning rather than individual targeting options.
Finding prospects with search engines
The beauty of finding prospects online using search engines is that by searching for terms relevant to your business, the prospect is showing intent: they need a solution to a problem. You just have to be there to deliver the answer.
There are three types of search queries: navigational (I want to go somewhere), informational (I want to know something) and transactional (I want to buy something).
Depending on your business, all three of these may present opportunities to create relevant, useful content, and turn that search into a lead.
Search Engine Optimization
Search Engine Optimization (SEO), also known as organic search, is regularly cited as one of the best channels for lead generation and return on investment.
Producing content that adheres to Google's guidelines means pages rank highly in search results, bringing relevant traffic to their site. SEO can be a complex subject, but the folks over at Moz have a great beginner's guide.
Finding the right prospects online using SEO is a matter of producing relevant, high-quality content. If your brand is an authority in a certain subject and can provide solutions and knowledge central to that, your content will rank and attract prospects to your site.
As SEO does not offer any further targeting, content and keyword selection is vital to finding your audience.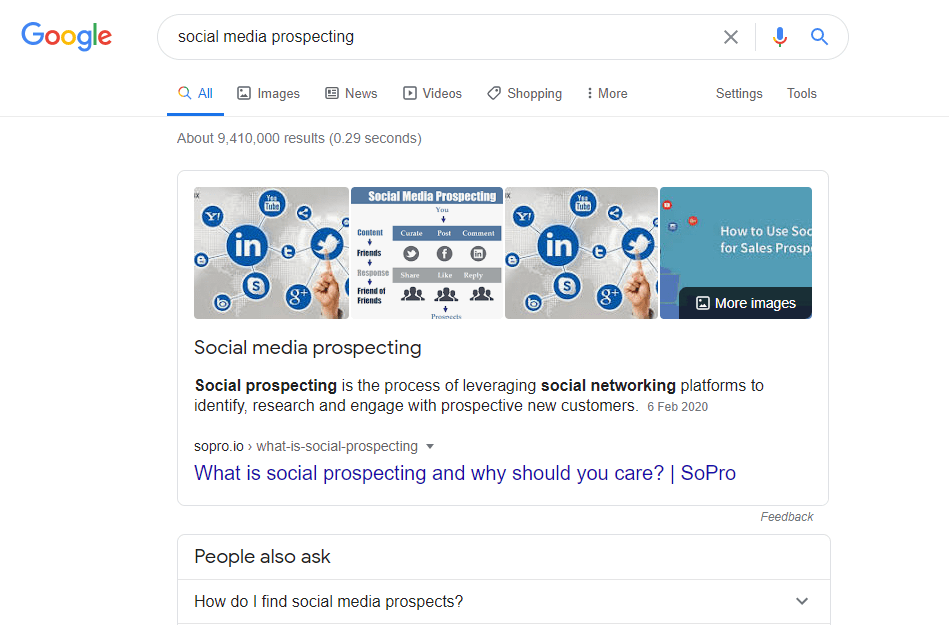 Content should cover the whole buyer journey, from the top of the funnel to the bottom, ensuring your brand is familiar when people begin researching, as well as when they are looking to buy.
Consider the sorts of searches your customers may be making. Problem and solution-based searches and informational searches are typical searches in the discovery phase. Searches around specific features and benefits, or comparing options, are likely to be further down the funnel.
Pay Per Click (PPC)
The easiest way to find prospects on search engines is with Pay Per Click (PPC) advertising. These are the paid listings you see at the top of search results. You only pay when a user interacts with your ad via impressions or clicks. A thorough guide from Hubspot can be found here.
At it's most basic, finding your B2B audience with PPC involves building a list of keywords and phrases that your prospects are likely to search for, and bidding on those.
Compared to SEO, PPC's main advantage for uncovering the right prospects is the ability to deliver highly targeted ads, allowing you to really zero in on your target audience.
In your account settings, you can decide who sees the ads, based on age, gender, parental status, and geography.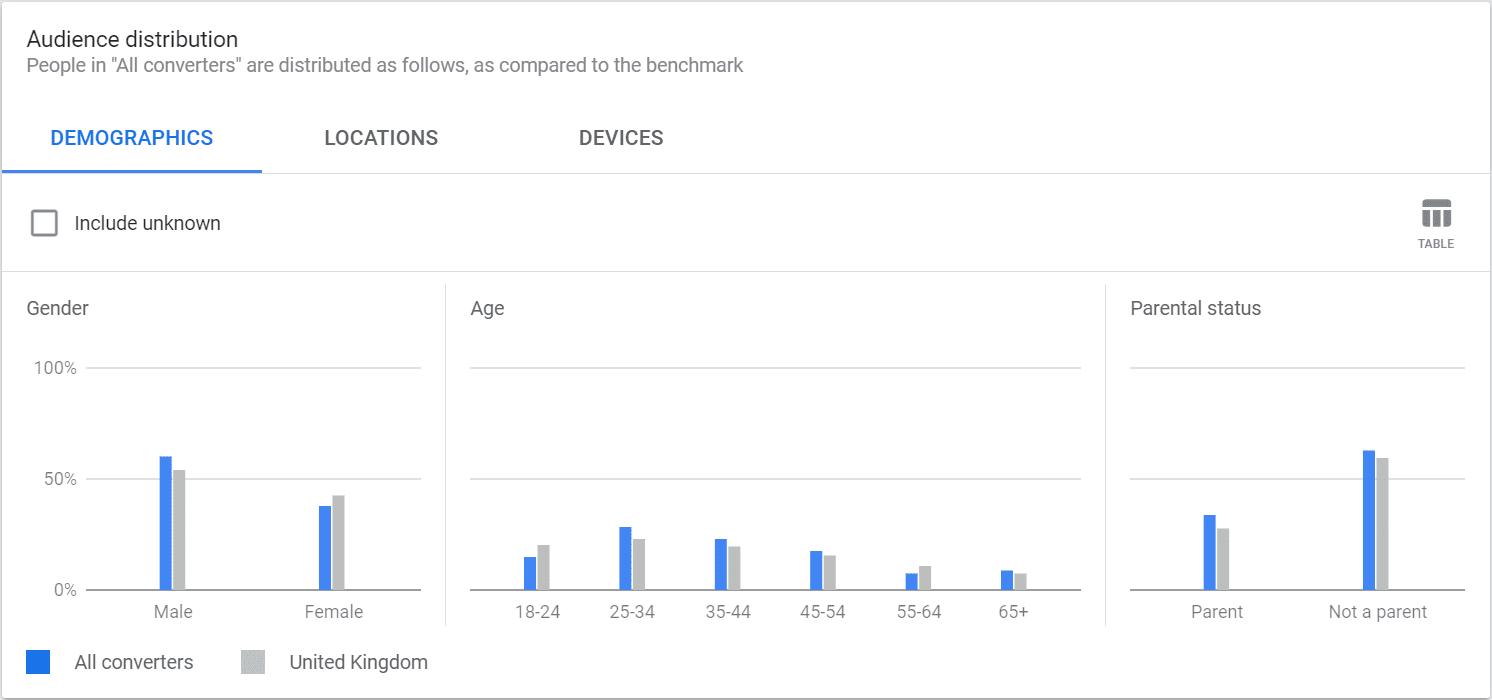 Once you get advanced, you can even change bids based on weather, user device, income (in some countries) and even life events. 
There are plenty of options for audience targeting (in-market, remarketing, intent, and affinity). These can be predefined audiences that are interested in certain topics, users who have visited your site before, or lookalike audiences.
Display and remarketing
Display advertising (also known as banner advertising) can complement PPC campaigns as you can retarget prospects who have come to your website. 
These are the ads that follow you around the web. They tend to have a low conversion rate, but their ability to keep a business front of mind is harder to measure.
Remarketing can also use PPC, social media and email. You can find a complete remarketing guide here.
Finding prospects with Content Marketing
Content marketing follows a similar philosophy to SEO content, in that it aims to produce content that is relevant, useful or educational to your specific audience.
Although SoPro is an agency, we're also a tech company. We've developed some powerful tech over the years that allows our experts to provide our award-winning service.
We decided to build a customer-facing portal that allows our prospects to access the very tech we use. It's our most successful example of content marketing: the SoPro Toolset.
It allows businesses to find email addresses, check the awesomeness of their prospecting emails, and map their market to understand the scale and scope of their current business.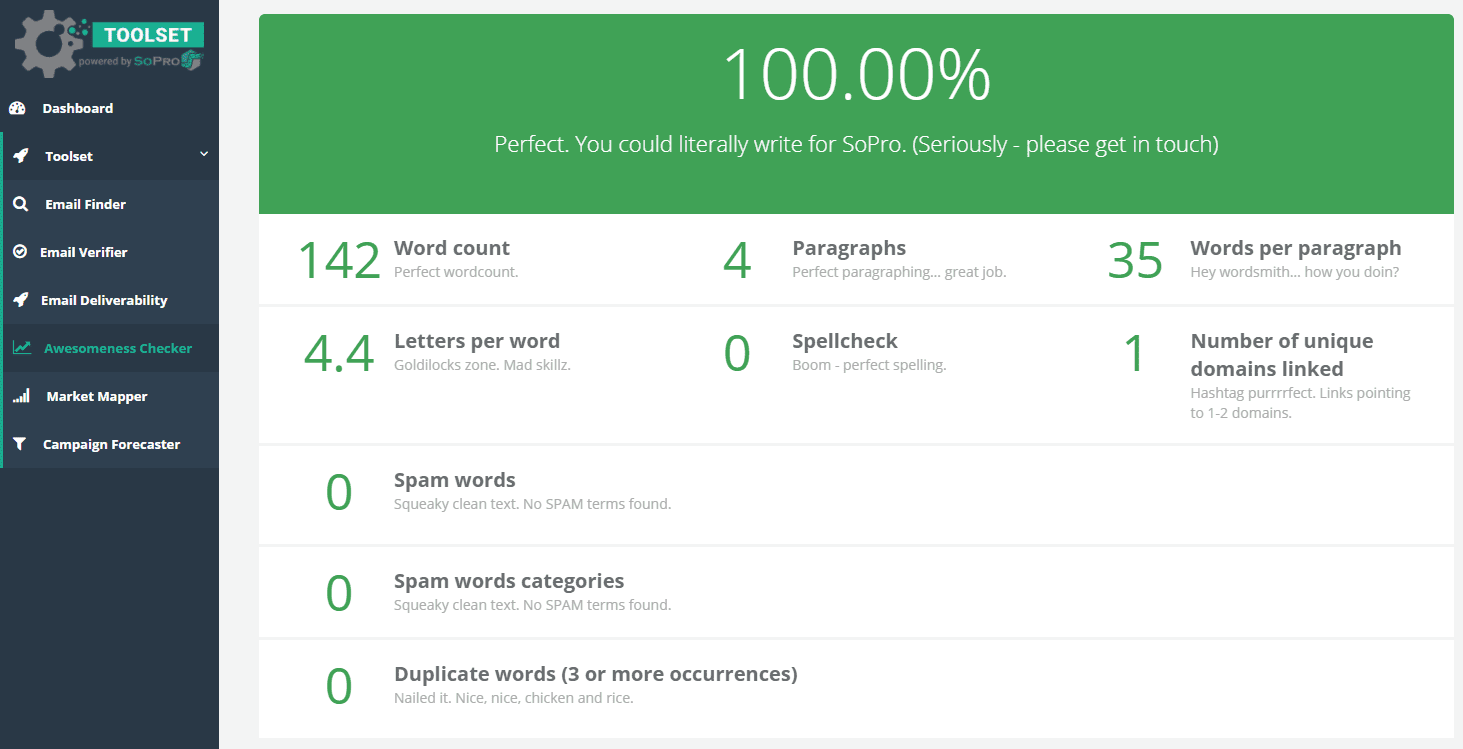 For prospects, it's genuinely useful. It also allows them to try out our tech before getting in touch to learn more. For us, it develops brand awareness, a community of users, and brings in leads, and all without ongoing input.
It works like a dream – and many others do it. Take Yoast with their free SEO plug-in for WordPress whose every road leads not to Rome but to its premium version. Screaming Frog, another well-known SEO company, also uses this tactic by allowing a free download of a version of their tool with limited functionality.
Webinars & video
A sub-set of content marketing, webinars and videos have grown in popularity for years. Again, they should be based around providing value to your potential prospects. 
Signups to webinars can help you continue to market to your target audience, via PPC, display, social and email.
Finding prospects on websites
There are various websites, such as the local Chamber of Commerce site, where you may find relevant prospects to sell to. A lot will depend on your niche, so have a scout around.
Web mentions
This is a really simple tactic, but one that can bear fruit. Monitor your web mentions and pounce on them quickly. It's not hard: set up an alert system for your brand and join in the discussion.
There are plenty of ways to monitor your brand: Google Alerts is just one.
Some will be useless from a sales point of view but much will be prospecting gold. Forums 
Quora and forums 
Some of those mentions will be on forums and question and answer site Quora. But the alerts will tell you when someone has mentioned your brand, not when a relevant question has been asked.
Searching for relevant sites, and unearthing relevant questions, you can jump in and give your answer. So long as you disclose your interest, and provide useful rather than sales-y answers, people will appreciate your perspective. Furthermore, you will not only turn the author of the question into a potential prospect but other readers who are searching for the same answer.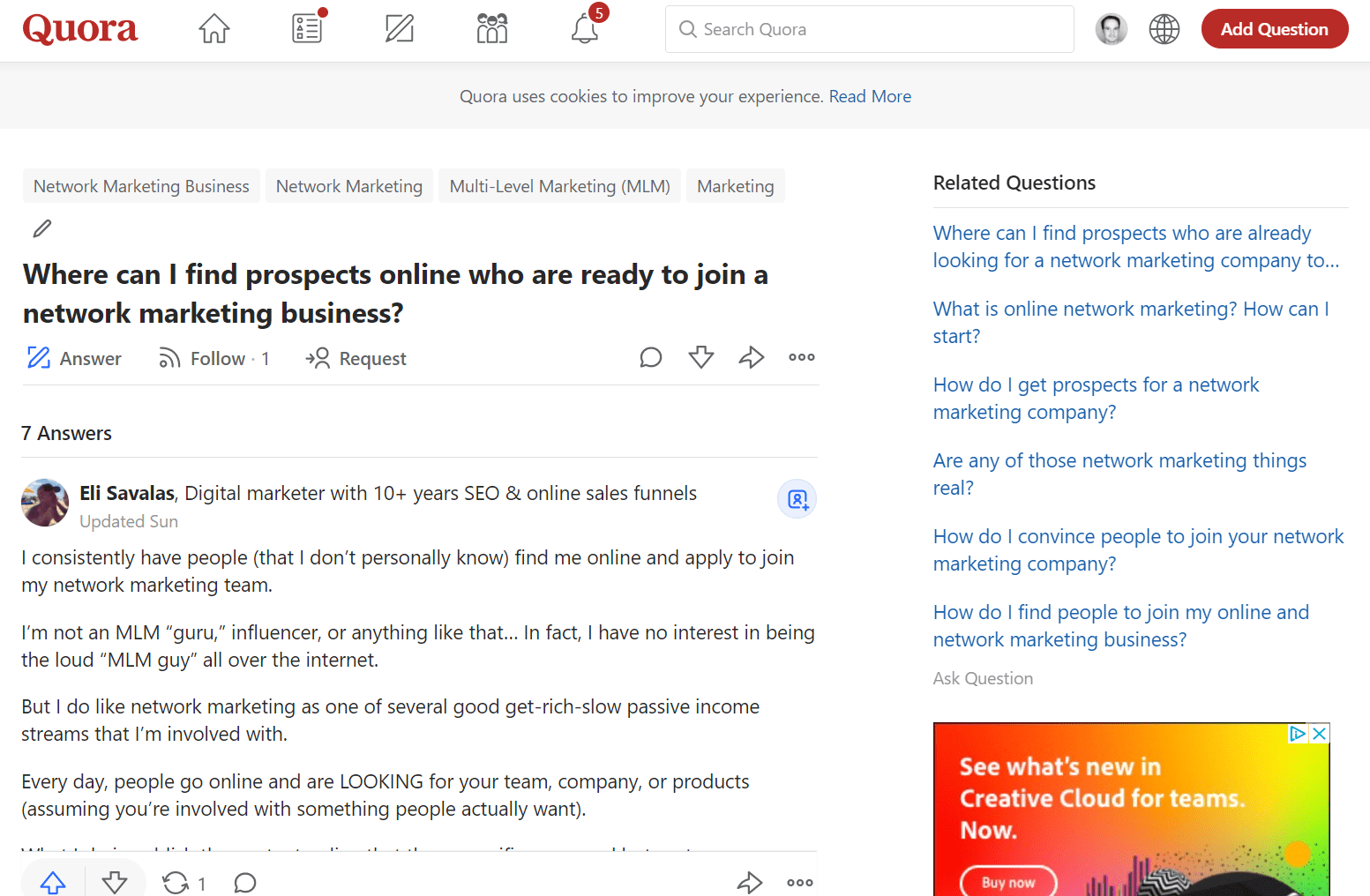 Partner and affiliate marketing
Finally, you can outsource some of your marketing for a price. With partner marketing, your brand rewards one or more affiliates for each customer brought by the affiliate's own marketing efforts.
If you chose your partners carefully, they will have their own marketing machines and their own systems for finding suitable prospects, allowing you to extend your reach.
---
The above post should give you a few ideas on how to find prospects online. The key is finding the right mix, to not overly rely on one channel alone. I've included links to comprehensive guides and documents on each channel, so check them out if you want to read more about a particular method. If this all seems like too much hard work, we've also explained how to buy leads successfully.
If you want to know more about prospecting, and how it delivers qualified leads matching your ideal customers, you can get in touch. Alternatively, have a look at our product tour.