The december dip is coming – but stop prospecting at your peril
The December Dip is coming – but stop prospecting at your peril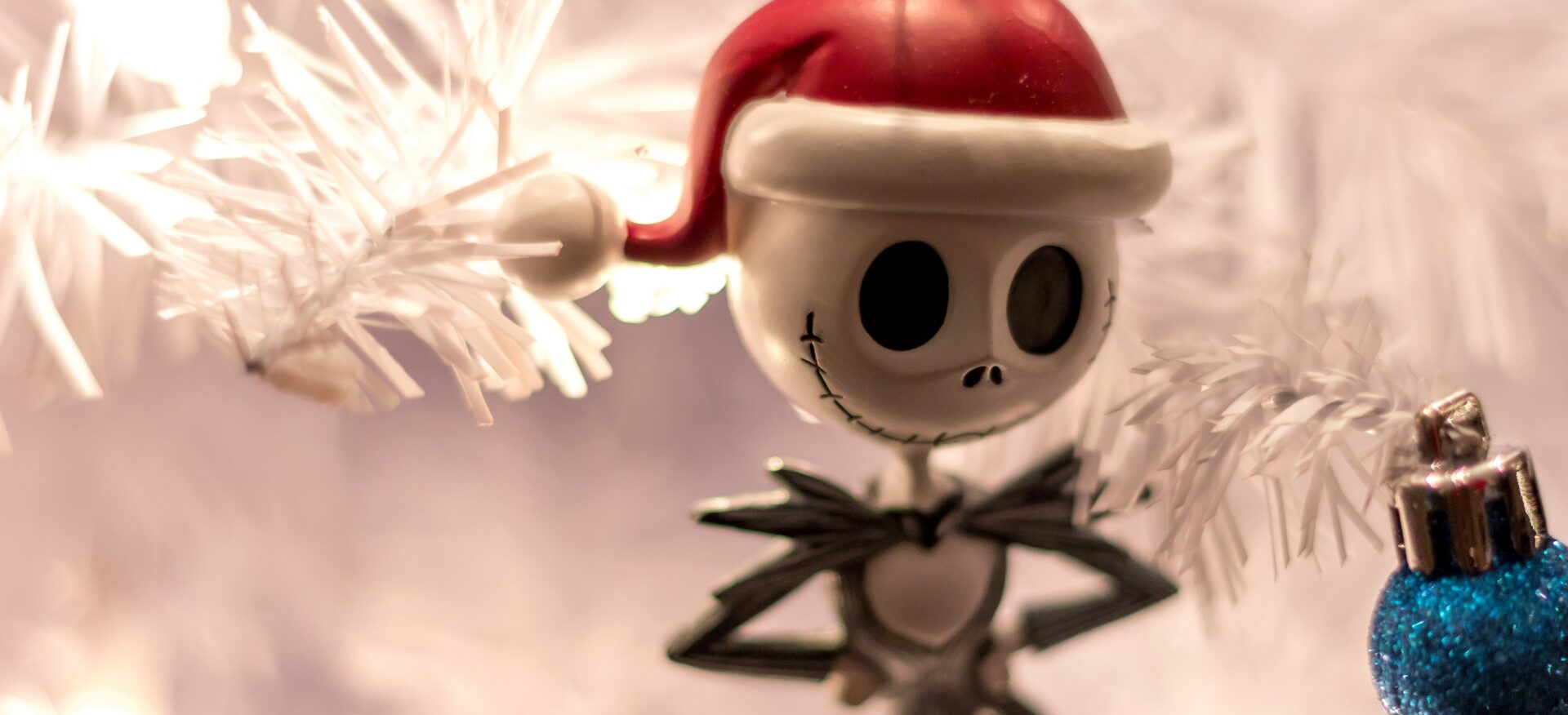 How to keep generating B2B leads in the typically slow month of December, and why you should use the quieter sales seasons to get ahead of competitors.
---
It feels odd talking about winter when we've spent the last few months melting in various heatwaves, but with school back in session and Halloween on the horizon it's a good time to think about the potential end-of-year slowdown.
Seasonal changes bring a whole new set of challenges as we approach the winter months. Now's the time to start making plans to survive – and even thrive – during what sales teams refer to as the December Dip.
What is the December Dip?
If you love a festivity or two, October through to December is probably your favourite time of year. Gone are the long, sweaty days – replaced by cosy evenings and big jumpers.
But if you work in B2B sales or marketing, you may be dreading a potential sales slowdown that's on the horizon.
December can be a tough time for sales teams. People's minds are on other things, and most are starting to wind down and look forward to their Christmas break. From customers to prospects, and even a business's own employees, the feeling is that the relevant people aren't in the office at the right time, and productivity is at a yearly low.
Because of this, a lot of businesses choose to pause their sales and marketing activity during December. In this blog, we'll look at why that's a bad idea, and how you can make the most of the December Dip.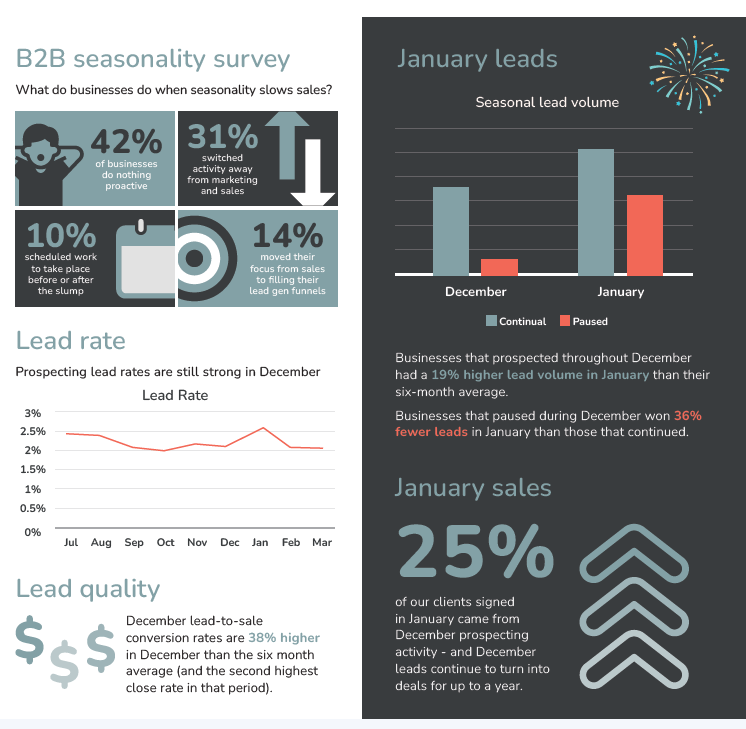 How can you beat the December Dip?
We asked B2B businesses what they do in seasonal slowdowns. Most of these will get you on the naughty list:
42% of businesses do nothing proactive
31% switch activity from marketing and sales to admin or planning
10% cut back on agency staff, advertising or spend
10% scheduled work to take place before or after the slump
14% of businesses decided to move their focus from sales to filling their lead gen funnels
10% simply aimed to 'hit harder' (which sounds like a different way of saying "we have no plans")
If you choose to hibernate your sales and marketing activity, you can't expect quick results when you pick it back up again.
To put it simply: no prospecting means no leads. If you stop reaching out to potential customers, you'll cut off your lead flow and lose time waiting for the campaign to return to its previous heights.
But the effect of pausing activity goes beyond that. A good prospecting campaign involves a sequence of emails, with follow ups sent at the perfect time to remind to encourage a prospect into action. Most positive responses come from these follow up emails, which means it takes time getting a stopped campaign up to full speed.
Let's use Sopro as an example. After all, 60% of our new business comes from our own prospecting service.
Consistent prospecting throughout autumn 2021 saw our lead rate stay stable throughout the period and into the new year. The leads we generated in December had the second highest close rate that year, and 25% of our January sales came from leads generated in that period.
And that December prospecting also set us up for a bumper January, which saw lead volumes 19% higher than the six month average.
How to keep your B2B leads flowing in the December Dip
As we steam full-speed into autumn and winter, retail sales are hotting up while B2B businesses might start to see a cooldown.
Your prospective customers may be less responsive to your sales outreach – they could be over their budget or just occupied by Christmas party planning.
Here's some things you can do to keep those B2B leads flowing.
1. Keep prospecting
Keep prospecting and keep up the momentum. Some sales teams might have exceeded their budgets for the quarter, but others may well have a surplus they need to spend before the year is out.
Lots of sales and marketing teams plan their strategy for the new year now, so it's the perfect time to get on their radar.
Keeping on with your prospecting activity will also keep you front of mind come January. And if you get a dreaded Out of Office? Then you have the exact date they're back from their holiday… schedule a follow up a couple of days after they're back and start up the conversation with a rested prospect with a reset budget.
2. Run a December promotion
Get into the festive spirit, keep your message topical, or offer a discount or incentive. Running a time-sensitive deal can give hesitant prospects a push, encouraging them to commit now rather than wait for a new season.
3. Get gifting
Everyone loves a pressie, and 'tis the season for giving after all. If you've got some top prospects who haven't converted yet, sending a gift can be a small gesture that pays big. Just make sure to include a personal note.
4. Put your sales team on the Nice list
Incentivise and reward your sales team during this time. Like your prospective customers, your team will be looking forward to the upcoming festive break, and as they push a little harder to keep up their sales during December, it's important to make sure they feel valued and rewarded.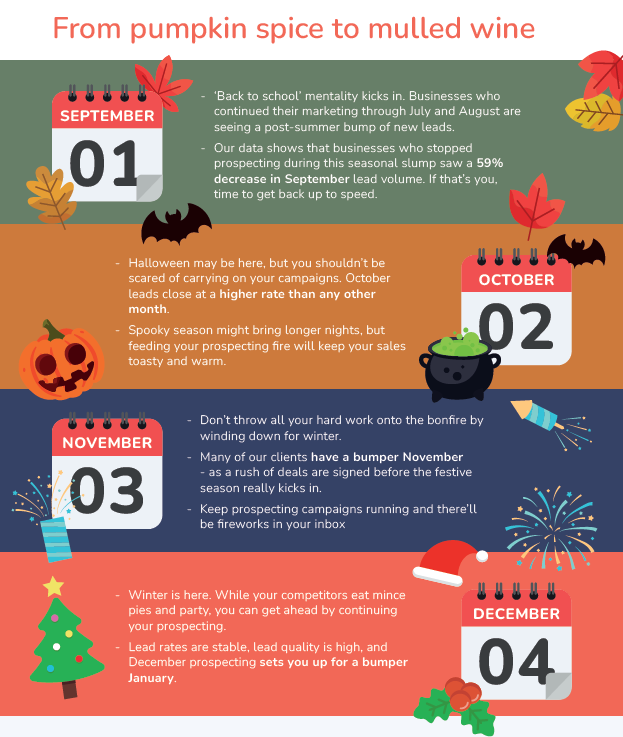 Remember, remember, when selling in December …
If you hold your nerve and continue your sales and marketing activity in December, you'll start seeing the rewards come the new year. But if you do see a decrease in activity, you should focus on getting more from what you already have. Here's how to make the most of your existing pipeline.
Don't mind the Out of Office replies
If an auto-reply states that the person is off until a certain date, then pause the outreach and make a note of when they're back to carry on.
Make sure you have a team over the festive period
You can't change the fact that your prospects are out of office, but you can make sure that there's adequate cover for your sales team.
Focus on the leads that will convert
When fewer leads are coming in, you need to focus on the ones most likely to convert. Lead scoring lets you assign value to prospects according to how far they have moved from expressing initial interest to revealing purchase intent.
Create content that will nudge buyers
If you find yourself with more time on your hands, auditing and improving your sales collateral and marketing content will help to entice new leads and keep them flowing through the funnel. Sales enablement content should help your buyers seamlessly pass through each stage of their buying journey, so you need to map your content to each stage of the funnel.
Focus on upselling
With people's minds on end-of-year bonuses, the size of your deals (whether by upselling existing clients or focusing on deal size with new prospects) will help cover any dip in new deals numbers.
Spread the joy with referrals
A good referral programme can improve the number and quality of leads going into your sales funnel at a fraction of the cost of some other channels. Whether you introduce a formal programme or encourage account managers to discuss it with current clients, the benefits can be great – lower cost per acquisition, longer customer lifetime, and higher quality leads to name just three.
Optimise your outreach
If you do see a slowdown in lead flow, now might be the perfect time to test some of your methods. Prospecting is a great channel for testing. Everything from prospect location, job titles and industries, to subject lines, email content, message sequencing, and the time of the send can be tested, with results back really quickly.
To give you a headstart, check out Sopro's The State of Prospecting report, which details the lessons we've learned from sending 40 million prospecting emails over the last six years.