Follow-up emails: how to write and when to send
Posted on: November 19, 2020
Reading Time: 5 minutes
Category: Email content
`
Follow-up emails: How to write and when to send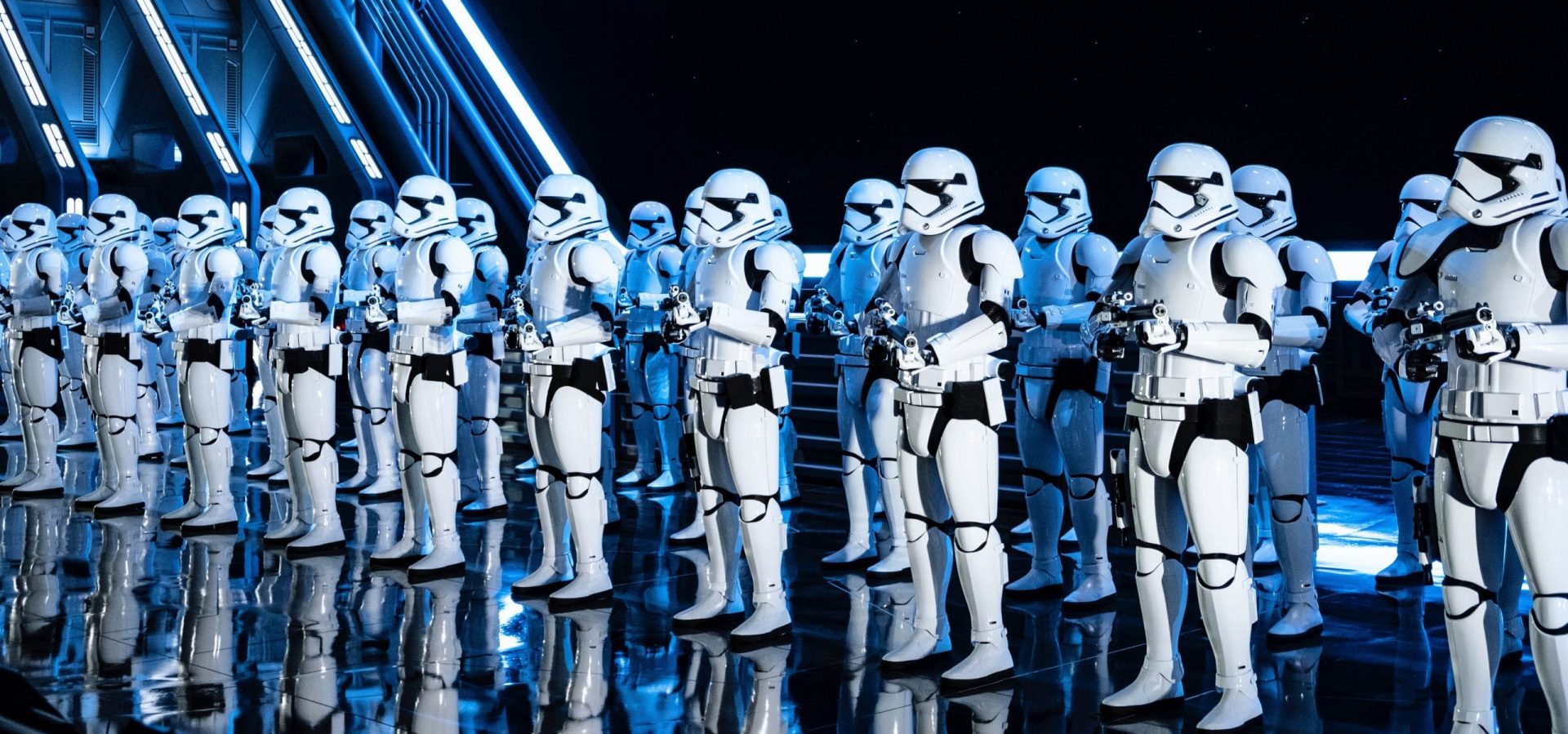 If at first you don't succeed, try, try, try again. An excellent proverb, encouraging us all to keep going in the face of failure. But does it hold true for prospecting follow-up emails?
We've analysed 400,000 of our own prospecting emails and combined that with some interesting studies, to give the definitive answer (spoiler alert): yes, you should send chaser emails.
But how many mails, and when to send, and what to write? We'll cover those too.
I'll have my prospects with a chaser, please barman.
Don't expect instant success
If there's one person we can learn about prospecting from, I think we'll all agree it is Matthew McConaughey.
Did he give up acting after The Wedding Planner? Did he give up after How to Lose a Guy in 10 Days?
He did not. He kept going until he created the McConaissance, starring in Dallas Buyers Club and True Detective.
Sometimes, real success takes more than one attempt.
And yet, amazingly, 70% of unanswered sales emails aren't followed up. These people have clearly never watched Interstellar.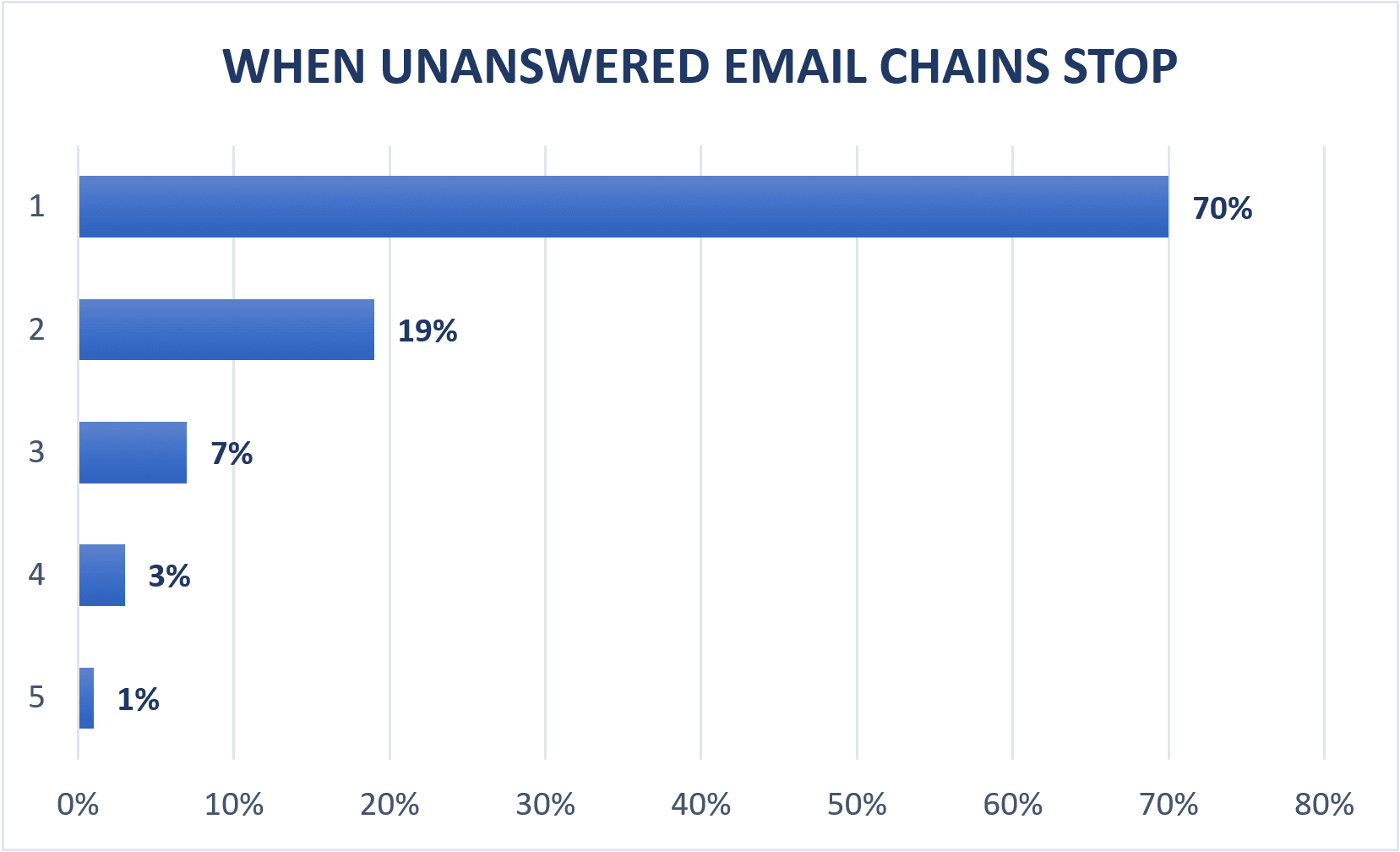 It's easy to give up hope, but know that prospects and decision-makers are busy people. It's easy to miss an email, or plan to get round to it later, only for it to slip your mind.
Why not send a follow-up to remind them of your initial message?
Do follow-up emails actually work?
An analysis of 400,000 SoPro prospecting emails has revealed just how many leads you could be giving up by stopping after one email without a reply.
First, the big takeaway: response rates actually increase after the first email.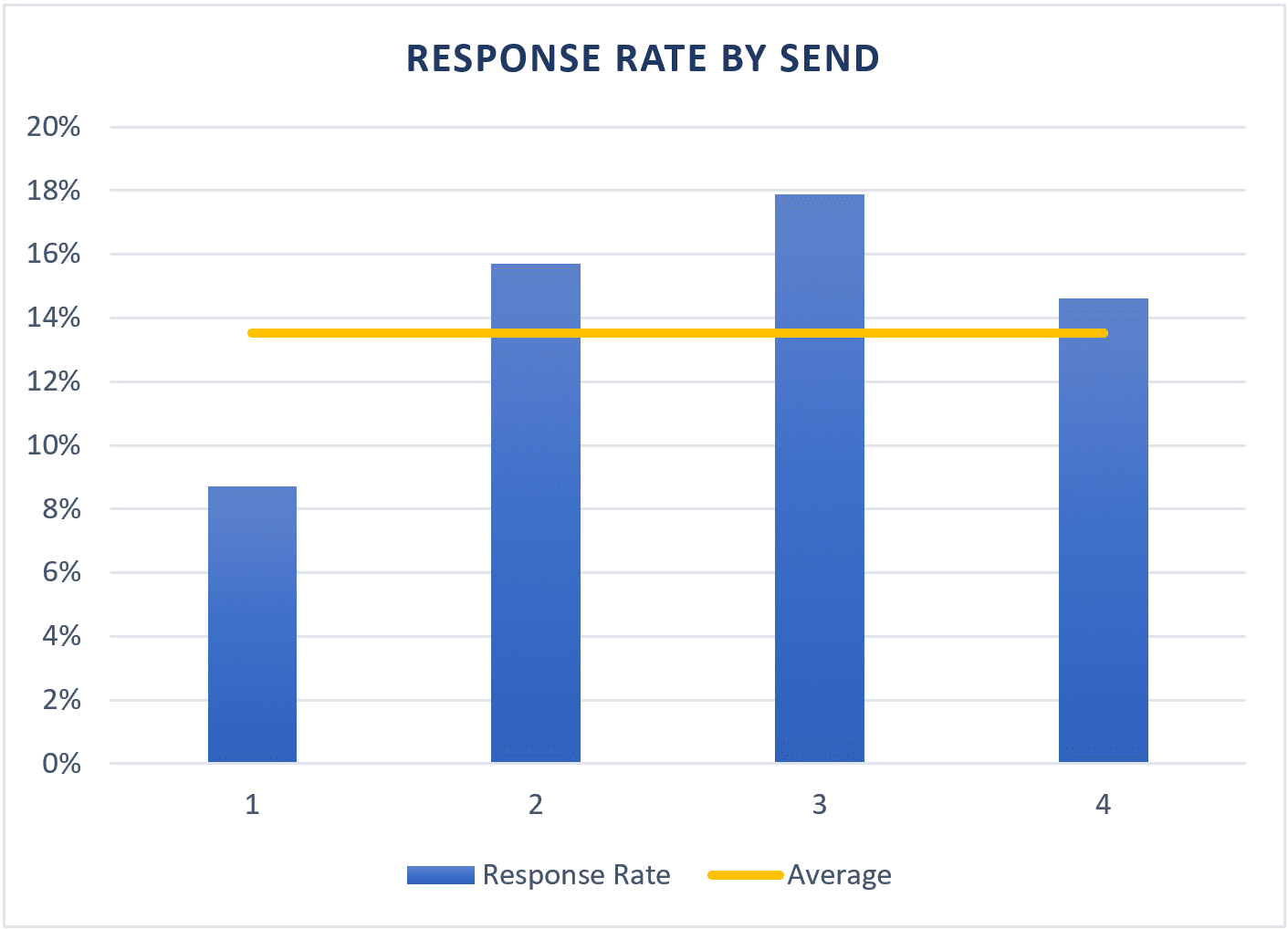 This may be because people forget to action the initial message, even though they meant to. Once reminded, they decide to reply rather than risk forgetting again.
It may be unconscious problem solving in action; once they have read the initial email and gone on to other tasks, their brain is ticking over all the benefits of your offering. When the second or third email is delivered, their conscious brain picks up the baton and replies to your message.
Whatever the reason, response rates climb significantly with the first and second chaser emails, and although they begin to dip by the third, the response rate is still above the average for these four emails.
After these four, the response rate falls so dramatically that we don't think it's worth risking your reputation to keep messaging prospects.
Clearly, chaser emails are driving responses. But what effect does this have on the number of responses?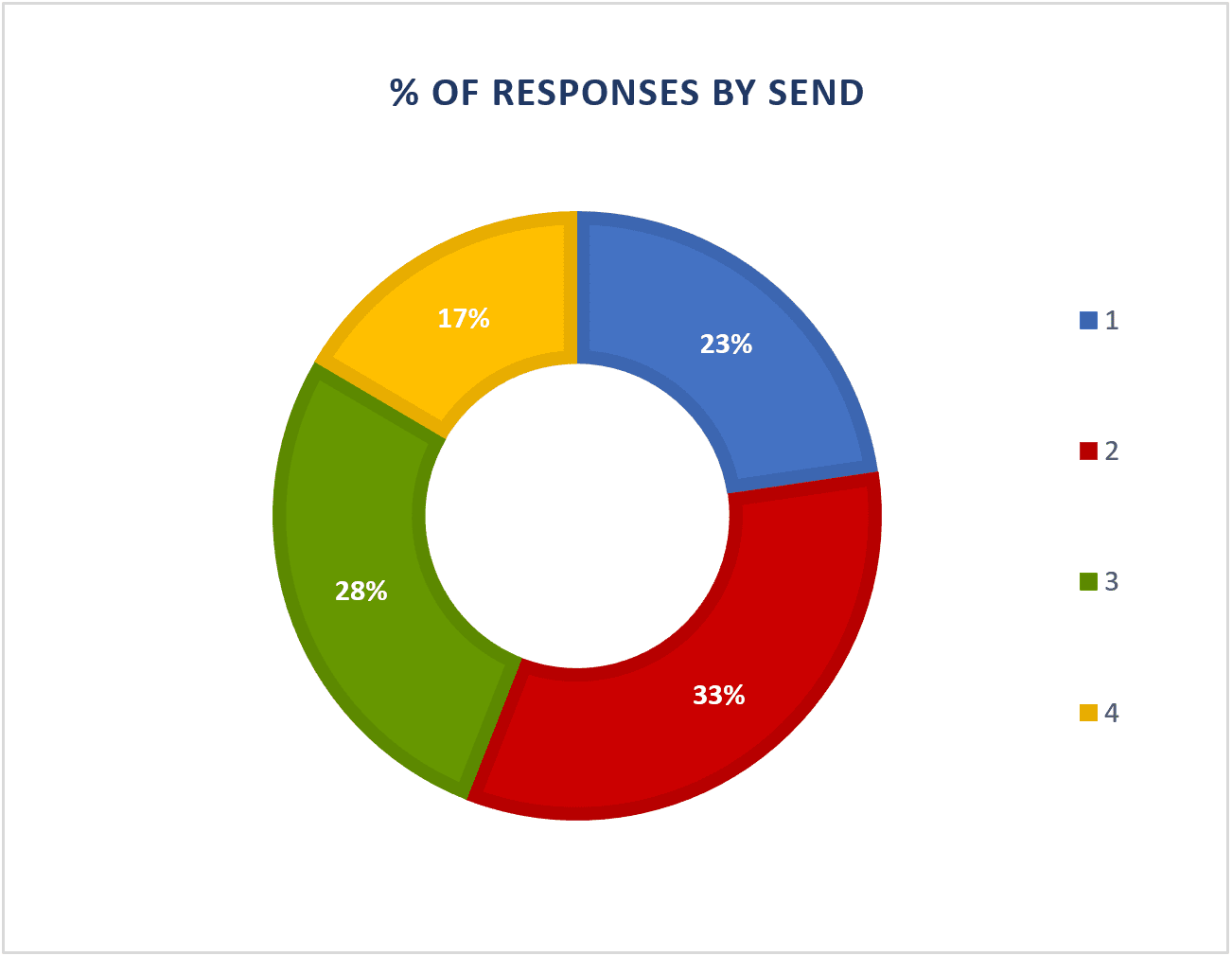 Of the 400,000 SoPro emails we analysed, first stage emails accounted for 23% of the total number of replies.
Incredibly, follow up emails generated 77% of the total responses to our prospecting emails.
Think about all those potential deals lost to the 70% of emails that weren't followed up. That's millions in revenue, lost forever.
When to follow up
91% of emails are opened on the same day they are sent.
Of emails that receive a reply, 89% of replies are sent on the same day as the email is received.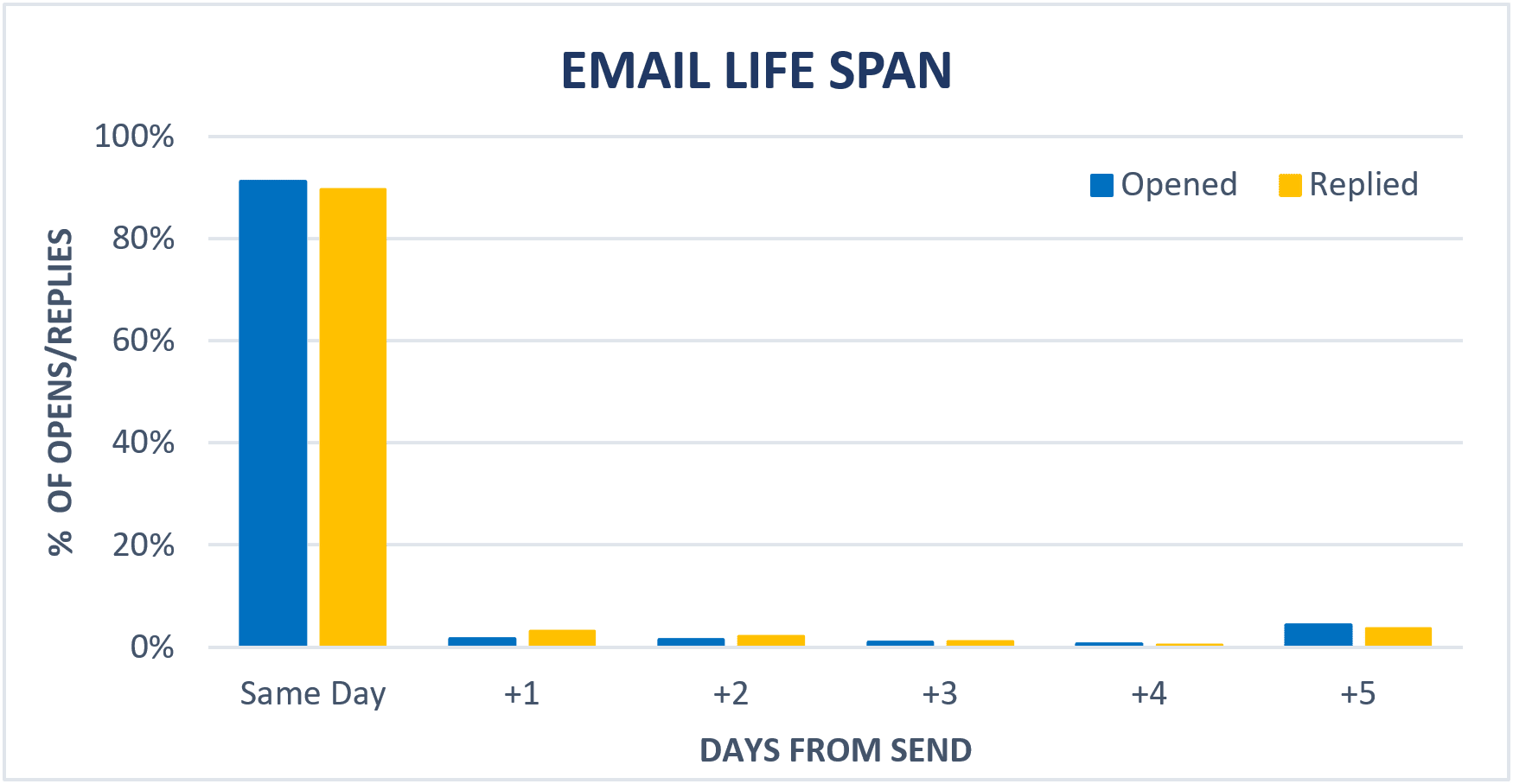 In short, people tend to action emails pretty quickly. So you can know that once a couple of days have passed, your carefully crafted email is unlikely to be opened or replied to.
Having said this, it probably not the best idea to fire off four emails in eight days. Spacing them out a little more gives the prospect time to breath and consider, but is short enough that they will probably remember your last email.
Be aware that if you space your emails out by five working days, they will keep arriving on the same weekday – making your personalised efforts look entirely automated. Six to eight days tends to work better.
Once you've worked out what works best for you, automation is your friend: you can write out your email templates in advance of the campaign and schedule the whole campaign, so that prospecting bullets keep firing out at your prospects.
How to write a follow-up email
How do you go about formatting a chaser? Is it different from writing the first prospecting email? What should it contain – a heartfelt plea for attention or a dry reminder of your services? And how do you send three chasers without endlessly repeating yourself?
Well, different stage emails require different approaches. We're not going to give you a follow-up email template, because every email should be unique. But follow the following advice to get you on the right track.
Chaser one: The Nudge
Follow up by forwarding the initial email
They might have missed or forgotten about your email
Include a simple, polite follow-up message to remind them
Chase two: The Chase with benefits
Follow up by forwarding the previous email chain
Reaffirm why they should want to speak with you
Focus on helping, not selling
Outline what pain point you can assist them with
Chaser three: The Break-Up
The prospect may have lost interest entirely. You don't want to hassle them
They may assume if they ignore this message you'll keep emailing
Let them know you'd love to speak with them
But don't wish to become a pest – this is the last email you'll send
If the Prospect wants to engage, they will after this email
If you still don't get a reply, well, you can't win them all. But your prospecting campaigns should have much better results after following the chaser email tips set out here.
As Sir Winston Churchill would say, "Never give in, never give in, never, never, never, never — in nothing, great or small, large or petty — never give in, except after the fourth email hasn't been answered."