True, tried and tested tactics to find B2B prospects online (3)
In the previous two posts I've shown you several ways to find and attract your B2B prospects.
But we're not over yet.
In fact, in many ways, the best is yet to come.
Here's what you already know:
You can extend your keyword search through every stage of your customer journey
You can use remarketing to engage prospects as they surf
LinkedIn is an attractive platform for paid ads – and you know how to reduce its costs
LinkedIn Groups can be as effective as networking – if you know how to manage your presence
Offering useful tools is a great way to capture email addresses and boost your SEO
So, what's next?
Tactic #5: Know thyself – but also understand your audience
Knowing who you sell to is critical in finding them online – it's also very useful further down the pipeline in touching on the right subjects and pitching in the right manner.
The ad platforms you use hold all of this info. After all, it's their business – and, increasingly, they are drip feeding us some really useful insights.
Most platforms have their own version of this: Facebook, Google Ads, LinkedIn, Pinterest and even Google Analytics.
But gaining insight is one thing – making it work for you is another.
Here's the manual.
Tip 1: Find a new audience within the same platform
In Google Ads you can use the In-Market and Affinity categories your prospects come from and, hey, let's see how these fare for others
Move with caution though. Use other specific targeting options to narrow your focus initially
Tip 2. Refining campaigns through insight
So, your ads on LinkedIn are performing but not quite hitting the ROAS (Return On Ad Spend) you are after.
No sweat.
Simply take a look at the demographics for your campaign to see which targeting is working and which is shirking.
And here's the icing on the cake: it will show you this information for all sorts of targeting options, whether you're actively targeting these or not.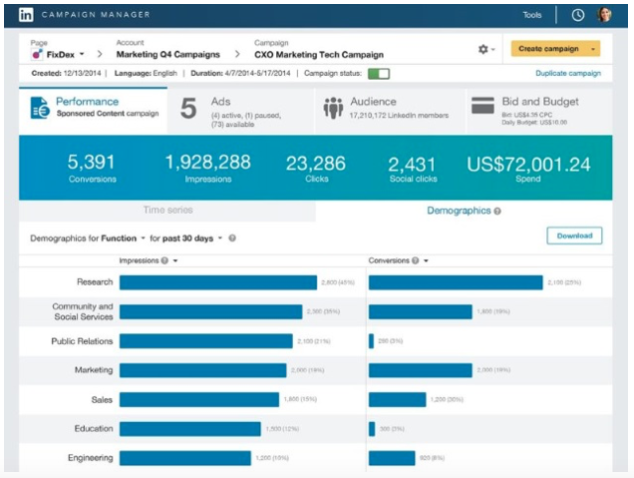 Tip 3. Finding more of the same
I love customer uploads.
You can take a list of your customers and head for Facebook or LinkedIn and upload it to find custom audiences who match their interests and demographics.
Of course, you can further refine this but it's a fantastic way to find the sort of audience you know you want.
(A similar way to do this is to use LinkedIn's Lookalikes to reach beyond the standard targeting options on the platform and find new users based on algorithmic learning rather than individual targeting options.)
Tactic #6: Jump on mentions
This tactic is so easy you'll be kicking yourself for not having done it (and shooting yourself in the foot if you don't do it).
Monitor your mentions and pounce on them like a tiger.
It's not hard: set up an alert system for your brand and join in the discussion.
There are plenty of ways to monitor your brand: Google Alerts is just one.
And now you just wait for the mentions. Some will be useless from a sales point of view but much will be prospecting gold. There will be a lot of forum discussions, which are ideal ways to join a conversation.
Go on, stay alert!
Any other tactics?
There you have it six ways to find your audience online.
Let us know if you have any killer tactics you'd like to share.
(Or just be mean and keep them to yourself!)