True, tried and tested tactics to find B2B prospects online (1)
It shouldn't be hard.
We all know that our prospects are online
We've all identified our target market
We've divided it up into customer personas so 'real' we sometimes talk to them in our heads
There's a finely honed USP for each of our brand's products
And there's that bank of fantastic content matching every stage of the customer journey
But still there's not enough leads to feed our insatiable sales funnel.
The solution is simple: you need to work smarter not harder. What you need are some true, tried and tested tactics to find those prospects for your business.
So, let's talk tactics.
And first we're going to get in a huddle and talked paid advertising tactics.
But in later posts we'll broaden our scope, so you'll have plenty of ammo for your prospecting pistol.
Tactic #1: Business people are people
If you're thinking of online advertising your starting point is not how can I find my B2B audience online.
It's how can I tell I have found them?
And the answer is you'll just have to work harder to find the targeting options that work.
Your B2B prospects love to play online games, visit celebrity gossip pages and share pictures of animals with funny faces on social media.
Let's call in Google Ads for some help here.
Make sure you are covering all your bases with your keyword searches. During the buying journey, there are all sorts of phases used when seeking a solution, and you should be there for all of them not just lurking at the bottom of the funnel.
Try and consider the sorts of searches your customers may be making:
Problem based searches
Solution focused searches
Informational searches
Searches for specific features
Searches for specific benefits
Searches comparing options
But don't just do this once and think job done. Every day just about 15% of all Google queries have never been used before. So, keep your eyes on those search terms and keep adding them to your campaigns.

And then make sure you remarket so you can catch them unawares as they check the football scores later that week.
You shoot – you score!
Tactic #2: Get yourself LinkedIn
Let's stick with paid options for a moment, elegantly switching from Google to LinkedIn.
Undoubtedly, there is no other online channel to compare to the power, reach and effectiveness of B2B prospecting than LinkedIn. Unfortunately, its prime position commands a prime price for advertising.
Grrrr, what's a prospector to do?
Let's get smart and mix things up a bit.
Blend together the high cost of those you know are the perfect fit with the lower cost of those not quite so bang on. This helps spread the costs.
And then leverage smart retargeting lists – created using UTM parameters – to get in front of them on cheaper channels (elegantly switching back to Google Ads, perhaps).
But, don't forget to exclude those who clicked your ad from future LinkedIn campaigns – or you'll be paying to target them across two channels.
As luck would have it, there's a blow-by-blow account of how to create and build remarketing lists on LinkedIn for other channels here.
That's okay, there's no need to thank me, well not just yet because I've another tactic to share that will really reduce your costs on LinkedIn.
LinkedIn offers so many ways to define your targeting options.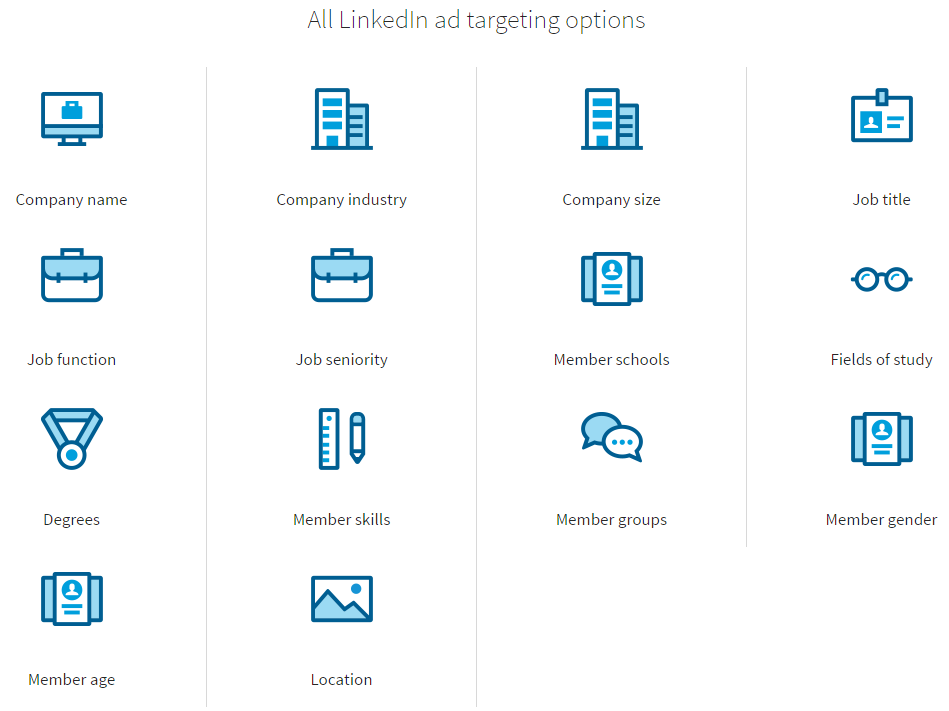 A wealth of choice: but most people rely on Job Titles (and sometimes as their only option).
But Job Titles have the highest CPCs on the entire platform. You can dilute this by using other targeting options as well to reach your target market.
You'll save a lot of money. However, another trap awaits: make your audience size too small and those high CPCs will kick in once more.
Damn! Tread carefully it's a minefield out there.
And we'll show you how to tread carefully through more danger zones in our next post.