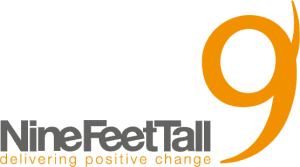 Testimonial coming soon...
Company Profile
Location: Bath, Bath
Product/Service: Management Consulting
Typical Deal Value:  /
Deal Cycle: /
Target Profile
Location: UK – All
Industries: Various
Company Size:  50FTE – 1000FTE
Role/Function: Senior HR, Change, Transformation, Finance, Operations
Company Description
Nine Feet Tall are a team of project delivery experts with experience spanning across many sectors and disciplines, working in partnership with the clients and helping them plan, deliver and embed change.
Nine Feet Tall injects tangible success into the business by offering passionate, personable and enthusiastic individuals to deliver the change on the ground. Their expertise and close network allows the team to share best practice efficiently to consistently deliver beyond expectations. While remaining accountable for the actions and working  carefully to assess the approach, Nine feet tall ensure to be on track to deliver the change the client desires.
Nine Feet Tall aims to help organisations be successful in delivering positive change for themselves far into the future. The consultants are honest and collaborative in order to set both short and long term project delivery goals; ensuring the desired processes is firmly embedded and understood before final handover.
Objectives
Targeting large companies, revenue £25m+ (1000 FTE+), to assist with change / project management, especially with rescue projects. Collateral for legal and housing industry to be provided, however potential to consider other industries.