How to create a b2b business development strategy
Posted on: March 23, 2023
Reading Time: 8 minutes
Category: B2B sales
How to create a B2B business development strategy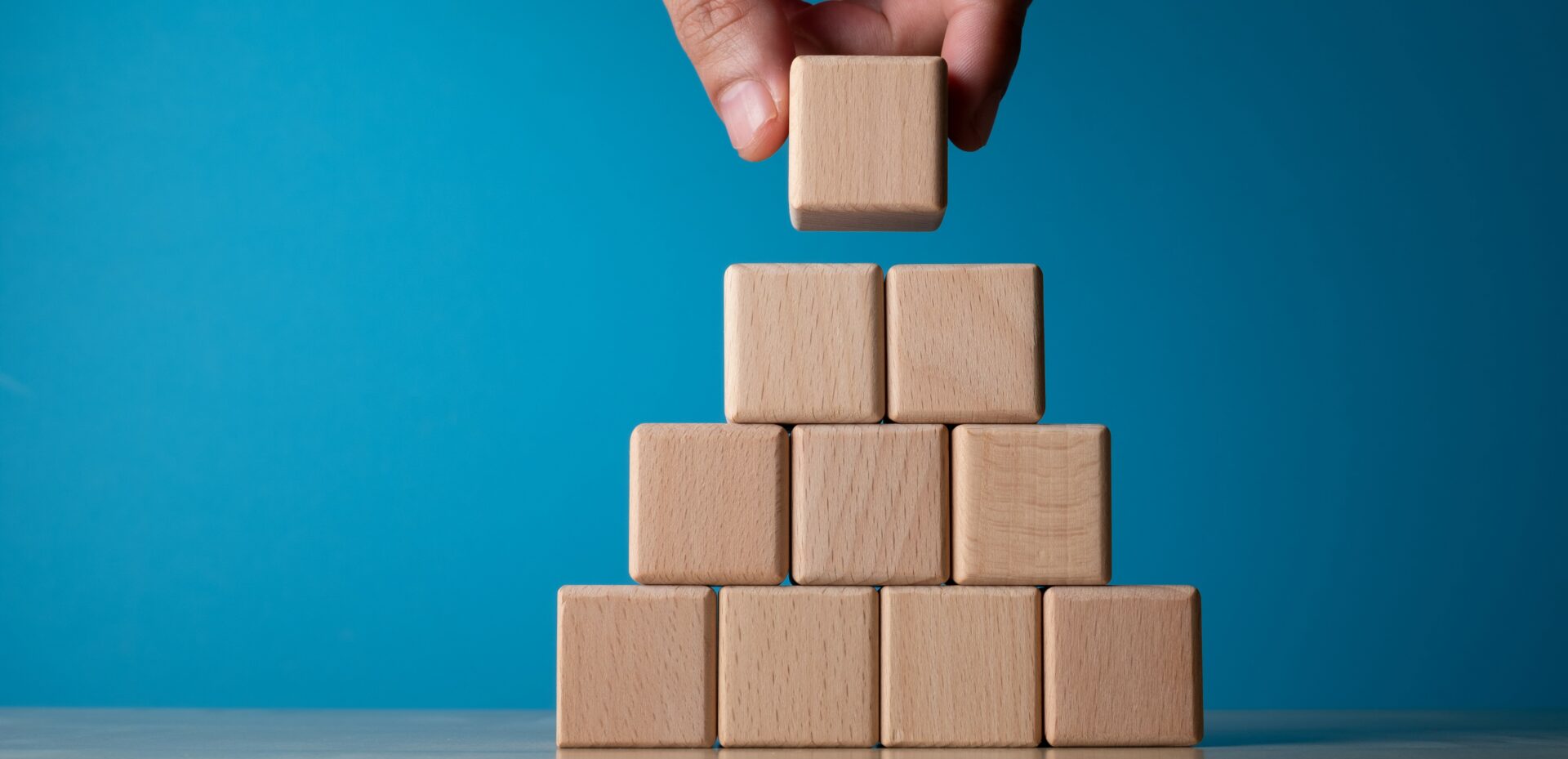 Business development is a key part of growing a company and making it successful. It might not grab the headlines like the superstars in finance, sales or HR, but every company engages in business development even if they don't know it.
Despite being a core part of company growth, definitions of business development can often feel too broad. By covering such a wide range of responsibilities, description of this key aspect of business can feel wishy-washy.
B2B business development responsibilities sit between marketing and sales, which means "biz dev" departments are less common than these two ever-presents. And that means the two teams often share the responsibilities that the dedicated growth department would otherwise handle.
How should you tackle this problem? Even if you don't have the budget to install a dedicated team, a good strategy can increase sales. 71% of fast-growing companies have a business plan. So, welcome to our seven step B2B business development plan.
What is B2B business development?
Business development is the process of finding and developing opportunities that directly lead to new sales. The department has a laser focus on increasing growth and boosting revenue. That process can include identifying and nurturing prospects, building brand awareness, finding new partnerships and growing markets.
The goals of B2B business development sit between marketing and sales. In companies with all three functions, a lead may pass from marketing, to business development, and finally to sales, before becoming a customer.
Business development (BD) teams may nurture and qualify leads generated by marketing. Alternatively, they may be responsible for sourcing a separate stream of leads via cold calling, social selling, or email prospecting. They can also work on partnerships and networking. Once the leads are qualified and ready for the sales process, the BD team will pass them on to the sales team to close.
Growing your business: should you hire or outsource?
If you are hoping to level up your business development game, hiring a Business Development Representative (BDR) or Sales Development Representative (SDR) is one option. For many, the better solution is to bring on board a biz dev agency.
Hiring a Business Development Representative
A Business Development Representative is hired to take a lead on sales prospecting. They may spend their days finding suitable prospects, and sourcing their email or phone number, before contacting the person. Networking events can be fruitful, and using LinkedIn to try and reach relevant people is increasingly common.
Their role focuses on generating leads, qualifying prospects, and setting up initial meetings for the sales teams to close deals. It can be an effective way to take care of prospecting, but it is a lot of work for one person to do. Using a dedicated B2B business development platform may help lighten their workload.
Hiring a B2B business development service
For many looking to grow revenue, bringing a B2B business development agency is the first step to growing this function. The right business development service will help improve your outbound lead generation by adding the expertise and experience of an agency, without the long-term commitment of a new hire.
An agency will deliver a similar output as a BDR, but they tend to specialise – like email prospecting, telemarketing, or social media. Working with a business development service can also provide access to a wider network of prospects and potential partners. They will have experience working with a variety of industries and can use their data to identify new opportunities for your business.
Outsourcing your business development can free up internal teams to focus on important tasks, such as sales, product development or customer retention. With a dedicated team of experts handling your outbound lead generation, you can focus on other aspects that will grow the business.
Why does your company need business development?
B2B business development can make your teams more efficient. Sales spend less time prospecting, nurturing, qualifying, and selling to poor-quality leads. Marketing leads can be nurtured by dedicated BDRs. Helping to bridge the gap, BD teams can assist with sales and marketing alignment.
BD teams help install long-term business growth plans and can assist in regularly auditing the sales cycle to ensure it's the best it can be.
The basis for B2B business development
There are lots of different ways of developing business growth, but the main areas to focus on will be covered by these five pillars.
Building brand awareness and reputation
Finding and scaling new markets
Qualifying and nurturing marketing leads
Outbound sales prospecting to deliver sales-ready leads
Implementing a strategy that coverts marketing, BD, and sales
Creating a B2B business development strategy
Here's a template for a B2B business development strategy although exactly what yours includes will depend on your particular situation.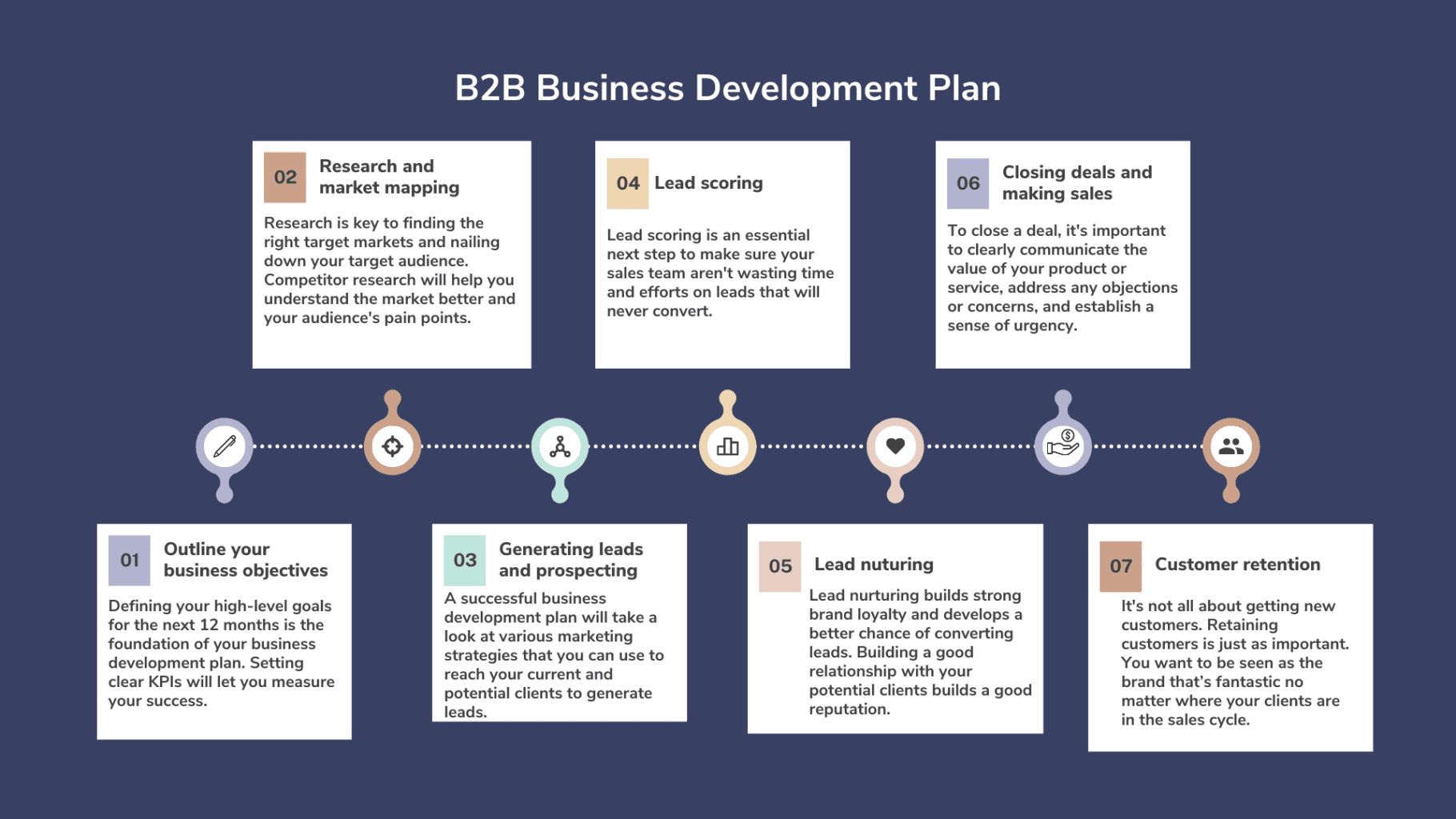 Outline your B2B business development plan
Setting clear goals and responsibilities is the first step to creating a successful demand generation machine. What are you trying to achieve? What are your long-term KPIs?
Once you know what you want to do, you need clearly define which team is responsible for each part of the process.
Research, research, research
There's no effective business development strategy without proper research. You need to know the market inside out, from your competitors to everything about your potential clients.
Mapping your total addressable market can be a great place to start. Our market mapper tool nails your target audience and makes B2B outreach easier.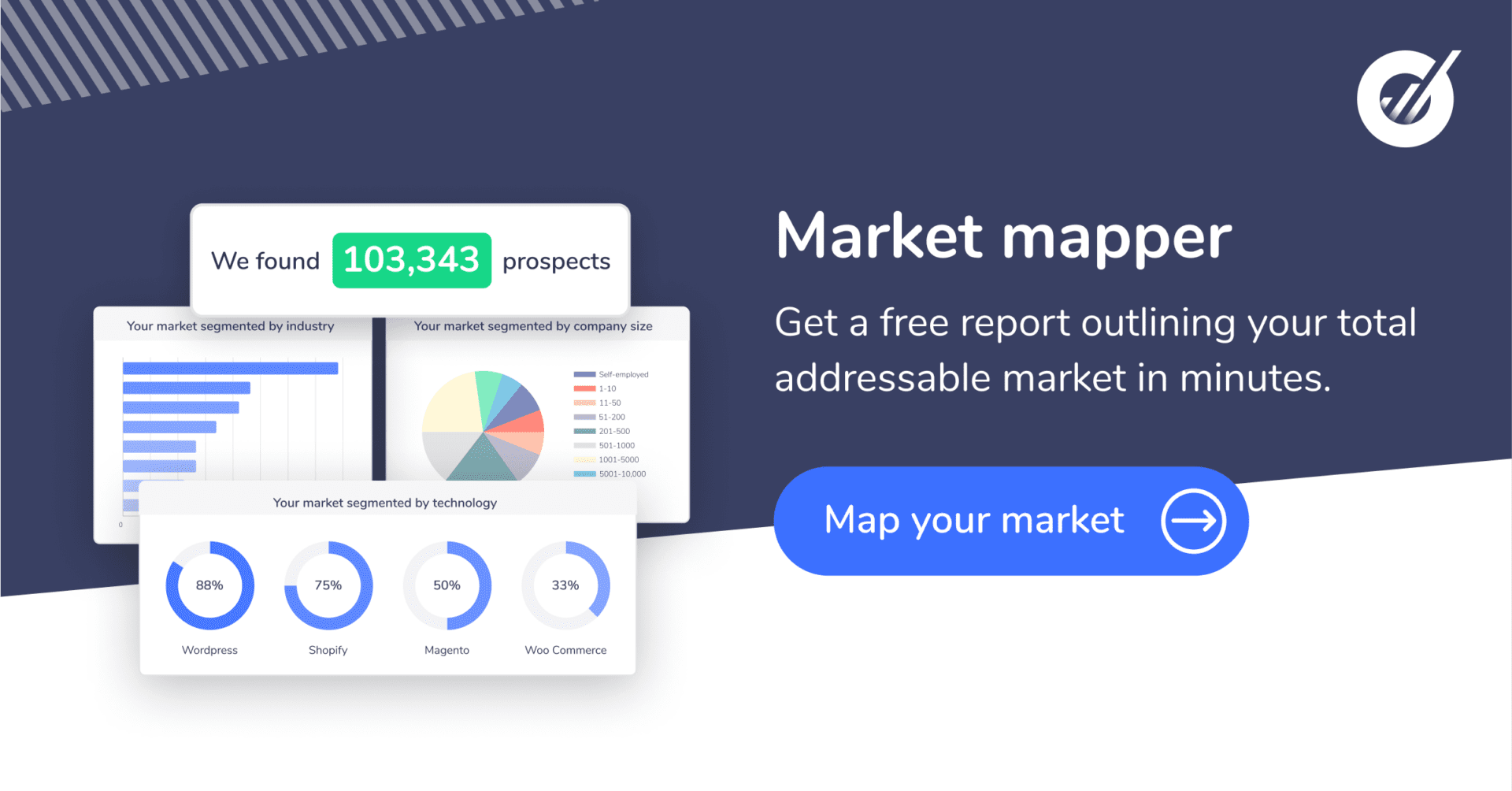 Generate leads
A successful business development plan will include various marketing strategies that you can use to reach potential clients. At the core of this will be outbound marketing.
Email prospecting
Email prospecting is a great way to reach your target market. Our research found that 77% of B2B marketing decision-makers wanted to hear from suppliers via email – the most popular channel by far.
Without the specialist software and expertise of an agency, prospecting can be time-consuming and inefficient. Sopro takes care of prospecting for you, leaving you the time and resources to focus on developing your business.
Cold calling
The advantage of cold calling is you have direct conversations with potential clients, letting you build relationships. This can be a key part of a BDR's role.
However, it takes eight attempts to get through to a prospect on average, and it is reported that only 1% of cold calls lead to appointments.
Networking and trade events
Events also have the advantage of being face-to-face, facilitating relationship building and a good old-fashioned handshake.
As many as 81% of B2B event attendees are decision-makers and have buying authority, so the appeal is clear. They tend to be a valuable addition to yoru strategy, rather than the core of it.
Social selling
70% of sales reps use LinkedIn as part of their role. The network allows you to reach a wide audience, using specific targeting to find your ideal customers.
Manual LinkedIn outreach can be very labour-intensive. It works well for small businesses that don't need many leads, but it doesn't scale. Success rates can be low too, as InMail messages can feel spammy.
Supported by inbound marketing methods:
SEO
PPC
Social media marketing
Content marketing
Webinars
Email newsletters
Note for most companies, these inbound channels will be managed by the marketing team.
Lead scoring
The leads generated will go to your sales reps, and they'll be work on closing those deals. But some of those might not be ready to convert, so how can you needle out the good ones? Lead scoring rates leads based on their likeness to buy, ensuring you're never wasting resources on leads that won't convert.
Lead nurturing
Lead nurturing is the process of building relationships with potential customers by providing them with relevant content and engaging with them. Why is it important in your business development process?
Lead nurturing demonstrates value at the right time and builds brand recall, developing a better chance of converting leads into customers.
Close deals and make sales!
You've got your leads lined up now your sales team can close some deals! To close a deal, it's important to clearly communicate the value of your product or service, address any objections or concerns, and establish a sense of urgency.

Get them coming back for more…
Say it with us: "Customer retention is key for a successful business". You want to be seen as the brand that's fantastic no matter where your clients are in the sales cycle.
That means your customer service needs to be astounding from start to finish. This isn't just about keeping clients, but about getting them to buy from you again and again. A happy client is a client for life!
We take a more in-depth look at all these points and more in our complete guide to B2B sales strategies.
Game-changing business development
Sopro brings sales prospecting to a whole new level. We offer a fully-managed B2B business development service that drives new sales enquiries from your ideal customers, and a sales engagement platform packed with cutting-edge features to optimise your outreach and nurture your leads.
Sopro combines a cutting-edge platform, world-class data, and unrivalled prospecting experience so you can concentrate on what's really important – closing deals and growing your business.
Book a demo to find out more.