Sopro's b2b prospecting service: how does it work?
Posted on: March 9, 2023
Reading Time: 7 minutes
Category: Prospecting
Sopro's B2B prospecting service: How does it work?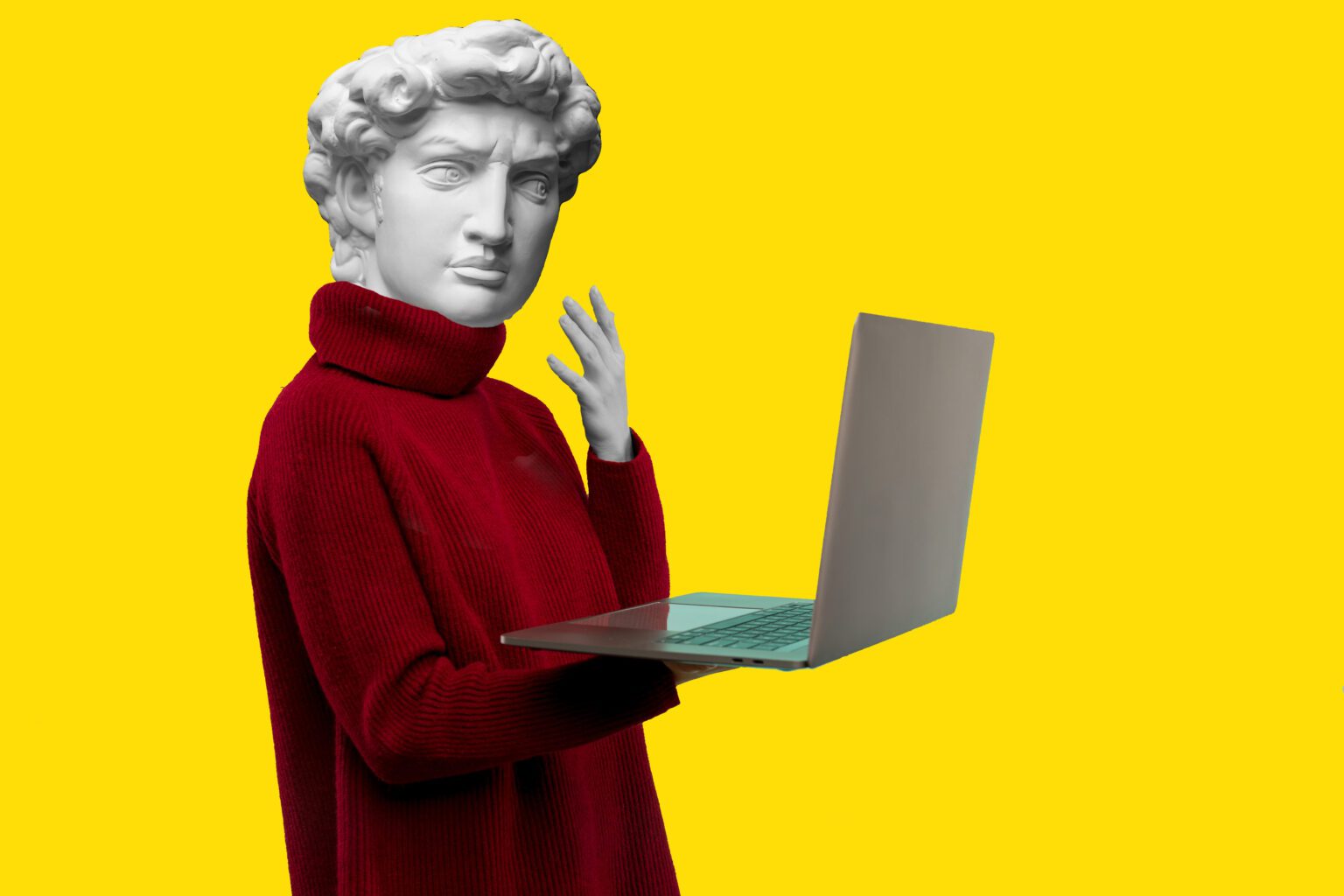 Looking to outsource your B2B lead generation? Here's how a Sopro campaign works, and how our prospecting service can get you more sales-ready B2B leads.
---
When you employ great salespeople, you want them to spend their time doing what they do best; making great pitches and closing deals. But a typical sales rep spends only 33% of their day actually selling, and over 40% say prospecting is the most challenging part of their job.
You know you need to be having more sales conversations with the right people, but how do you find them? Manually searching for potential leads, creating customised messages, and following up is an enormous effort, and almost impossible to achieve at scale. And creating campaigns that send coordinated, personalised outreach across multiple channels? For most teams, it's a dream.
There's a much better way. And if you're reading this, you've probably realised you need to outsource your B2B prospecting and lead generation. Smart move. Say goodbye to sales drudgery with the ultimate sidekick: a B2B sales prospecting service.
What is a B2B prospecting service?
B2B prospecting services do the heavy lifting for you by automating the process of identifying potential customers, reaching out to them, and putting them in front of you – ready to be converted into happy customers.
Gone are the days of sifting through endless databases and making cold calls. With a smart prospecting service like Sopro, your sales team works from accurate, up-to-date, and totally compliant contact information. The best prospecting services take away the time-consuming sales tasks so your sales team can focus on selling.
How does Sopro's B2B prospecting service work?
Sopro combines the human touch with eight years' experience and cutting-edge technology to deliver a multichannel B2B prospecting service that goes the extra mile – we're your ultimate prospecting team, obsessed with your success.
Here's how your Sopro campaign works:
Step 1: We get to know you ❤️
We'll spend time at the start getting to know your business, the products/services you offer, and what makes you special. Tell us who your ideal customers are, and what kind of deal size is typical for you. Your dedicated Customer Success team will be with you every step of the way.
Step 2: We find your target audience 🎯
We then get to work finding your target audience. Using multiple data sources, we create a live, unique, and fully-compliant data set that's totally tailored to your business. Each contact is hand-picked by us, for your campaign. Tell us any businesses you'd like excluded, and we'll ensure they're not contacted.
Step 3: We create your messaging 💡
With the audience approved, it's time to create some killer outreach messages. Our expert copywriters know what makes successful sales emails and LinkedIn messages – ones that are engaging, relevant and on-brand.
We'll set up a sequence of emails, including an eye-catching introduction and gentle chasers. You can add gifts to your outreach if you want to stand out.
Your Customer Success team will make sure you're 100% happy with the content before starting your campaign.
Step 4: Your campaign goes live 🚀
Your campaign goes live, and your personalised messages start being delivered 1-1 to your prospects. Emails will be sent on your behalf, and all responses will be logged in your live portal.
Step 5: We monitor results and buyer intent 🔍
Your dedicated Sopro team monitor the results of your campaign through the portal, and proactively suggest amends and tests to improve results.
If prospects from your campaign display interest – visiting your product and pricing pages, for example – we'll follow up with a message and connection request on LinkedIn. This adds another natural touchpoint to your conversation.
Not only that, but our tech also converts your anonymous website visitors into named businesses. We then use your targeting criteria to add relevant prospects from these companies to your engagement campaign.
Step 6: You get hot leads, delivered to your inbox 💌
You'll receive positive responses from sales-ready prospects directly to your inbox.
Your 24/7 Sopro portal allows you to track your campaign progress, providing complete transparency. And while you can leave the lead generation to us, we'll even provide phone numbers whenever a prospect shows buyer intent (so long as we have their number in our database!).
So if you'd like to pick up the phone and move already engaged prospects along the sales funnel – without making a single cold call – you can.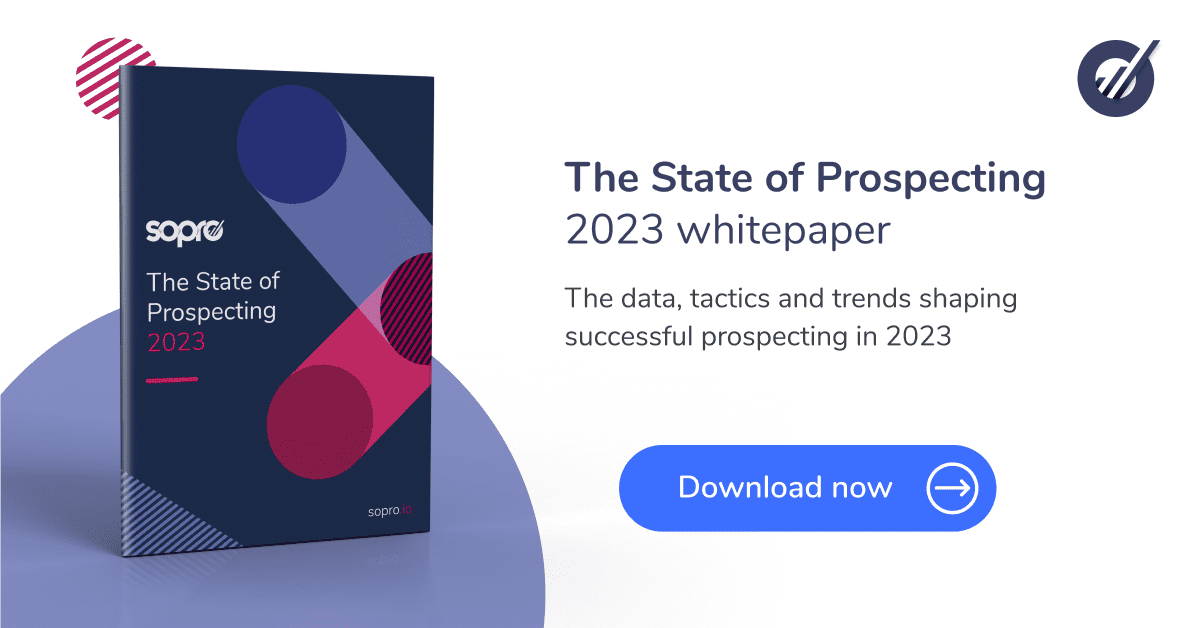 Why choose the Sopro prospecting service?
ROI: Track your success with precision 📈
When it comes to B2B sales and marketing, knowing your ROI is not just a luxury—it's a necessity.
With Sopro, you get detailed results on every email template and audience segment, providing you with a fully trackable ROI. This means you can see exactly what's working and what's not, allowing you and our team to make data-driven decisions.
Imagine knowing which subject lines get the most opens or which audience segments are most responsive. With Sopro, you don't have to imagine; you'll know.
Compliance: Sleep easy, we've got you covered ⚖️
In today's digital age, compliance isn't a buzzword; it's a brand imperative.
The last thing you want is to damage your brand's reputation and get in some legal hot water. That's why at Sopro, we have an in-house Compliance Officer who ensures that your campaigns are 100% compliant with all relevant laws and regulations.
So go ahead, focus on scaling your business, and leave compliance to us.
Competitors: Elevate your outreach game 🏆
Although there are a lot of elements to our service, at it's heart Sopro is simple: we offer a reliable, scalable flow of high-quality leads.
When you choose Sopro, you're not just getting a service; you're adding a team of 300 prospecting experts to your roster. Armed with advanced, cutting-edge technology and best-in-class data, we're your secret weapon for outreach success.
Can your competitors compete with that level of prospecting? As one of our clients said: "Our sales team rock up to the office, open their inbox, and there are leads in there, ready to go."
Efficiency: avoiding low-quality data 🛑
If you're thinking "I can just buy contacts for less money and less effort"… listen up. Lots of businesses claim to offer lead generation services, but not all B2B prospecting services are created equal.
Data brokers often sell the same contact details to everyone. And with any static database, half of it's obsolete within 18 months. And you still have to make sure you get the technical setup right, try and coordinate outreach, write messages
Reputation: Avoiding mass email cowboys 🤠
In the world of email prospecting, not all approaches are created equal.
While some may advocate for the "spray and pray" method, mass emailing often leads to poor targeting, domain blacklisting, and a tarnished brand reputation.
Not to mention the compliance risks and poor ROI that come with it. Unlike these high-volume, low-quality tactics, Sopro offers a tailored, compliant, and effective solution that truly understands your target audience.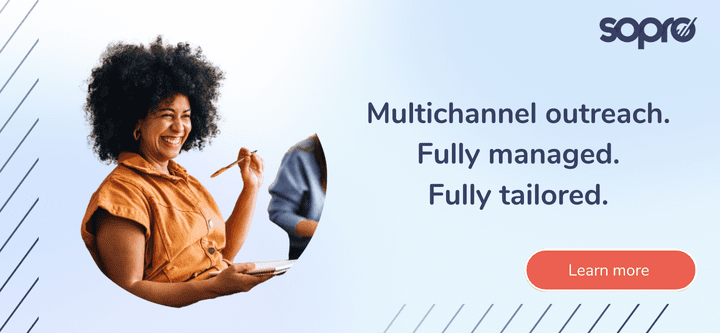 Your fully-compliant, highly-targeted, and uniquely-tailored B2B outreach campaign could be up and running from as little as two weeks.
Book a demo to see how you could start selling more with Sopro.