Sales prospecting for financial companies: how to drive new leads
Sales prospecting for financial companies: how to drive new leads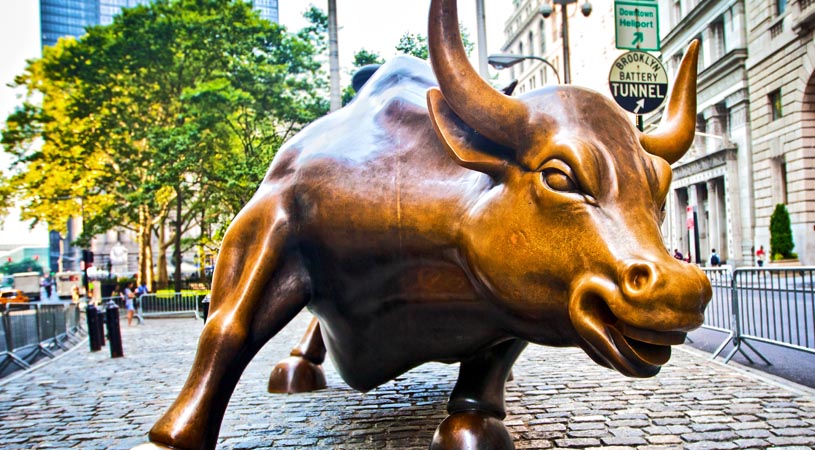 Let's get straight down to it: not all lead generation activity works for all markets. There are nuances specific to each industry. What you need is a guide, outlining a sales prospecting strategy for targeting financial institutions.
Turns out, by finding this post, you're in luck. Whether you are a financial company or are targeting financial services professionals, this post will cover some of the specific lead generation challenges, best practices and benchmark results that can form the basis of your prospecting strategy.
Lead generation channels
There are many ways to drive leads into a financial company, no matter who your target market is. Different channels work better to reach different potential clients.
The following methods can all bear fruit:
Email prospecting
Cold calling
Events and trade shows
Networking and referrals
SEO/PPC/Content
Social media
Advertising
However, not all marketing channels are created equal. In their state of digital marketing report, Demand Wave surveyed 179 B2B marketing senior executives and found that channel revenue varied a lot:
So because it's top of the list (and because we're email prospecting experts), we're going to focus on the best of the bunch: email marketing.
Financial services: mapping your market
Our first step in prospecting for financial companies is to map their total addressable market. At this stage we're not sourcing contact information, we just want to get a feel of the size of the market.
For this demonstration, let's say we want to target SMEs in financial services, banking and investment banking. We want the decision-makers, so let's input the C suite and other senior executive roles.
Using Sopro's market map tool, and inputting these simple details:
We can see the breakdown of company size and industry, and the size within each industry.
But crucially, we can see the size of the market: 33,185.
Which is a big enough market to start your lead generation campaign. You can amend your targeting and see how the size of the financial market changes.
The first step is to set up the technical side of your email marketing. If you're going to approach 33,000 people, you'll need a great tech team to make sure you don't damage your domain reputation, and that you don't land in their spam folder, and much more. Here's a guide to email deliverability.
Financial sales prospecting – email template
Once that's all set, you're good to start sending your emails. You may have copy experts in house, but cold email copywriting is a different art form altogether. You won't convince someone to buy in the first email, so don't try. Instead, secure a call or meeting where you can convince them to purchase.
There are, of course, all sorts of regulatory and compliance issues, and complicated technical terms that can make sales prospecting for financial companies difficult. Our proven tactic is to leave all of that out until you are on a call with them. Here's the simple template:
| | |
| --- | --- |
| 1. Greeting | [Morning] Jane, |
| 2. Softener | I hope you're [staying out of the rain OR enjoying the sun] this week. |
| 3. Intro | A super quick intro from me… I head up the client team at FinTeqUK and I was hoping I might catch you for a quick call [later this OR early next] week. |
| 4. Reason for contact | It looks like we would be a good fit for [your company]. We have some amazing tools and I believe our resources can be leveraged in your favour. I wondered if you might have a few mins to run through my logic. |
| 5. Call to action | Are you free for a brief chat on [Wednesday]? Literally 15 mins. How's your diary? |
| 6. Proper email signature | (Insert signature with non-sales job title |
Best time to send emails to financial companies
We analysed 2.5 million prospecting emails sent to 70 industries and crunched the numbers to work out when you should send those emails
If you are prospecting a financial company and you send your messages between 11 am and midday on a Wednesday, congratulations. That's when we get our best lead rate, of 3.72%.
Steer clear of Friday afternoons: perhaps unsurprisingly they are not the most productive. Our lead rate dropped to just 0.63%. That's a massive difference. It means that you can see a 490% increase in the number of leads depending on when you send!
Sales prospecting benchmarks for financial companies
How can you tell if your prospecting techniques are effective? Well, luckily for you, we publish all of our campaign results. Anonymised, but segmented by industry.
You may be targeting financial companies, or you may be one, but either way, these numbers are a useful benchmark for what to expect.
We've pulled our prospecting results from the last twelve months for accounting, banking, capital markets, financial services, fundraising, insurance, investment banking, investment management, and venture capital & private equity.
Financial companies are some of the hardest and most competitive industries to prospect to. Even so, the lead rates range from 1.7% to 7.5%, and the cost per lead is from £26.71 to £119.42.
Sales prospecting: a financial services case study
Finally, let's dig into a prospecting case study for a financial services company.
Adimus is a global distributor of investment products and a Sopro client. They used Sopro to inject fresh leads into the business without a dedicated sales team
provides asset managers with a dedicated and experienced distribution team. They provide marketing and capital raising services, always adhering to the complex distribution rules in different parts of the world.
Sell more. Book a demo today.

Adimus aim was to identify and engage with senior decision-makers within Financial Services, Investment Management and Investment Banking sectors in Dubai, Singapore, Hong Kong, Thailand, and the UK.
However, they do not have a dedicated sales function. Their internal teams don't have the required sales outreach capacity, but they needed to increase contact with their potential market.
Prospecting emails appear to come from one of their financial advisors, and if the prospect responds positively the relevant expert advisor at Adimus seamlessly continues the conversation, progressing towards new business as with any other lead.
Their headline results were particularly impressive, with overall lead rates of 6%, and some sectors as high as 13%.
---
If you are looking to prospect to financial companies, or are one yourself and are looking for new business opportunities, we're the prospecting experts with an award-winning service. Get in touch today to see what we could do for you, and why we are rated 4.9 stars by our clients