Understanding prospecting: services vs tools
Understanding prospecting: Services vs tools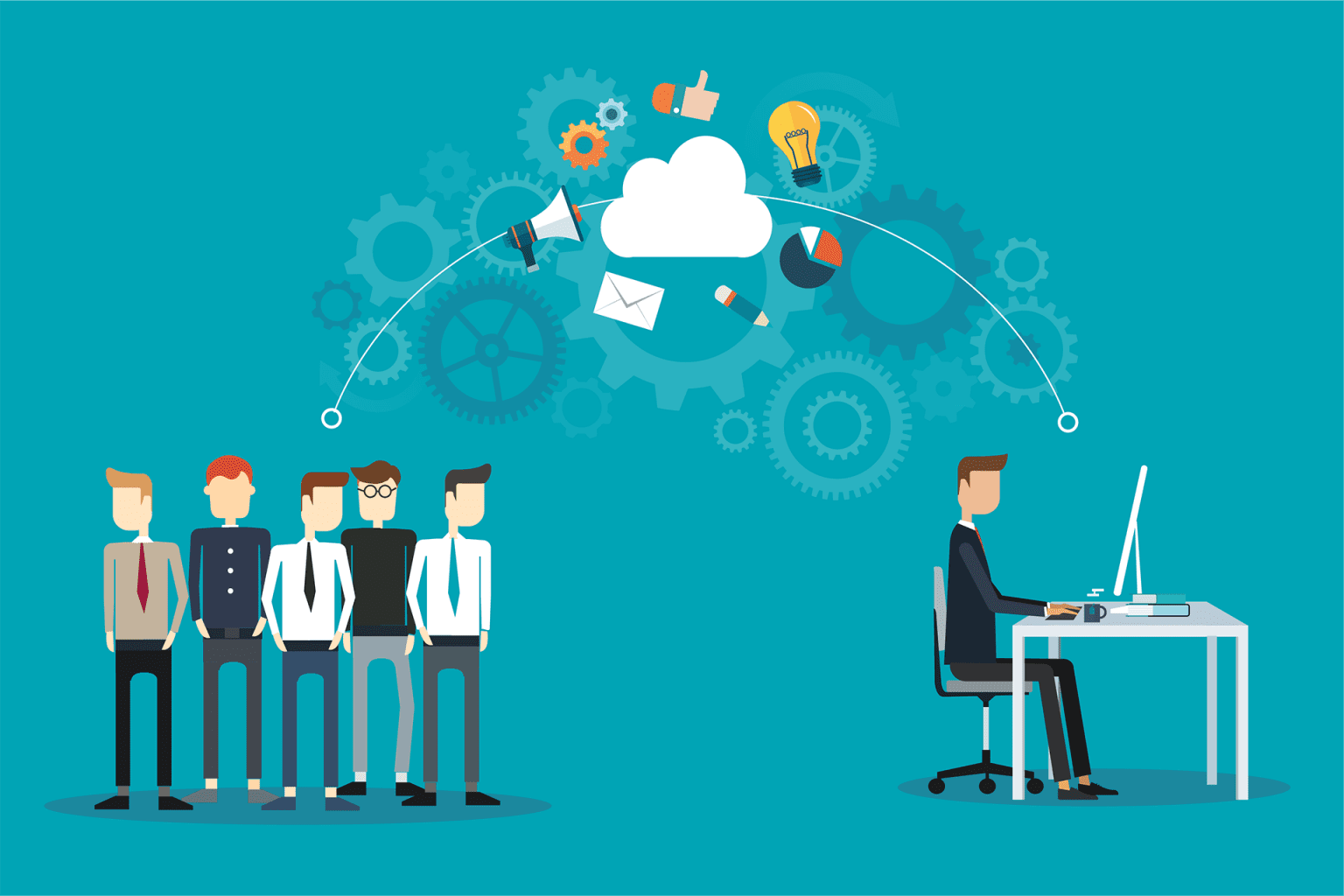 When it comes to marketing technology, businesses have more choice than ever before.
Too many of every type of system… It's intoxicating.
Here's a crazy stat.
"7/10 marketers don't fully understand the difference between SaaS-based prospecting tools and service-based prospecting providers."
It's time to set that record straight, a useful reference card, I promise.
On the surface, for companies thinking about either outsourcing lead generation or paying for a tool and doing it in house, prospecting agency brands like Sopro often compete with SaaS tools. We regularly hear from potential customers busy evaluating our end to end service against various online DIY tools that I won't name.
We all want to be sold the dream, the elusive bug-fix to patch our ineffective marketing efforts once and for all, and guess what, if it comes wrapped in a polished web portal with a 15-minute setup and a cheeky free-trial, then sign me up yesterday.
It is easy to believe that you just need the right tool… that everything else is in place and you're just waiting for the right tech to somehow revolutionise your new business strategy and kickstart the sales engine.
It won't.
That dream isn't real.
So sorry to ruin the moment but no matter how many Gary Vaynerchuk videos you watch, nobody real ever built a credible B2B sales pipeline for $100/month. Establishing consistent deal flow requires method, discipline, tenacity, ingenuity, critical thinking, perseverance, investment… and plenty of resources.
It is hard.
But the prize is great.
You might be embarking on that journey today, many businesses are.  Setting out to trial fantastical software built to automate your outreach and rock worlds. It's an enlightening and well-trodden path. Trust me, I know where it ends.
Excitement quickly turns to "okay… so what are we doing wrong?", to "but… it was supposed to be much easier", to "well… we don't have the resource for that…", to "WHERE ARE THE DEALS?".
Lack of customers kills more businesses than any other factor.
The truth is; any business leader that believes deal flow can be established with a piece of software and a few minutes each week is trivialising its greatest challenge and inviting failure. It can be a long and costly lesson to learn but take my word for it, the sales engines powering those aspirational high growth businesses you envy from afar are neither lightweight nor cheap.
I don't mind sharing that Sopro's cost of sale has fluctuated between 20% and 30% in the last 5 years, it's a pretty average performance against a well-benchmarked stat.
On that basis if you're turning over £1m you can expect to invest £250k in sales, if you're turning over £10m then shoot for £2.5m/annum sales cost, and so on.
With sales being dependent on lead flow, when you plug in real numbers it quickly becomes obvious that your common-all-garden $100/month email automation tool is probably not going to be the one-stop sales revolutioniser that your business actually needs. And it also becomes obvious that you probably have a lot more budget than you think you do. As a general rule, I advise any serious businesses to ditch the pursuit of lightweight, low-budget sales fixes and start treating sales prospecting with the respect it deserves.
The Crux
Over the last few years I've had a unique window to observe the evolution of hundreds of marketing strategies. I've now boiled down the lessons learned during the average transition to digital outreach and I can say with certainty that the fundamental difference between the starting position and the productive end state is this:
People think they need technology.
People actually need help with technology.
That is why Sopro offer a team, not a tool.
DIY Sopro?
Sopro runs the world's most consistently successful prospecting format so the next suggestion is usually to follow the Sopro steps in house… an easy one to underestimate. We don't guard the secrets, I actually prefer to be up front with the blue-prints and even offer to help where needed.  The reality is… to run a successful prospecting campaign you need each of the following elements in place, without exception, as a minimum.
Here's how we visualise the essentials: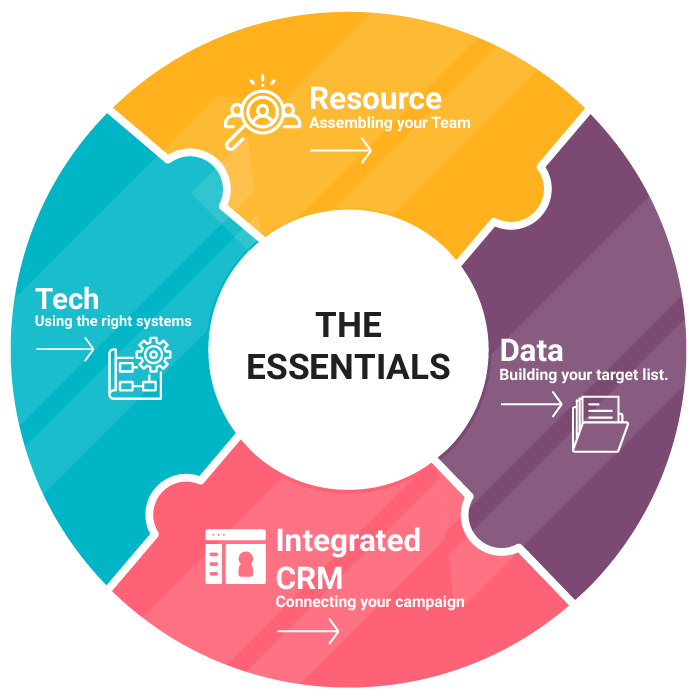 ---

Resource
Assembling your Team
Expect to hire (or make available) the following resource:
| | | |
| --- | --- | --- |
| Campaign Manager: | | Budget 4 days per month per campaign. |
| Listbuilding and Admin Team: | | Budget 5 days per month per 1000 prospects ongoing. |
| Creative messaging copywriters: | | Budget 1 day per month ongoing. |
| Compliance Manager: | | Budget 2 days for initial LIA plus ad-hoc support ongoing. |
| Technical Delivery Team: | | Budget 3 days setup plus ad-hoc support ongoing. |
| Reporting and MI Analysts: | | Budget 3 days setup plus 1 day per month ongoing. |
---

Data
Building your target list.
You will need a high-quality, reliable data provider. Fresh data is essential. Your existing CRM is not suitable for marketing outreach. Self-sourcing at scale is a pipedream. Find a good, reliable data supplier.
---

Tech
Using the right systems
You will need to procure, deploy and roll out a prospecting campaign management platform with the following functionality as a minimum.
Data import, campaign assignment.
QA and prospect approval.
Exclusions management.
Messaging template management.

Must have performance reporting by template.

Multi-stage campaign messaging scheduler.
Email delivery system (integrated mailserver or SMTP integration with existing mailserver).

Must include a pre-live deliverability testing.

Response tracking and response categorisation interface.
Campaign traffic web tracking.
Segmented performance reporting.
CRM integration (I.e. with your active CRM).
Compliance support centre.
---

Integrated CRM
Connecting your campaign
Don't mess about with risky options. I recommend Hubspot, Salesforce, Pipedrive or ZOHO.
In Summary
So… while great marketing tech is clearly an essential ingredient to every top prospecting campaign, it is also just one piece of the puzzle. Great tech will never deliver results on its own and there's very little logic in prospecting in-house unless you also have the time, energy, specialist people, data, processes, systems and experience in place to really do things properly.
That is the difference between the SaaS style DIY prospecting tools and Sopro, the world's favourite prospecting service. It's really a choice between taking on the prospecting challenge internally or handing it over to the experts.
Either you have the bandwidth, resource, budget and appetite to assemble a team and build out your prospecting activities in-house, or you can take the easy option and throw it over to Sopro, we'll set up a genuinely unimprovable prospecting channel to drive consistent and reliable deal-flow directly into your sales team. And we'll blow the bloody doors off.
Anyway… at least now you can make a more informed decision.
If the latter sounds like you, we'd love to talk about your campaign.
Sopro – A team not a tool.