Stack them high and sell them cheap: the true cost of wholesale prospecting
Stack them high and sell them cheap: the true cost of wholesale prospecting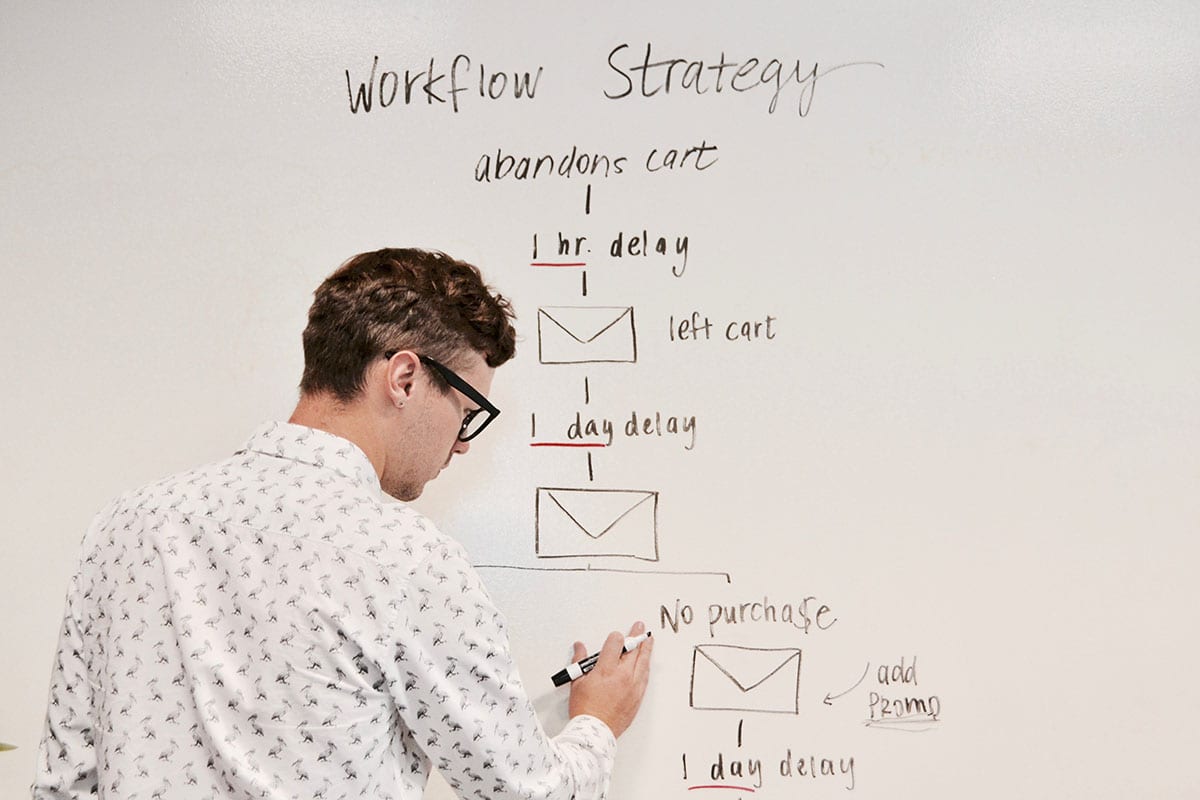 It's no secret: we are not the cheapest prospecting service on the market.
When we set up Sopro over five years ago, cheap was never an ambition, whereas quality, value and results were.
We deliberately avoid the wholesale approach.  
There is no 'stack them high and sell them cheap' philosophy at Sopro.  It has never been about volume.  Instead, we routinely deliver on metrics that matter, like cost per deal signed.
If you are looking into lead generation outsourcing, a wholesale price and low-quality approach is never the answer.
Still, those headline figures setting out huge message volumes for every dollar spent, can be blindingly attractive.
We often hear about 'Leads 'r Us' or other wholesale lead generators who purport to contact a hard-to-believe number of prospects each month for bargain-basement fees.
We're talking 10K+ a month for peanuts: stacked super high, and sold super cheap, but is it ever a good deal?
Let's find out.
Sell more. Book a demo today.
Setting out our stall
As an artisanal lead generator, rather than a wholesale prospecting machine, we thought it worth setting out our stall.
Arrayed before you are:
Quality leads (not vast quantities of prospects)
Hot opportunities (rather than burnt out data)
Targeted communications (against a scattergun approach)
Published response rates (as opposed to committed messaging rates)
Which is the long way to say we deliver meaningful sales conversations, rather than meaningless lists of prospects.
So, what's wrong with super-high volumes if the price is low enough?
Well, let's assume those 10K prospecting attempts yield a (Sopro average) 4% lead rate.  That equates to 400 sales opportunities per month.  Does your sales team really have the capacity to handle that volume of deal flow?
Of course, it's highly unlikely you'll see anything like a 4% lead rate, we often hear of lead rates running at sub 0.1%… effectively burning large sections of the target base with 1000:1 success rates.  A very destructive exercise indeed.
Beware of the high-volume carrot.
Targeting and message quality?
Without the right level of investment in quality, before you know it, your investment is delivering bad messaging, to the wrong people, in the wrong businesses.
Not to mention 80% of the messages are going to spam.
There are so many ways to do this badly.  SPAM flags are quickly raised by recipient mail servers, and with low data accuracy thrown into the mix, your domain reputation can quickly turn from squeaky-clean to blacklisted.
Not to mention those cringeworthy scenarios on LinkedIn… you know the ones.  Quick connection request then a bolt a on micro-pitch arrives 30 seconds later…  You don't want ever to be that business.
You went with the cheap option.  At the back of your mind you're not 100% sure it's all compliant.
But you've saved a few hundred dollars and that has helped pay off your conscience.
Although you haven't been sleeping too well recently… probably just a coincidence.
But seriously, it's always worth taking compliance seriously.
The cut of their jib
How can you be sure you will run with a service that meticulously nails every possible step of the prospecting process and delivers deal after deal after deal?
Here are a few ways to sound out the imposters.
You need more than a couple of client testimonials on your website to be reputable, so consider these factors to establish trust:
How old is the business?
How many employees can you identify on LinkedIn?
Do they offer you a platform you can log into to view your campaign's progress?
Can you identify credible customer reviews and awards?
Will you have a designated account manager, campaign delivery manager, creative writer…? Or will you be doing half the prospecting/management for them?
Is there a scheduled weekly/monthly call schedule?
Do they publish their cross-client results that track the process from prospecting to deals delivered?
Do they publish their annual accounts (I.e. via Companies House (UK) or equivalent)?
Email versus LinkedIn Connect and Messaging
Wholesale prospectors will often cut costs by sending LinkedIn connection requests rather than sourcing contact details and emailing each prospect directly.  The Connect'n'pitch 3000 approach… also known as the "trash your brand in one easy step" guide to marketing.
Leads are lukewarm at best and you risk severely annoying the very prospects you rely on for business development: according to Hubspot research, a massive 80% of buyers say they prefer to be contacted by email.
Always think this through seriously… if your campaign objective is to generate a handful of LinkedIn connections then fire at will, if on the other hand, your objective is to generate sales conversations and close deals, you might prefer the direct email format.
The thrill of the chase
If your output is a LinkedIn connection then you are left with a lot of chasing to do.  In fact, wholesaler prospectors are notoriously poor at 'chasing' prospects diligently and tactfully.  
And this can cost you dearly.
We know that more than half of the responses generated by our prospecting emails are produced by the second, third or fourth communications in the sequence.
There is actually a 91% higher response rate from the follow up chasing than from the initial contact.
Wholesalers tend to engage prospects just once or twice (I.e. connection plus follow up), skipping the subsequent stages that can make a very real difference to overall response rates.  Without a robust and high quality follow up sequence you are simply burning through market opportunities.
Burning and looting
Speaking of burning, let's circle back to the prospecting promise that our made up low budget lead-gen vendor Leads'R'Us might offer you, namely, to stack them high and sell them cheap.
One of the most often quoted prospect numbers that wholesalers will hit for you is the impressive 10,000 a month.
Actually, you shouldn't be impressed, by that.  You should be afraid.
Very afraid.  It should scare the living daylights out of you.
Such volumes are:
Only achievable by jettisoning targeting in favour of blasting
A high-risk strategy for either burning your LinkedIn reputation…
Or burning your domain – at this volume, even if email deliverability appears fine, you can guarantee that deliverability to inbox will be destroyed in days
A sure-fire recipe for ripping through your entire addressable market in no time at all
The truth is, on average, most B2B businesses return a prospect audience of between 10,000 and 20,000 target companies, in total.
Which means that, even if you aim for a total market sweep every six months, there is no good argument to contact more than 1/6 of your total addressable market per month.
To reiterate: the only possible way to hit 10,000 prospects a month is to include those well beyond your target market.
Wasting time and budget, messaging out of scope prospects, and muddying the waters of your sales funnel.
What does success look like?
It doesn't matter how hard you flog a dead horse or, for that matter, how many dead horses you flog.  
Measuring a prospecting campaign by the number of prospects contacted is like assessing the quality of a fine wine by the number of barrels produced.  It is the wrong indicator entirely.
To accurately assess campaign quality, you need to focus on output, not volume.
That's why we share our deliverability scores and the conversion rates of all our campaigns: so you can see the output well in advance of choosing SoPro.
When I paint my masterpiece
Your sales and marketing team live and breathe your business. They know how nuanced your market is and they understand the niceties to address and the obstacles to overcome.
Given the chance they can paint a comprehensive picture of your ideal prospect.
But that picture is useless if the communication between your prospecting partner and your team is either ineffective or infrequent.
By contrast, we invest time in understanding and even challenging your goals prior to launch, then we schedule frequent review calls to review performance and propose improvements from week 1 onwards.  To underscore this, list-building runs just two days ahead of the campaign for good reason, it means your campaign delivery manager can alter the targeting at any point without you being locked into large quantities of pre-supplied data.
The write stuff
Given that the warehouse prospector only has a sketchy outline of your business, it's no wonder you are asked to write your own prospecting mails and messages.
Yet, prospecting campaigns live and die by the quality of messaging used.  And very rarely will your sales team or your marketing team, or even your CEO, have the specialist skill set to write a B2B prospecting mail.
Which is why we provide experts to do this for you.
And the results don't lie: our expert prospecting emails outperform existing client messaging by 2:1 on average, and up to 10:1 in cases.
Which is to say, you are potentially missing out on doubling your response rates or skyrocketing them by 10x, something you should factor into the perceived service price you are offered.
Related to this is the 'personalisation' you are offered. Not all personalisation is, well, quite as personal.
It takes a lot of work to make an exercise of formal data insertion to read informally.
Try and find out exactly what the output of your data insertions will look like. As an example, here is an output of a mail that has simply inserted each field as it appears in the database (on the left) and an example where the data insertion has been informalised (on the right).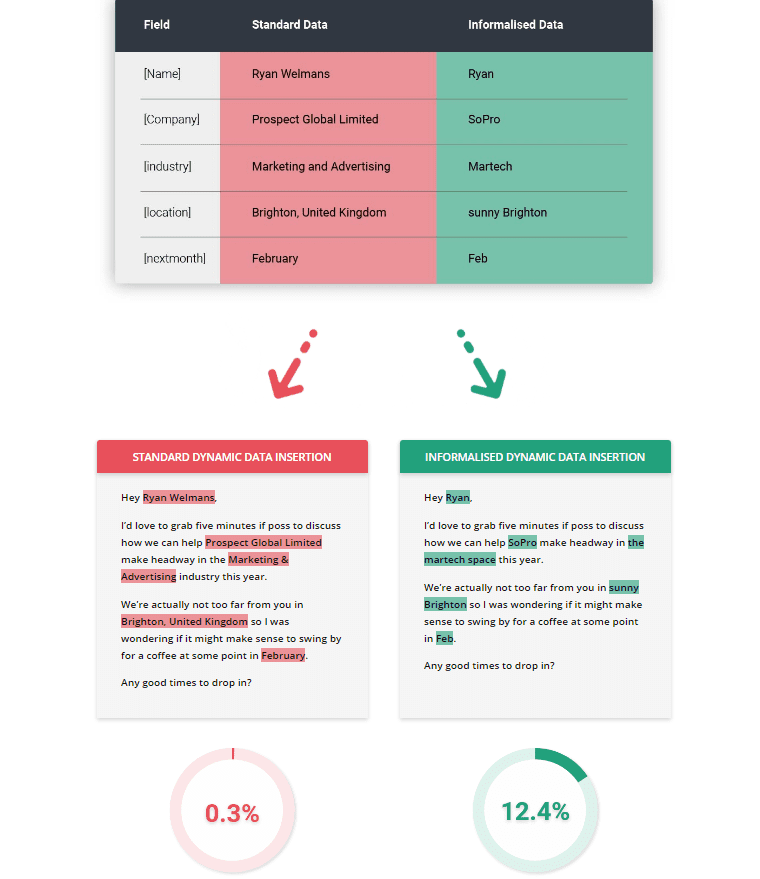 As you can see the response rate is 1140% better.
The informalisation adds that all-important human touch, and the resulting tone can be adjusted by job title if required.
Let's just run these response rates past some hypothetical prospecting campaigns:
Mail volume:                      10,000                   1500
Response rate:                   0.3%                      12.4%
Responses:                          30                           186
It's well worth checking how personal your personalisation will be.
Your flexible friend
Ask your sales team: would they rather have 300 lukewarm leads or 10 burning hot ones.
Actually, don't bother: we both know the answer.
Sales enablement is all about making everything smoother, quicker and easier. And a load of 'lead-to-nowhere' leads just wastes time.
Similarly getting hundreds of leads on a spreadsheet that needs entering into your CRM is just unproductive and hampers your responsiveness to new leads.
Sopro is pre-integrated with all mainstream CRM systems meaning prospects and leads magically appear in your CRM without the admin slog.
Pays your money…
It's no secret: we are not the cheapest prospecting service on the market.
But…
You can trust us with your domain.
You can trust us with the future of your business – your prospects.
You can trust us to enable your sales team to pursue genuine opportunities immediately.
You can trust us to deliver impressive response rates in realistic quantities.
And you can trust us to deliver on what matters: a low cost per deal signed.