Linkedin connection requests: how to grow your network
Posted on: February 5, 2021
Reading Time: 7 minutes
Category: B2B marketing
`
LinkedIn connection requests: how to grow your network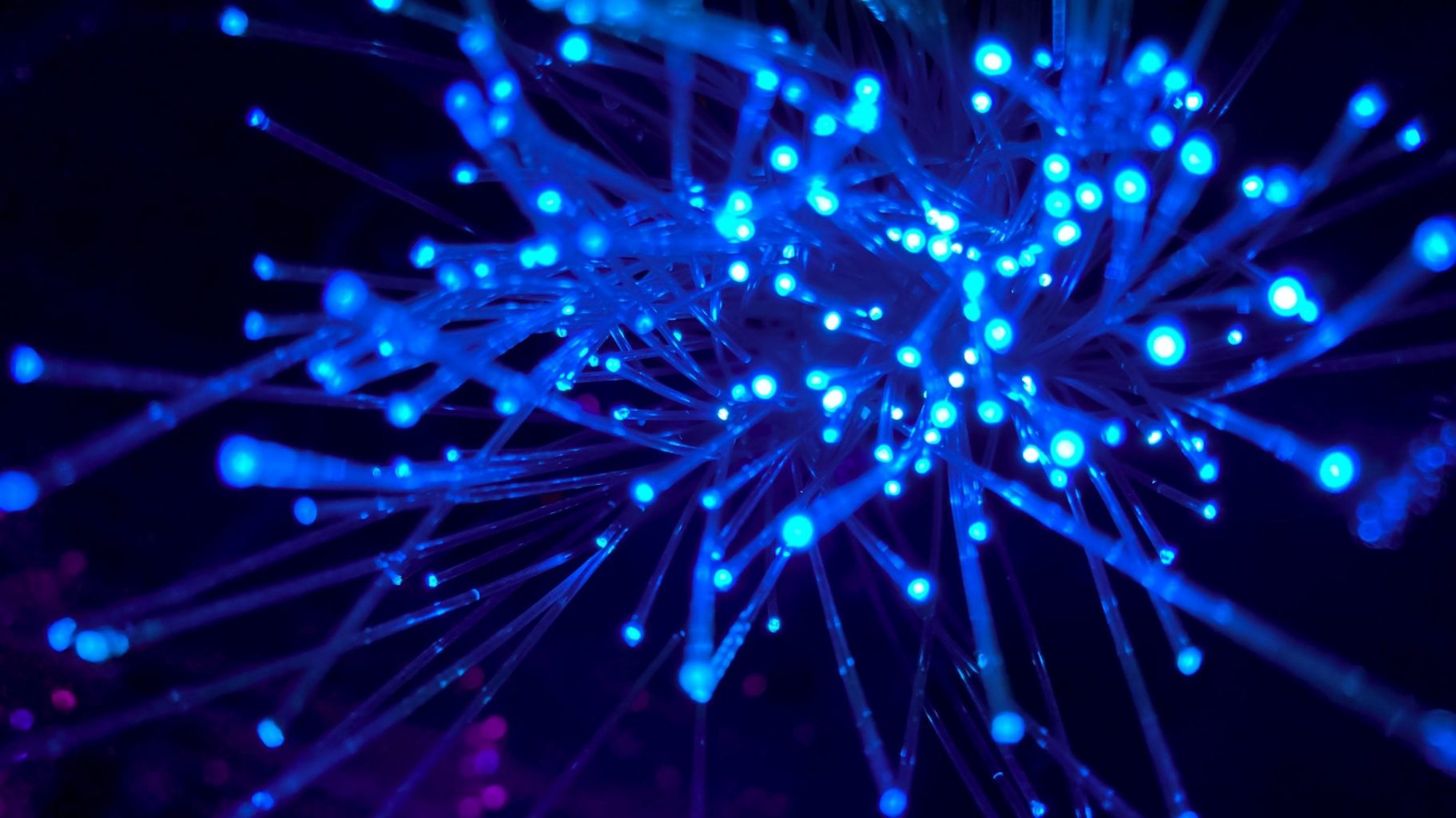 Sending a LinkedIn connection request is just a modern version of a very old phenomenon.
In the 80s, a Filofax was all you needed to grow your professional network. Back in the 19th century, the cutting edge of networking technology was the business card. In the stone age, you probably just threw a rock at someone.
We all want to connect with people. But with the modern ability to connect with thousands of people from all corners of the world, competition is fierce. You need to think about your approach carefully. Here's a rundown of the different LinkedIn strategies you can adopt, ending with a message template to send requests that connect.
Update your profile
Before you send a single connection request message, audit your LinkedIn profile. Make sure people will land on a perfect profile when they check you out.
Do everything you can to make your profile look interesting and recently updated. Showcase examples of your work and add your employment history, education, qualifications and certificates.
Skill endorsements are useful, but personal recommendations really make a profile stand out. These really build a picture of who you are as a professional.
Connect with people you know
Let's start with the most obvious place – people you already know. 
Rack your brain for old classmates, former colleagues, anyone you have known in your academic or professional life.
People you used to know might now be useful connections – the kid who was unbeatable on Mario Kart might have founded a growing tech startup.
As well as potential connection gems, simply growing your network will help you in the long term: more people will see and interact with your posts, helping you grow further. 
You'll also start to increase the number of users who you have a mutual connection with. Again, this should help growth in the future.

These people can be from any part of your academic or professional life. You can quickly rack up a few connection requests from the following areas:
School/College/University
Previous employment
Current colleagues
Freelance clients
Professional courses you've taken
Following networking events
Connect with people you actually want to know
You can also connect with people you don't know personally.  
This is where you need to be careful. Make sure you have a fine-tuned set of tactics and know who they are and why you are connecting with them.
Don't spam
Before you try out any of the following suggestions, remember the first rule of LinkedIn connection requests… don't spam people. 
Whatever you do, don't send out hundreds of requests to people you don't know, without adding a personalised message. 
Everybody with an email address is fed up with receiving the most boring message of the modern age: "I'd like to add you to my professional network on LinkedIn."
Firstly, it won't help to grow your network. Second, it may well alienate you from people you one day meet and genuinely want to connect with. And finally, it may get you flagged as a spammer.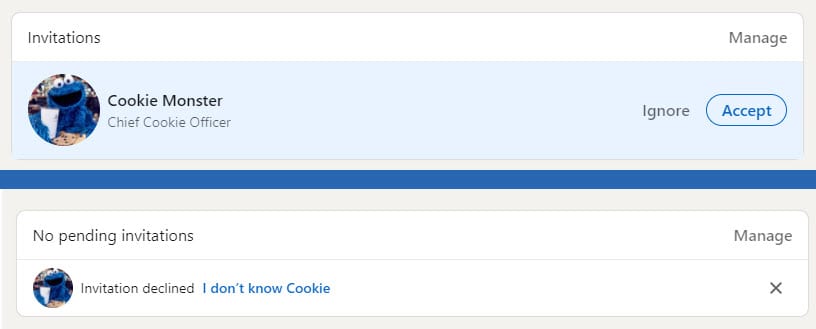 When someone clicks Ignore on a connection request, they are presented with the option to say they don't know the requester.
This prevents you from firing off another invitation to the same person in the future. Worse still, if too many people click the option, you could be restricted from sending invitations to connect with other people.
Connect with suggestions
Navigate to the My Network screen, and you will not only see suggestions from your school and employers.
LinkedIn also provides suggestions based on the area you live in, people with similar roles to you, professionals in the same industry, and people in the same groups as you.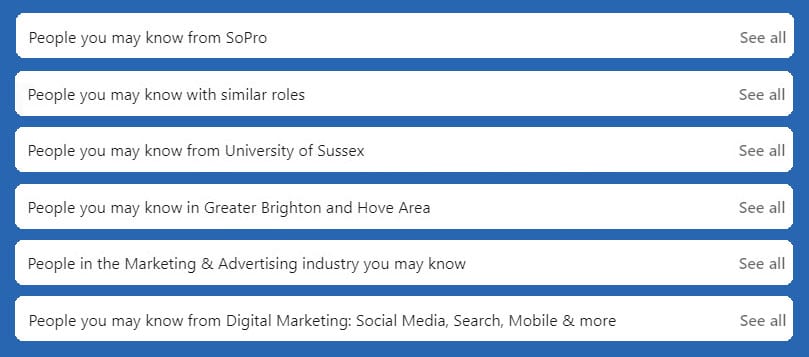 Send genuine connect requests
Make sure you are sending requests to people you have a professional interest in. As the suggestions from LinkedIn imply, people in your industry, with similar jobs, or who live in the local area are likely to be interested in connecting.
If your interest is genuine, chances are they'll see the benefit of connecting with you too.
Join in
Create posts: share thoughts and interesting reads, share interesting discussions with your professional network. Join groups and be an active member. Reply when your connections post something.
There's no shortcut to this step, but being an active member of the community is key to increasing your reach and connecting with more people.
Do your research
Have a look at the person's profile. See who they know, where they've worked. Check out what they've posted. 
Go beyond LinkedIn and research them a little more, both their personal professional activity and that of their company.
You'll really get a feeling for whether you want to connect with them, but you'll also be primed for the next step of the process…
Send a personalised connection request 
Once you've done the above steps, it's time to send the request. 
We'll cover exactly what should be in the message later, but for now, make sure you use your research and any connections in common.
Most of all, send a personalised message. You are not going to succeed in contacting people you don't know with the standard LinkedIn connection request.
Get people to send a connection request to you
Think about LinkedIn when you are not browsing LinkedIn, and get people to send you requests. It's like a Jedi mind trick.
Ask people! When you speak with suppliers, prospects, and clients, pop "can we connect on LinkedIn?" at the end of an email.
Add your profile details to professional collateral – email footers, business profiles, etc
Participate, post and (self) promote – join groups and take part in discussions. Be an active member of the community. Just don't self promote enough to get on the State of LinkedIn Twitter account.
How to write connection requests
A good LinkedIn message is a bit like a good prospecting email. We know a thing or two about writing sales emails that convert, and that is what you are doing here: selling yourself
If you want to know how to write messages that connect with strangers, read our golden rules of prospecting.
In summary: messages should be short, informal, to the point, display some research, and not go for the hard sell.
Don't ask for anything, don't sell anything, and don't ramble on.
LinkedIn connection request template
Much like the template we use shared in our golden rules of prospecting, a convincing LinkedIn connection request should cover a few short points.
Use the following template to structure your connection requests.
Message part
Example
Greeting
Morning Tony
Hi Lyla
Softener
I really enjoyed your recent post on (topic).
I see we both know Sarah Jane Smith!
How you know them
We met at the recent B2B Marketing Event…
I've been reading your content for a while now…
Why you want to connect
I'd love to connect and stay up to date with your latest work.
Signoff
Thanks
Sending connection requests to generate leads
Don't do it.
We get it, LinkedIn is a brilliant resource when prospecting for new business. But a connection request is not the format to do that in.
If you're here looking for a way to generate leads on LinkedIn, get in touch with us. We use multiple data sources, including LinkedIn, to source your ideal prospects.
Our expert team take them through awareness, intention and desire. Then we connect them directly to your sales team, ready to talk business.
Want to learn more? Watch our explainer video below.