Super september: four reasons to expect a killer sales month
Super September: Four reasons to expect a killer sales month

Why September is a great month for B2B sales, and how you can leverage the post-summer bump to close more deals.
---
The summer slump can be a test of nerves, but it's almost over. Bring back the log fires and spiced lattes… well, maybe it's a bit soon for that. But you'll be pleased to hear it is almost time for your sales to pick up again.
So, get your sales team prepped for Sept because this autumn is going to see a killer sales cycle indeed.
It's "Back to School"
But Ryan… what do your pesky kids going back to school have to do with my B2B sales figures? Well, dear reader, it's all about the "back to school mentality".
For many of us, the real year runs September to August, and with the winding down of annual leave bringing the end of the summer slowdown, the business world is waking up again and raring to go.
September brings with it a resurgence of motivation, kids are back in their natural habitat and executives trade in flip-flops for brogues once more.
The OOO's officially end
We've all seen the endless OOO replies, including our own.
But there are ways to combat the quiet and those that continue prospecting can reap huge rewards in the Autumn when their summer outreach, with it's extended decision cycles, overlays huge windfalls of new clients on top of already bumper September figures.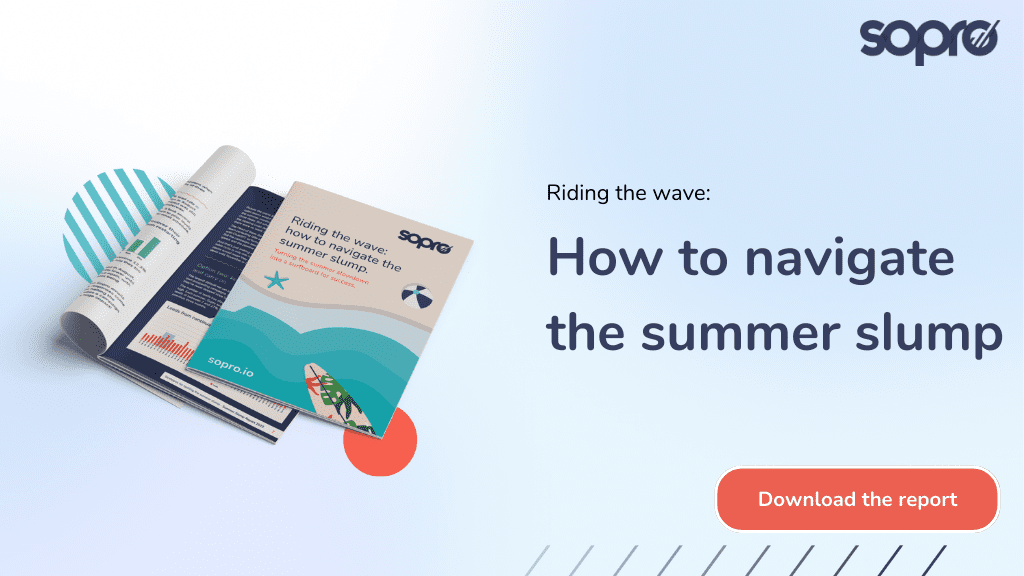 Looking for more summer slump stats? Check out our report Riding the wave: how to navigate the summer slump.
Christmas is coming
Okay it's four months away… but the festivities on the horizon means another slow down and many businesses are pumping the gas right now to get ahead of the game, conscious they just have three good months to get things moving again.
Data-wise, we're actually already seeing an uptick as markets appear keen to get the post-summer ball rolling early this year.
Lead volume spike, lead to close times drop drastically, and out of office replies drop like a stone.
In fact, for three of the last four years, September has been a record breaking month for Sopro lead volumes. So don't underestimate the post summer bump.
With leaves turning red and and thunder rolling in, it's time to get out there and make it rain.
How to smash sales in September
All of these factors are going to give you a boom in sales in September.
But you need to do your part too.
It's time to:
Ramp up your prospecting – double it… triple it, every volume increase will pay you dividends.
Refresh your email messaging – those tweaks and improvements will keep your outreach fresh, topical and focused.
Wheel out the experts… if you've been thinking about getting in a B2B sales engagement platform (like us) to show you how it's done, then now is definitely the time.
Amp up those targets – big incentives, big investments and big targets. Raise the bar and commit to building that much needed autumn sales momentum.
Sopro is on hand to help you sell more in the coming months, and we're not just a tool, we're a team of experts.