The climb to success: what is a sales value ladder?
Posted on: February 16, 2023
Reading Time: 7 minutes
Category: B2B sales
The climb to success: What is a sales value ladder?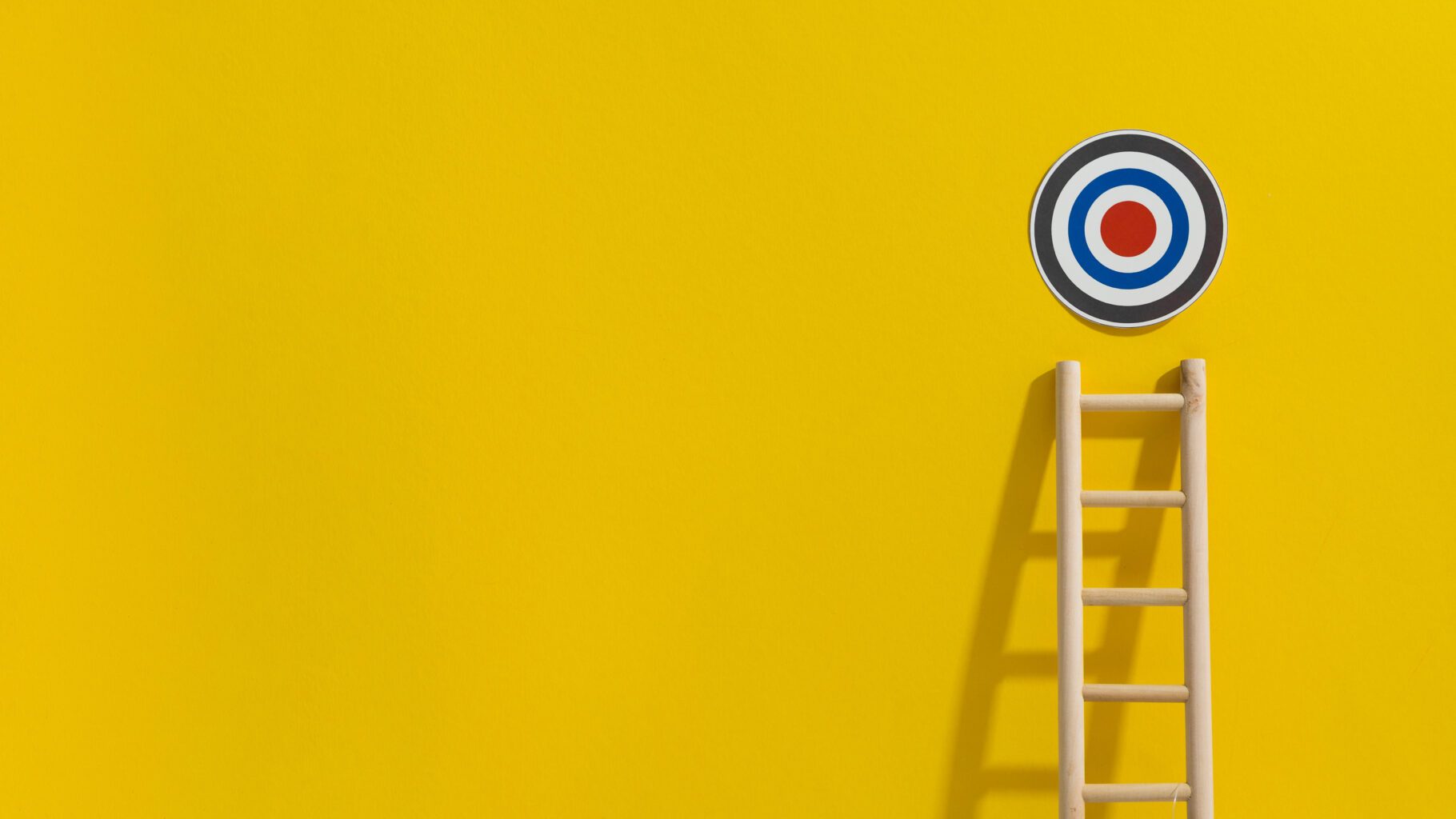 What a sales value ladder is, why you need one, and how to create one for your business.
---
Ain't no ladder tall enough to keep me getting to you… that's how you want your prospects to feel, right? That they'll take the necessary steps to buy from you. But without a sales value ladder in place, how are they going to get to the top and, ultimately, make a purchase?
A sales value ladder can ease your clients into buying and make selling as easy as snakes and ladders.
What is a sales value ladder?
A sales value ladder is a way to introduce a customer or client to buy from you, e.g. you offer them something small (but of value), so they will take the first step on your sales ladder. Then they are more likely to take the next step and so on until they've completed your ultimate goal: finalising a sale.
Each step of a sales ladder offers something of more value but at a higher price. A prospective customer or client is eased into a sale using small steps to get there.
What are the steps of a sales value ladder?
Initially, whatever you offer your clients on your sales value ladder will be either free or heavily discounted, increasing, with the highest prices at the top of your ladder.
Take a look at our example of a sales value ladder 👆. Every business will have its own version of this, and how many steps you have will depend on the value of the product or service you're selling.
Start with a free offer, like a free sample or demo period. Or even think about microgifting – this is where you can send small gifts to prospective clients to show that you're willing to go the extra mile, like a cup of coffee or a Deliveroo voucher.
Then offer some value – a webinar, a whitepaper, a report – something that shows you're not only an expert but you're someone willing to educate. Once you've got them interested in your brand, you can offer them your product or service at a discounted first-time offer. And once you have them using your product or service, it's much easier to sell them a full-priced version.
You'll see above we've included a "premium purchase" that's because once a client is already on your ladder or has purchased your product, it doesn't mean the sale is over. Returning customers or clients spend 67% more than new customers or clients. That means if you have a premium or upgraded version of your product or service, while a new client might not jump straight to that option, a returning client might.
Why do you need a sales value ladder?
If you're selling a high-ticket product or service, it's a big decision for a client to make a purchase. Similarly, they'll probably be some (or even lots) of competition, all vying for the same client. That means you might need to put extra effort into converting those leads.
A sales value ladder builds trust with your prospects. It creates a good brand reputation as it shows them you're willing to offer more than just the product or service, you actually have some other resources to share – and some of them are free!
Although cold emailing can work, you're less likely to make a sale if you send out B2B prospecting emails without other prior touchpoints. And much the same as relationship selling, using a sales value ladder creates a relationship with your prospects. Creating a sales value ladder shows clients:
Who you are
And what you have to offer
It also suggests you are an established company with money and resources to invest in your clients.
We recommend integrating your value ladder and touchpoints to create a sophisticated sales funnel. You can put yourself above the crowd by offering your clients something more than just a demo in a prospecting email, such as a freebie or webinar tickets. For example 👇
Using a sales value ladder to score leads
Similar to lead scoring, implementing a value ladder can help you to make sure you're focusing the right tactics on the right people. As you score clients on "how ready they are to buy" using a lead scoring model, you can score customers on how much they'll be willing to spend on a value ladder. And doing this ensures you don't miss out on potential sales.
For example:
Imagine you have a product or service that sells for £1000 and three prospective clients.
Client one has £1000 but needs more convincing to buy your product or service
Client two has £1000 and is ready to make a purchase
Client three has unlimited funds
While all three will need some convincing to buy from you and your brand, client three is the only one that could be in the market for something more, aka a premium version of your product. That's why it's always worth having several versions of your product or service for different price brackets because there is always someone willing to spend a little more – and why it's worth ensuring you score your leads on how much they'll be willing to pay in total with you.
How to build a sales value ladder
You might struggle to build a value ladder if you're only offering up one product at one price with no other resources like whitepapers or webinars. Imagine a ladder with only the top step, it's not going to be easy to get up there – that's how your customers might feel without a proper sales ladder in place.
Offering a range of products or valuable resources will make it easier to create a value ladder. Let's take a look at the steps for building a sales value ladder:
Outline your target audience
This is essential when starting up any business. Who are you selling to? You can use our market mapper to get a better understanding of your target audience.
Segment your audience
Segmenting your audience will be important for ensuring your value ladder is right for your audience.
Score your own value
What resources and deals do you have to offer? Write them down in the order of their value and price.
Create value
If you're a new business, it might be worth investing in creating some valuable assets that you can share. And there's always room for more – the more assets you have, the easier it will be to tailor your value ladder to your different markets.
Build your ladder(s)
Using a simple bar chart, you can create a sales value ladder similar to the one in this blog. Though you might want to think about creating multiple ladders, each one to suit a different buyer persona. Every client has different pain points, so having assets covering each one of those pain points could be a clever way to ensure you're always personalising your value ladder to them.
How can Sopro help?
Sopro is a B2B sales engagement platform that can help you automate personalised email campaigns, leaving time to concentrate on creating your own sales value ladder. We can help you narrow down your market and segment that into audiences to ensure your campaigns are always reaching the right people in the right way.
We do the hard work so you can do your best work. Find out more.