The art of prospecting: 7 tips and 10 nuggets to write the perfect b2b prospecting email
The art of prospecting: 7 tips and 10 nuggets to write the perfect B2B prospecting email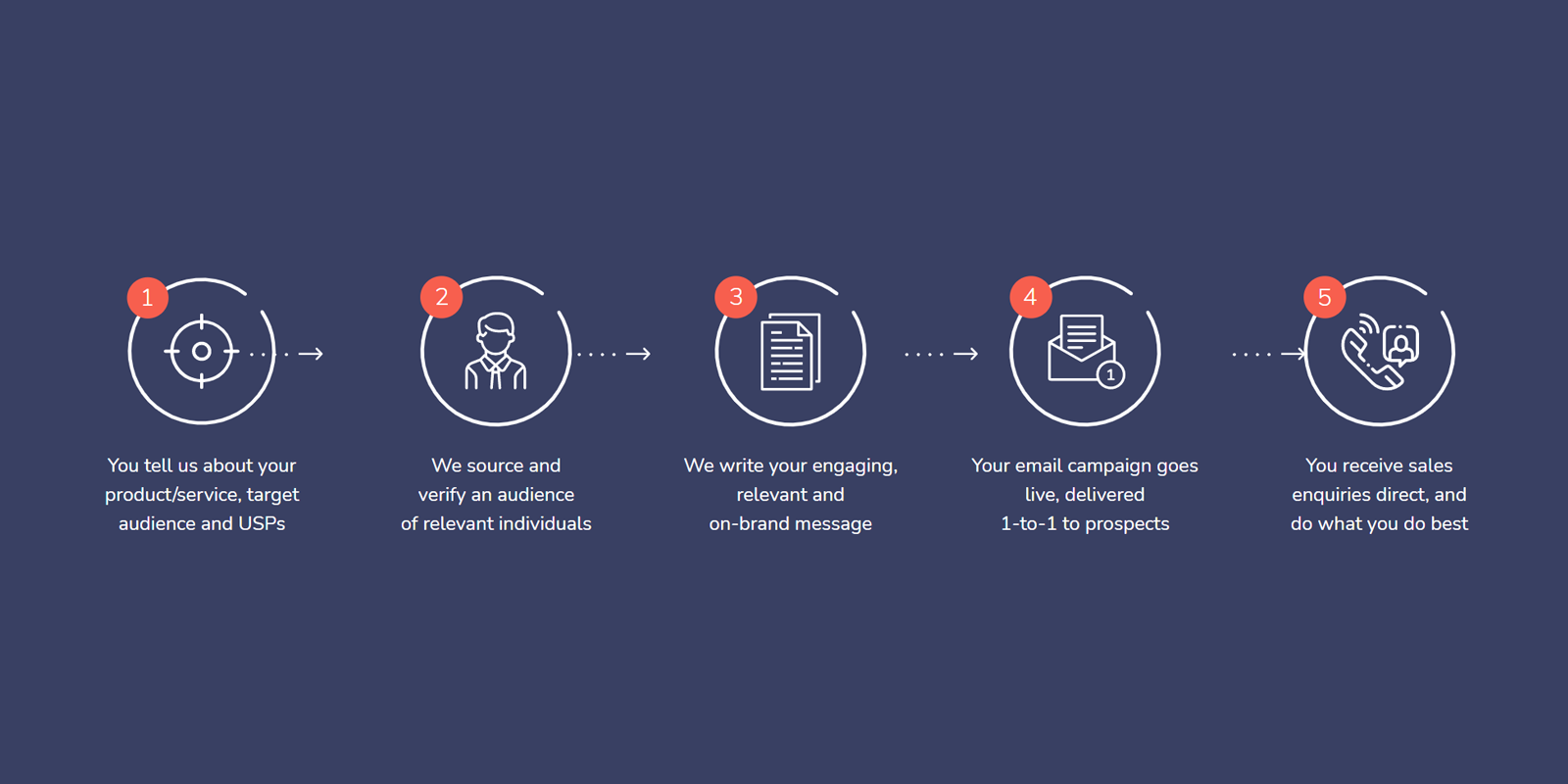 If you're just about to fire off another prospecting mail – hang loose for five or ten minutes.
I'm about to share with you a fantastic tool to gain insight into whether or not your carefully-crafted mail is likely to float like a butterfly or sink like a stone.
Whether it will succeed or just suck.
Whether it will fly or die.
So, here it is: how to write the perfect prospecting mail.
Tip #1: Always check your awesomeness
Our lovely team at Sopro have been studying the alchemy of prospecting day in and day out.
And they've distilled its essence into a free tool that will automatically check just how awesome your B2B prospecting mail is likely to be.
It couldn't be simpler to use: just load your copy into the aptly-named email awesomeness checker – and we'll show you exactly where it falls flat.
What's the mystic science that lies behind our awesomeness checker?
Well, that would be telling, but I can reveal that it's based on
Spam term usage
Word count
Paragraph count
Paragraph length
Average word length and readability
Spelling
Let me break each of these down for you right now.
Tip #2: Can the spam
Spam filters are the first hurdle of email prospecting.
If you're not even getting delivered, or slipping into the Junk box, then you've just fallen at it.
Our awesomeness checker looks for any spam terms in your mail and highlights them for you. And, believe me, many words you are likely to be using can trigger spam and shoot off your chance of success.
Tip #3 and #4: Keep the word count down and the words short
A prospecting mail aims to excite interest, create curiosity and produce a response: it's not the place for chapter and verse.
Keep it short and to the point.
We've found 100-250 words to be the perfect wordcount.
Your mail is not a tech spec sheet or a ponderous dissertation.
It's a highly readable, introductory mail.
Unless absolutely necessary steer clear of too much jargon and too many long words.
If you can't sell your proposal succinctly and clearly, you probably haven't really worked out exactly what your proposition is.
And if you're using big words to impress – just stop it! You're losing your audience rather than wowing them.
We've found 4.7 letters per word to be about the maximum you should have on average.
Tip #5 and #6: Keep the paragraph count down and the paragraphs short
Long paragraphs are incredibly off-putting. These bricks of copy will knock out many potential prospects.
Each paragraph in your prospecting mail should be saying just one thing: there's rarely the need for it to be more than one sentence or two at the most.
In terms of word count, we've found that 16-40 words make the perfectly-sized paragraphs.
Similarly, your prospecting mail should contain just one call to action backed up by one succinctly described proposition.
You won't be needing more than four, perfectly-formed paragraphs to do this in.
We've found that 2-4 paragraphs place you in the golden range.
Tip #7: In the age of the spellcheck, misspelt words don't cut it
In many ways your prospecting mail should read as if it is fired off quickly, rather than as a part of a polished marketing campaign. It should feel conversational and immediate and personal.
But, it should not contain spelling mistakes: that just looks as if you do not care.
If in doubt, spellcheck it!
If you want to go a step further here are the nuggets that will get you there.
And start those positive responses rolling in.
Prospecting nugget #1: This is personal
Be polite, but not too polite.
This is a conversational person-to-person mail.
Not a sales-to-prospect
Not a marketer-to-audience
It's one-to-one: you to an individual
Prospecting nugget #2: No-one trusts spit and polish
Your mail should read as if it has been hastily typed – rather than laboriously constructed.
It's a note you've fired off to someone you are sure you can help
It's not a regurgitated corporate brochure
It's certainly not copy you'd post on your website
Try and write as if this is a quick note you're pinging over to a friend-of-a-friend (and you've just found a five-minute window to do it in).
Prospecting nugget #3: Don't try too hard
Never come across as desperate or over-eager, but also don't try to do too much in one teeny-weeny mail.
A prospecting mail cannot take more than one key message and one key ask
Offer one solution – nothing more
Ask for one thing – nothing more
Prospecting nugget #4: Forget attachments and weblinks
Remember – you only have one goal.
Weblinks are just a reason to overlook the request for a call/meeting
Attachments are a sure-fire way to lose impetus and interest
Your only goal here is your preferred outcome – and your only route to it is this mail
If you make sure your mail is strong enough there's no need for these diversions
Prospecting nugget #5: Don't sink too low
Cling to the top of the top-level – and never dip any further.
A prospecting mail hooks by outlining a solution, securing interest and leaving the rest for later in the funnel
It never tries to answer objections – it's just not at that level
It never explains – it sets out, paints a picture and shows
Prospecting nugget #6: Be specific and stay targeted
Generalities have no place here: everything is about your prospect or its edited out.
Every reference is to 'you', 'your company', 'your industry'
Every example is directly relevant to the role and pain points of a specific person
Prospecting nugget #7: Get straight to the point
If it's not until the second or third paragraph that you clearly state the reason for your mail you will most likely be talking to a Delete bin.
Don't wait – make it 100% clear what your mail is about and what you are hoping to achieve
There's a risk of a few prospects thinking 'another sales mail' and moving on – but you'll lose a lot more if you keep them guessing
The trick is to hook them from the start while also being 100% clear what they are buying into
Prospecting nugget #8: Never leave room for doubt
If the purpose of the mail is to secure a call, suggest a date.
Your mail should close with a clear outline of next step (and, yes, I did leave the plural 's' off on purpose)
Don't just mention a call – throw some possible dates out to seed
Prospecting nugget #9: You have done your homework
Never suggest you need to know more. Far too often, in the interests of revealing their approachability, prospectors will say things like 'I'd love to explore further how I can help you' or 'maybe we can discuss your specific challenges'.
No, no, no, no!
You have done your homework – and you have a specific solution that's ideal for your prospect
Who in their right mind would give up their time to teach someone how best to pitch to them?
You do not need to know any more – instead you have a lot to give.
You have 'ideas you'd like to share about X or Y' or 'some interesting examples from other [INDUSYTRY] clients that will…'.
Prospecting nugget #10: It's not all about you
As you are only going to be pitching one thing it makes absolute sense to ensure this is not really going to be focussed on a product or service that your prospect has not heard of.
Why?
Because that would just be hard work for them.
Make it easier by focusing on the problem your product or service solves for your prospect and suggest you have something that has helped others solve this.
No need for too much detail here.
Just suggest you can help and see if they fancy chatting.
Press send – and wait for the responses to come back.
Nice work!