Stay afloat in the sea of spam – turning trash outbound email marketing into treasure
Posted on: November 9, 2023
Reading Time: 10 minutes
Category: B2B marketing
Stay afloat in the sea of spam – turning trash outbound email marketing into treasure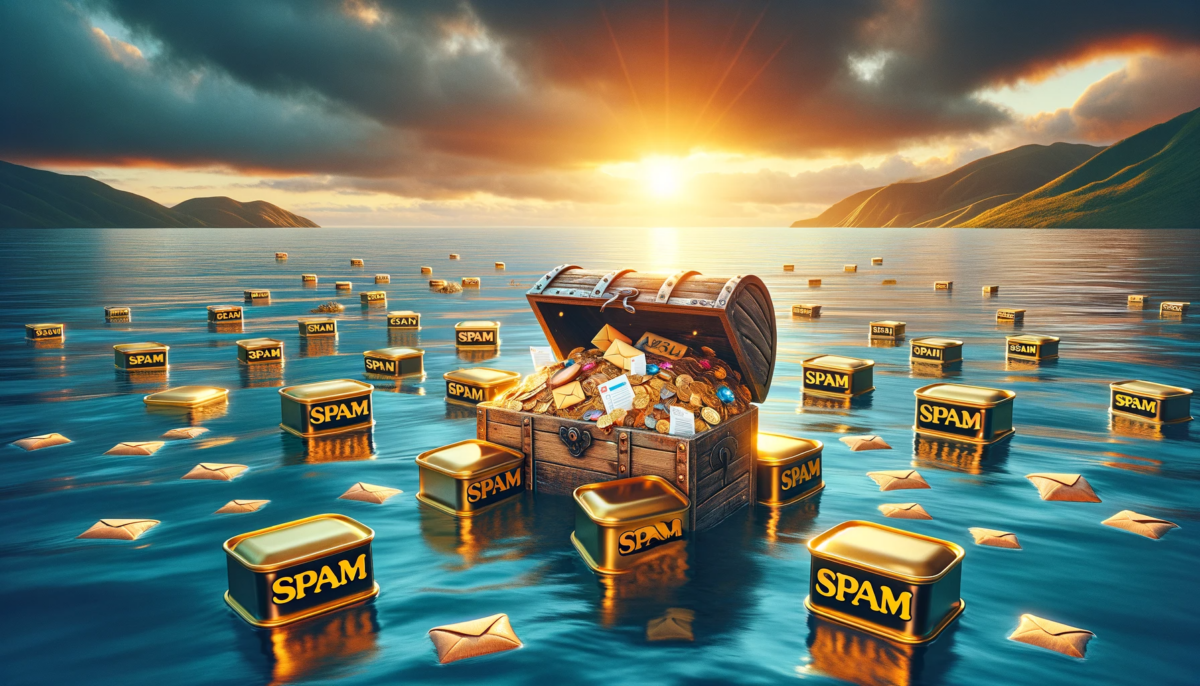 You may have a pearl of wisdom for your prospects, but can you float to the surface of their inbox through a sea of spam? Absolutely. From personalising your stroke to swimming the right channels, here's how to turn trash outbound email marketing into treasure.
---
Outbound email marketing can feel like swimming against the tide.
Especially when you consider that 6.9 billion junk emails are sent in the UK a day.
So how can your message stay afloat in a sea of spam? 🌊
By taking a multichannel approach that supports it. Because although email is the foundation of any great campaign; our prospecting research of over 2,000 clients across 82 B2B industries suggests it's still the most reliable channel for driving leads (59%); it's not enough to survive these choppy waters alone.
Instead, it takes a two-pronged approach to resonate with prospects:
Softly pique their interest with a personal email early on
Engage with them naturally if they've shown any intent
What separates great outbound marketing from garbage is the value it provides. It's about creating those pearls of wisdom that *shine* in a flood of fake treasures 🦪
Not sure where to start? Don't worry, we've got you covered.
From personalising your message so it doesn't sink to swimming the right channels when you've got their attention, here's how to turn trash email marketing into treasure.
A step-by-step guide for turning trash outbound email marketing strategies into treasure
Swerving the spam folder and catching the 👀 of potential customers takes some doing. But campaign success or failure is determined long before you've created your first draft.
Like all good marketing, everything rests on the quality of your data – so let's start here.
Know your target audience
With so much spam and digital clutter around, we owe it to the planet and any potential customers to create messages that mean something. After all, nobody wants to hear us talk about ourselves and our.. features 😰 (*shudders*); especially when there's the cost of living and a ton of other things on our prospect's minds.
But how are we supposed to take a stroll in their shoes – let alone lighten their load – if we don't know who we're talking to?
To truly resonate and create something of value, we need to emphasise. So before painstakingly penning your prose, take some time to understand what your perfect customer looks like. And perhaps more importantly, what their pains are. This will ensure your emails to prospects feel like personal 1:1 conversations – not salesy soapbox speak 📣
So where do you start?
Try quizzing yourself with these prompts to help fill in the blanks
What industry are you looking to sell to?
What's the ideal company size you're aiming for?
Which job roles do you need to reach out to? Are they the decision-makers?
What challenges are they facing that your product or service can solve?
What does their average day-to-day look like?
What are their everyday pains in and out of the workplace?
How are they likely affected by the cost-of-living crisis and budget cuts?
What budget are they working with now?
What are their goals and objectives?
Starting to see a picture of your ideal prospect?
Great. Now time to flesh out the deets. And although it's not the sexiest of tools, there's nothing like a good old-fashioned spreadsheet to segment those prospects.
Build a targeted prospect list
Whether it's for the sales team or your marketers, an effective email campaign lives and dies by the quality of its contacts. We've gone into lots of detail about how to build a high-quality email list of prospective customers before, so we'll save you the chapter and verse. But you can attack this task in three ways:
1. Find contacts yourself
Manually scour company websites, LinkedIn, and other social media sites and stick them into a spreadsheet. Time consuming? Sure. But it's essential for an effective campaign. Plus, do the job well the first time around and you won't need to touch it again for a while. Or until someone moves on and their email address changes, anyway.
2. Use a data broker
This is certainly a quicker option but it can also prove costly down the line. As a general rule, we'd recommend against purchasing or scraping email addresses as these can often result in spam complaints. And can end up damaging your brand's sender reputation going forward. Not good.
Instead, there's an easier way…
3. Leave it to the experts
At Sopro, we'll create a live, unique, and fully compliant data set that's 100% tailored to your business. Our team of B2B prospecting experts will segment your email list based on factors like demographics, interests and behaviours. That's before crafting a timely message, tailored to hit the right tone. At the time of writing, we've delivered over 19,000 campaigns for 2,500 businesses – sending 73 million emails in the process. So our experts are here if you need a helping hand.
Want to try penning those peppy emails yourself? 📝🥰 No problem, we've got that covered too.
Personalise your message to surprise and delight
There's no doubt that personalisation is essential for success, especially when today's savvy spam filters can sniff out a mass email so easily. But it's not just the bots that appreciate a personal touch.
Our research revealed that simply adding a prospect's first name to the subject line can increase open rates by 9.1%. Beyond all this, though, personalised emails are perfect for boosting the customer experience and perception of your brand.
How, exactly? 🤔
When tailored to the needs of your ideal customer profile, a personal email – one full of valuable content in the right tone of voice – can feel like a meaningful moment; one where your brand just suddenly 'clicks'. 💡😍
In fact, there's never been more opportunity for your personalised emails to shine – especially amidst today's onslaught of targeted online ads. Done right, your message can feel curated and intimate – not creepy and intrusive. Aligned with killer social and great customer service, this powerful tool turns curious prospects into loyal brand advocates.
But in 2023, personalisation in cold emails goes way beyond adding a name and company if it's going to hit the mark. And whilst you can't research every single recipient and communicate with them via their socials – not yet, anyway – you can still do some very clever things at scale.
Sopro clients enjoy a market-leading 37% open rate. Ready to join them? Just try the following:
Keep things simple
In the world of martech, we've come a long way in a short space of time. And when nifty marketing software allows us to send multiple tailored messages simultaneously, it's easy to get carried away. But instead of stuffing the personalisation fields, keep it simple and talk like a human.
Not only does this read less like a 🤖, but it's got a much better chance of converting too. Our research suggests three points of personalisation is the magic number, so stick to that if possible.
This 'keeping it simple' rule also goes for design, especially when you're emailing out of the blue. Flashy HTML might look great for outbound email campaigns on new products but it screams 'mass mail' in this context. So strip things back and keep it simple.
And you know what? This goes for the language you use too.
Cut the jargon
We strongly believe that any outbound marketing email worth its salt should be jargon-free. And when you're talking to cold prospects, it's even more important to sound like an attentive person – instead of an AI-powered bot.
So no 'pivot' or 'actionable next steps'. 🤮 And as far as 'low hanging fruit' goes?
Let it rot.
Instead, trot out your prospecting emails like you've written them on the fly. Then read them aloud before sending them to ensure they sound like a real conversation; that's with all the right punctuation breaks for where you'd, naturally, pause and take a breath.
Remember: there are a lot of words that can sound the alarm for spam filters. So if in doubt, try our free email awesomeness checker to test your tone.
Finally, try not to use bullet points if you can. Sure, they look great on paper. But would you use them in a message to a colleague or friend? Leave them out and you'll get more responses.
Much better than stuffing your message with industry slang is adding a time tag for two to three working days to nudge your prospects toward a response.
And if they don't? Time to pick up the phone.
Warm phone calls are the way forward
We've gone into plenty of detail about writing strategic follow-up emails in our ultimate guide to prospecting. And while the follow-up email can be a great way to remind prospects you're there, sometimes there's just nothing better than picking up the phone.
If they've shown any interest, that is.
At Sopro, we use intent tracking data to see whether those cold prospects have shown any interest in your site – even if they haven't replied to your email yet. Then we'll share their phone number with you so you can build a relationship that already has a spark! ✨
Still not comfortable making the call? No worries. We can engage buyers naturally and professionally with coordinated LinkedIn outreach. Either way, you're continuing conversations that are already off to a promising start.
Creating meaningful customer relationships by going above and beyond
Our research shows that 77% of B2B buyers still prefer to be contacted over email – more than double any other channel.
But while the stats speak for themselves, we're also aware that outbound email marketing can't do the whole job alone.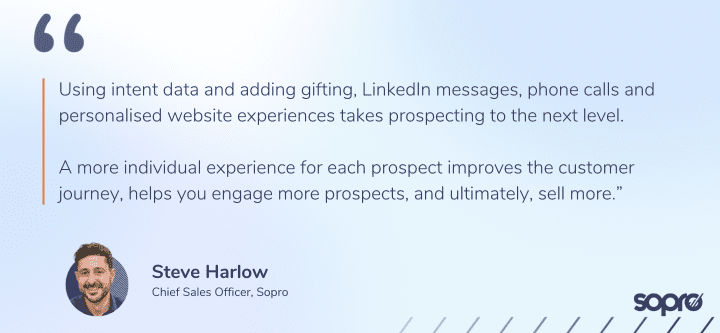 And at Sorpo, we practice what we preach. When we trialled gifting in our prospecting emails, we saw a 23.2% increase in lead rates. This could be anything from bottles of champagne or boxes of chocolates to planting a tree for the planet.
It's just a small gesture that can surprise and delight your prospects, leading to more meaningful customer relationships that keep you far from the spam folder.
No time for another tactic on the to-dos? No worries. At Sopro, we've got you covered.
Over 600 B2B businesses trust Sopro to run their outreach
Looking to broaden your appeal with a larger audience or even cement your place in the hearts of those customers you've already got? Our team can help you deliver an outbound marketing strategy that goes above and beyond the churn of daily emails.
Our managed, multichannel approach uses smart technology and up-to-the-minute data to reach the right people with the right message – and on whatever medium works for them. So you can sit back and watch those high-quality leads roll in.
Better personalisation, better engagement and more time to sell. See how it works.