Does size matter? b2b lead rate by company size
Posted on: July 3, 2018
Reading Time: 5 minutes
Category: Prospecting
`
Does size matter? B2B lead rate by company size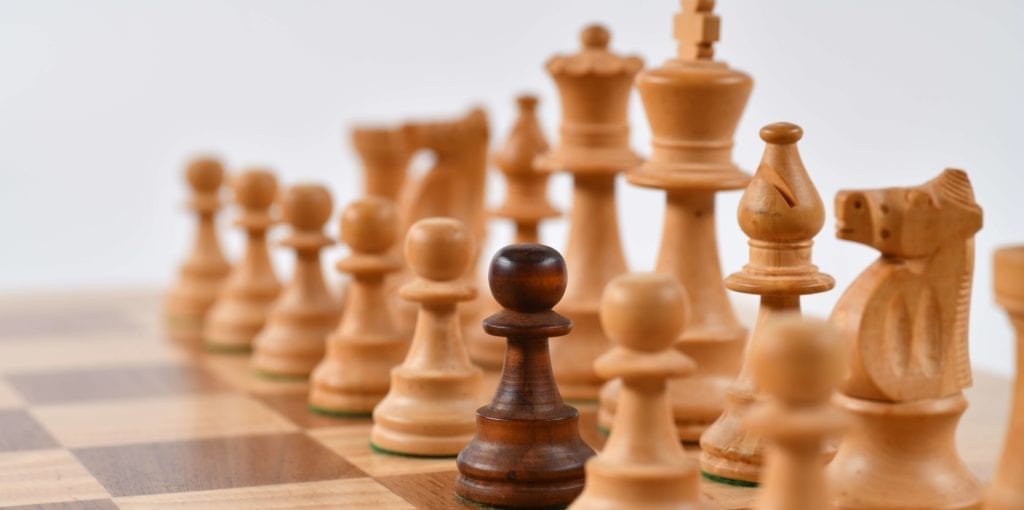 What analysing the emails sent to 1 million prospects can tell you about the response you are likely to get from small, medium and large businesses.
---
We do a lot of prospecting: in fact, we've got data banks for nearly 1 million emailed prospects over the past year.
And this data set is a veritable goldmine for anyone looking to fill the top end of their sales funnel with good quality prospects.
As part of our Sopro Insight series, we are going to take a look at the differences in responses from companies of different sizes.
The results may well surprise you. Or not.
Conventional wisdom runs along the lines that smaller businesses tend to make decisions quicker and are easier to target thanks to the decision-makers remaining in position for longer.
Enterprise companies present the difficulty of identifying the correct prospect, and this can often be coupled with a higher rate of employment churn. Dispersed decision making also presents a further barrier to positive responses. In addition, higher ticket items are often the end goal, which can make securing interest a tougher ask.
In what follows we'll pit conventional wisdom against hard data to see whether reality matches perception.
But first a quick note on how we start conversations for our customers.
Prospecting the Sopro way
Many of the barriers to effective lead generation can be removed when you combine the reach of social media with the power of integrated data partners, and weave through it all perfectly crafted introductory mails.
We identify your ideal sales prospect by location, industry, department, seniority and any other factors you feel will help us target your message.
And then we reach out to them in an engaging way.
Our combination of social networking tools, professional databases, personally crafted emails and integrated 3rd party data services helps us pinpoint your perfect prospect, regardless of the complicated organisational structure they may be hiding behind.
And the proof of this can be seen in the data that we are about to share.
Open rate by company size
Are SMEs more likely to open a prospecting mail than those working in enterprise companies? Let's find out.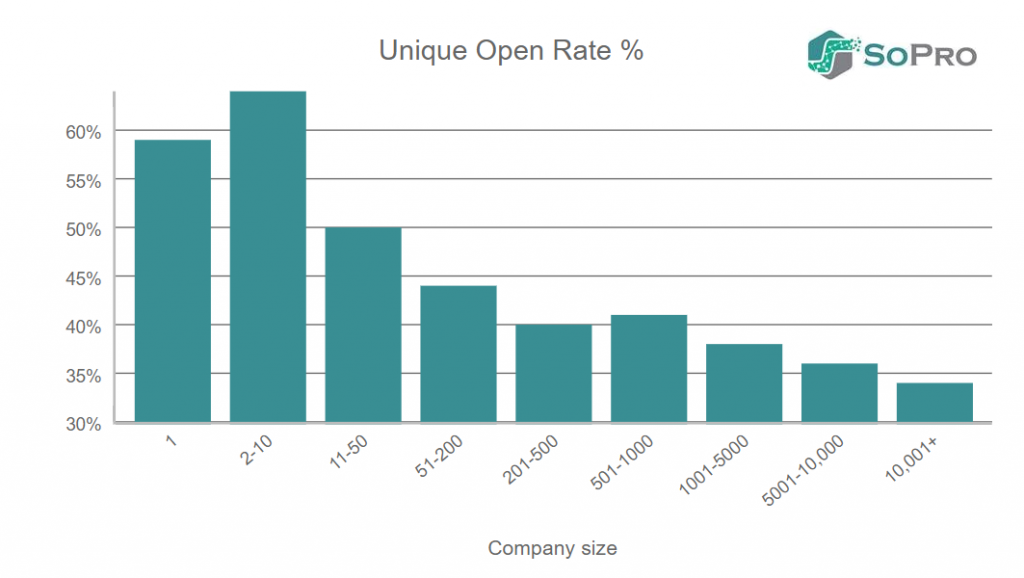 They certainly are.
59% of businesses with just one employee open prospecting mails and 64% of those with 1-10 employees do.
There is a clear correlation between open rate and company size as it drops away to 35% for companies with more than 10,000 employees.
You reach more ears with what you have to say if you target smaller companies. But, with a 44% open rate for 51-200 employed at a business, it is not the case that all SMEs are as open to considering your mail.
Anyone employing more than 50 people ranges between just 34% and 44%.
Anyone employing less than 50 people ranges between 50% and 64%.
Types of leads by company size
We segment the leads we generate into:
Deferred interest – (We have this covered now, let's catch up in six months time)
Referrals – (I am copying in my colleague MJ who will be interested to talk)
Positive responses – (Sounds great, free to chat tomorrow at 2 PM?)
Combined these give us our lead total.
Next, we'll look at which company size generates the most of each type of lead.
Deferred interest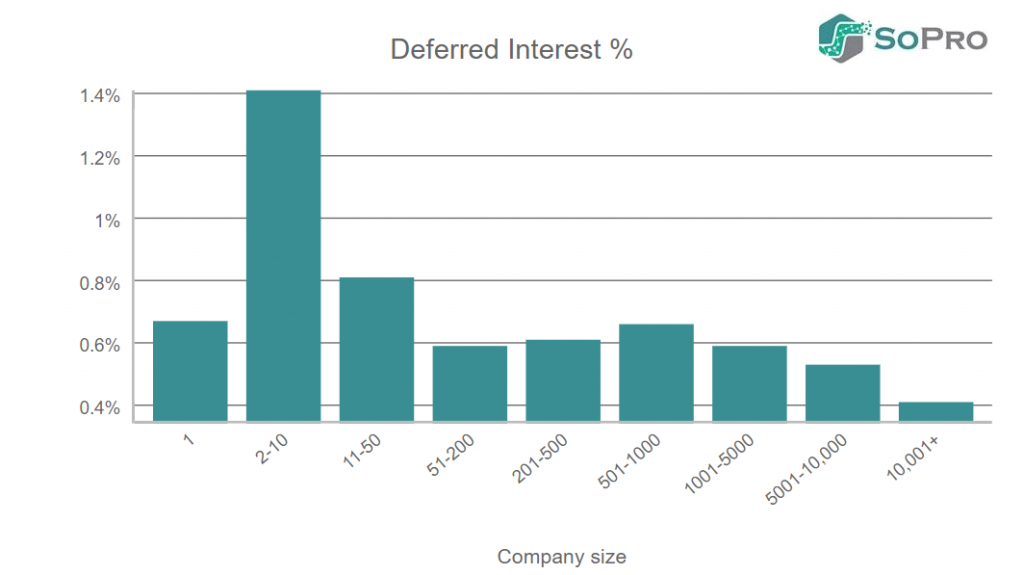 There's not much evidence here of the quick decision-making small business owner.
In fact, not taking into account businesses with just one employee, the fact is that the smaller the company by employee size the more likely the lead you generate will be one of deferred interest
Compared to larger businesses a deferred interest lead can be as much as three times more likely from smaller ones.
Referrals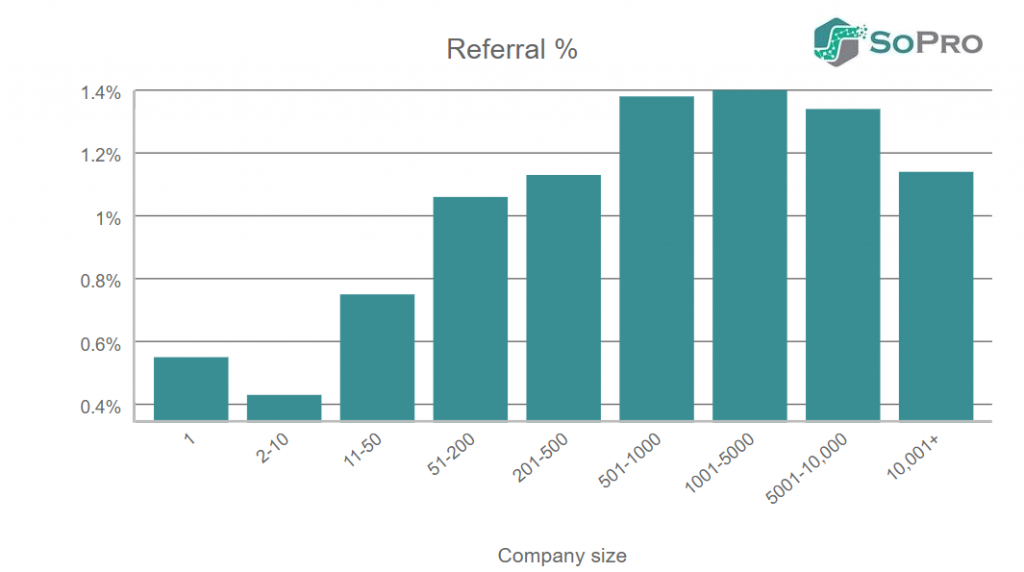 Again, these are surprising results.
Whereas conventional wisdom suggests that prospecting can get 'lost' within the organisational structure of larger companies, the rate of referrals suggests the opposite.
We have seen – on the whole – many more helpful referrals coming from larger SMEs and very respectable rates from even the largest of enterprises.
Positive responses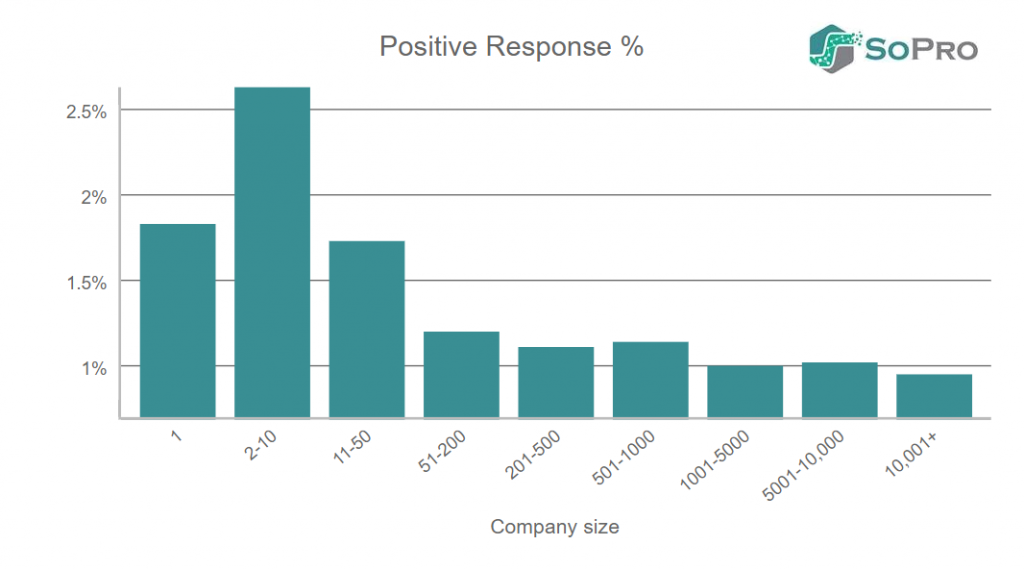 And here the conventional wisdom that a quick decision is more likely from a smaller company certainly holds water.
The positive response rate from companies with 1-50 employees hovers at around 1.73% to 2.63%, whereas companies with over 200 employees vary between 0.95% and 1.11%.
Lead rate by company size
Totting up these three types of leads gives us our lead rate.
Let's see how it varies by company size.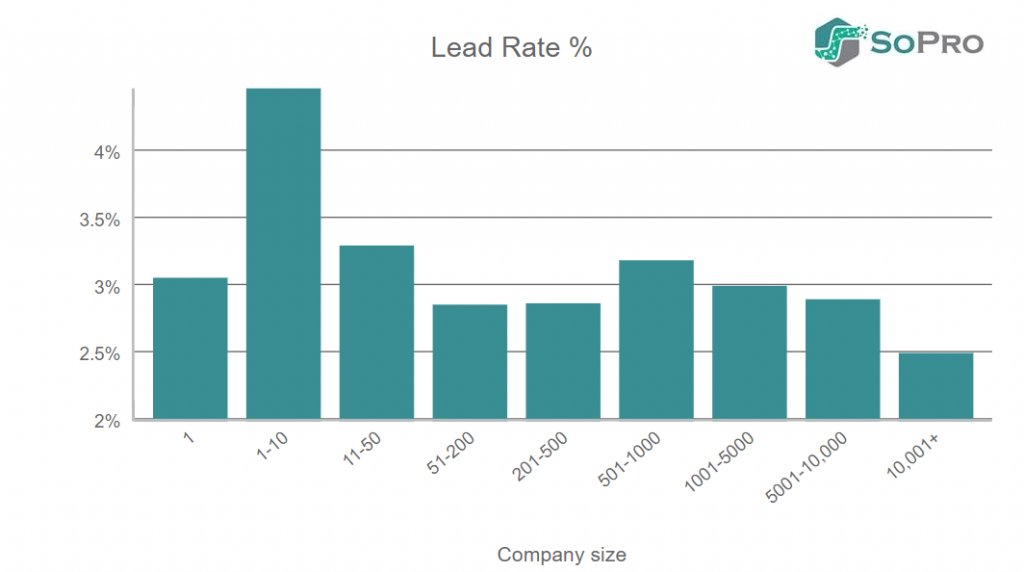 There is indeed a significantly higher success rate targeting smaller businesses. 
The lead rate continues to drop by company size with the exception being companies with 500 – 1,000.
It is interesting that the largest enterprises can yield similar levels of leads as medium-sized organisations.
Lead generation by company size: closing thoughts
Well, that's what we have found over nearly 1.5 million emails, with sole trader's aside:
The smaller the business, the higher the open rate and the more likely they are to defer interest
The larger the business, the more likely they are to introduce you to the right contact within their business
Smaller companies are keener to start a conversation; businesses with 1-10 employees are almost twice as likely to generate a lead compared to businesses with more than 200 employees.
How does this square with what you expected to see?
If you are struggling reaching those large enterprises let's have a chat – we think our hit rate is impressive. And if you think we can flood your inbox with more leads from SMEs – you know where we are!