B2b cost per lead by channel and industry in 2023
B2B cost per lead by channel and industry in 2023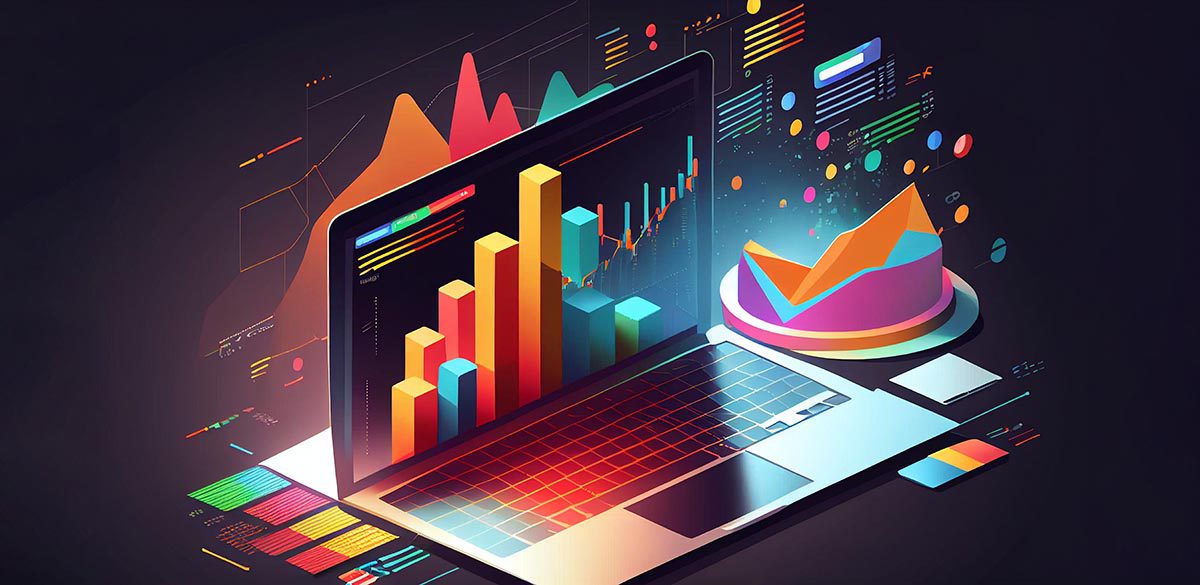 What cost per lead means, how to calculate it, and which channels and industries have the best cost per lead averages in 2023.
---
Defining an average B2B cost per lead benchmark is roughly as difficult as climbing Mount Everest. Calculating an average cost per lead (CPL) for each channel and industry is like climbing Everest in an inflatable T-Rex costume wearing clown shoes, while someone FaceTimes you from a Barbados beach to remind you how relaxed and warm they are.
But we've gone and done it anyway. The beach can wait.
Three things make this task so Herculean:
Nobody wants to publish their cost per lead stats, so it's a struggle to find data.
Every company will define leads differently, even if you can find the data.
The unique set of circumstances for each company means CPLs can vary massively.
However, studies on CPL do exist – and we've trawled the web to collate every one we could find, added some AI analysis, and dived into the Sopro dataset to provide a meta-analysis of average B2B cost per leads.
What is cost per lead?
Cost per lead, or CPL, is a digital marketing metric that calculates the average cost of acquiring a prospective customer for the business.
You should always know why you are monitoring a metric. With CPL, reporting on it helps you monitor how cost-effective your marketing campaigns are. When broken down by channel, it enables you to focus on the highest performaning areas.
Note that cost per lead is sometimes also used to refer to a marketing pricing model where a B2B business pays a defined price to buy leads.
How to calculate cost per lead
Calculating your cost per lead uses a simple formula. Take the total amount you spend on marketing and business development, divide it by the number of leads you won during that time period, and voilà: you have your figure.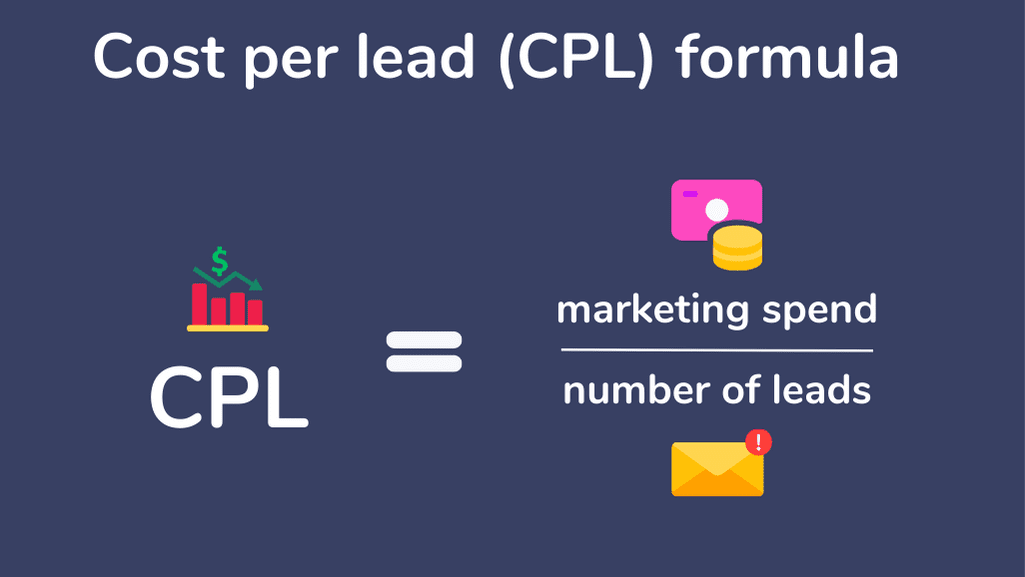 How can you reduce your cost per lead?
There are two big ways to reduce the metric.
You can reduce your overall lead generation costs by focusing on channels with a higher return on investment, like (*SPOILER ALERT*) email marketing. This is a big reason for developing benchmarks by channel: to focus on the best performing.
You can also focus on improving your conversion rates. First is the conversion rate that generates the initial interest: converting marketing activity into new leads. Second, you can improve your sales strategy and turn more of those leads into sales.
Average Cost Per Lead (CPL) by marketing channel
Sopro is pleased to present the definitive answer to the age-old marketing question: "what is a good B2B cost per lead?"
We spent countless hours trawling every data source and relevant article we could find to create the ultimate average cost per lead for each B2B channel.
This meta-study includes (*deep breath*): Sopro data gained from our very own marketing and finance bods and over 15,000 client email campaigns, input from our new robot overlords (OpenAI's ChatGPT), and 42 different studies and data (as many sources as we could possibly find).
So, here it is in all its glory: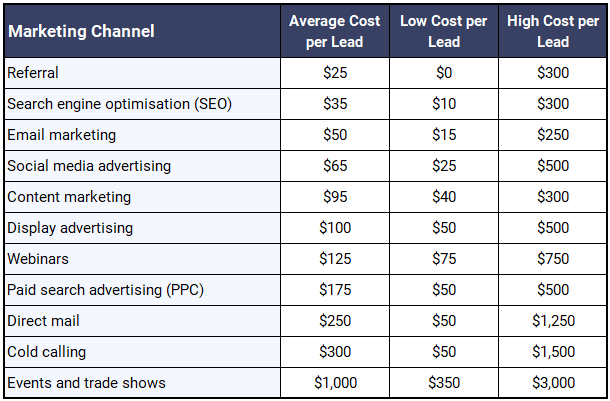 Sources

While we couldn't possibly link to every one and send you off to all four corners of the internet, you'll find relevant cost-per-lead studies and insights on each of the following websites:

HubSpot, Campaign Monitor, OptinMonster, WordStream, SEMrush, Ahrefs, Hootsuite, Convince & Convert, ClickMeeting, Zoom, Impactbnd, NewsCred, AdEspresso, Postalytics, Inkit, Callbox, CallHippo, Exhibitor Magazine, Eventbrite, Digital Shift, LYFE Marketing, Ignite Digital, InsideUp, RampedUp, Intelliverse, Talkdesk, VSA Prospecting, 2020 Exhibits, Absolute Exhibits, Hizon Marketing, Apple Rock, Blazer Exhibits, ReferralCandy, Post Affiliate Pro, BrightTalk, LinchpinSEO, Technology Catalogue, Visitor Queue, Detorres Group, Popupsmart.
We also asked ChatGPT to sense-check our work, by requesting it to look into each digital marketing channel one by one, using as many sources as possible.

Once we'd repeated this for each channel, and the friendly robot had examined the average CPL for each in detail, we asked it to summarise the findings in one table: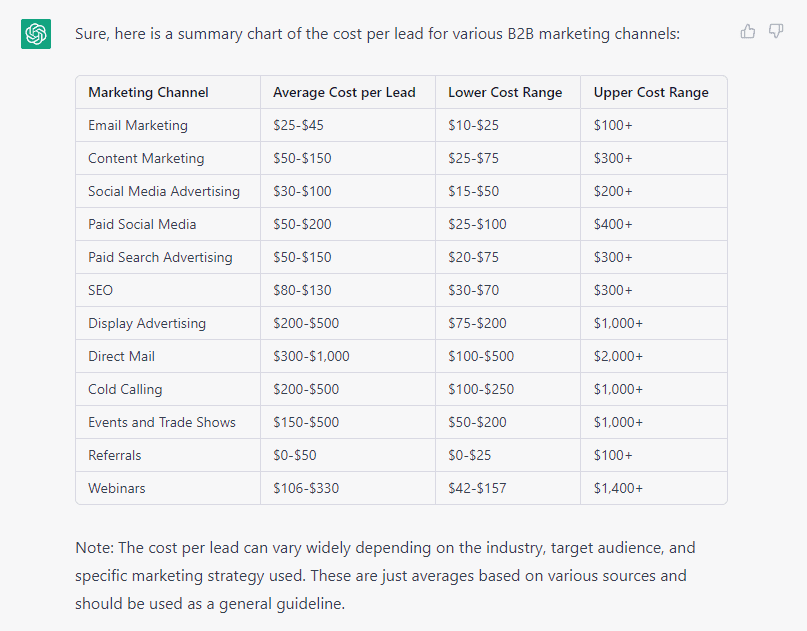 This aligns well with our in-depth research, meaning we can be pretty confident in the cost of each B2B lead generation method.
"But my cost per lead looks nothing like that!"
As the AI points out above, cost per leads can vary widely. Here's a breakdown of the factors that can change the cost and ROI of each channel.
Not all leads are created equal…
Every business, and every CPL study, will count different things as a lead. Consider a content download, a business card at an event, a positive reply to a sales prospecting email, and a demo request. Are those all of equal value, and do they all count towards calculating your CPL?
What is classified as a lead will shift these CPL benchmarks massively.
Industry
Simply put, some industries are more competitive, which drives up the cost per lead – think increased competition when bidding on PPC keywords, or more companies vying for attention in the inbox.
Target audience
Who you are targeting can have a big impact – it can be harder to find and connect with a niche market compared to a border audience, and established companies may have bigger budgets than startups.
Geography
If you sell in multiple locations, you'll find that different markets are more cost-effective. This can be down to different levels of competition, the size of the market, or simply local economics.
Marketing strategy and team performance
Regardless of channel, how well your team can plan and execute good marketing campaigns will affect costs. Don't fire them because I said that, though.
Competitors
The level of competition will have a major impact on whether these cost per lead benchmarks will align with your own efforts. Very simply, more competition = increased costs.
Product or service
The product or service you sell can have a significant impact on marketing costs. If the price of your product is high, and the lifetime value of your customers is high, you can afford to spend more on marketing before it becomes unviable.
Average cost per lead by industry
We repeated the above exercise looking for the cost per lead by industry. And while it's an equally difficult task (industry classifications are different, in addition to the other considerations listed above), we came up with the following guidelines: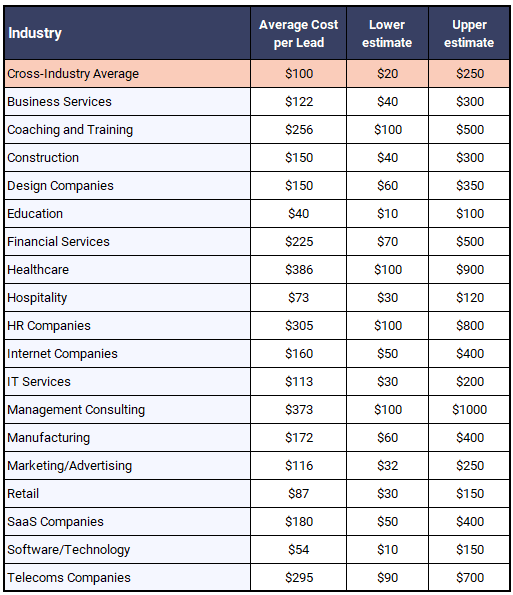 Average cost per lead by channel and industry
If finding benchmarks for cost per lead of each marketing channel is difficult, and cost per lead by industry is equally tough, getting cost per lead by channel for each industry is magnitudes higher.
Well, we've crunched the numbers and come up with an answer!
We've used the calculations above for cost by channel and cost by industry, and combined them into one mega benchmark cheat sheet for some of the top industries.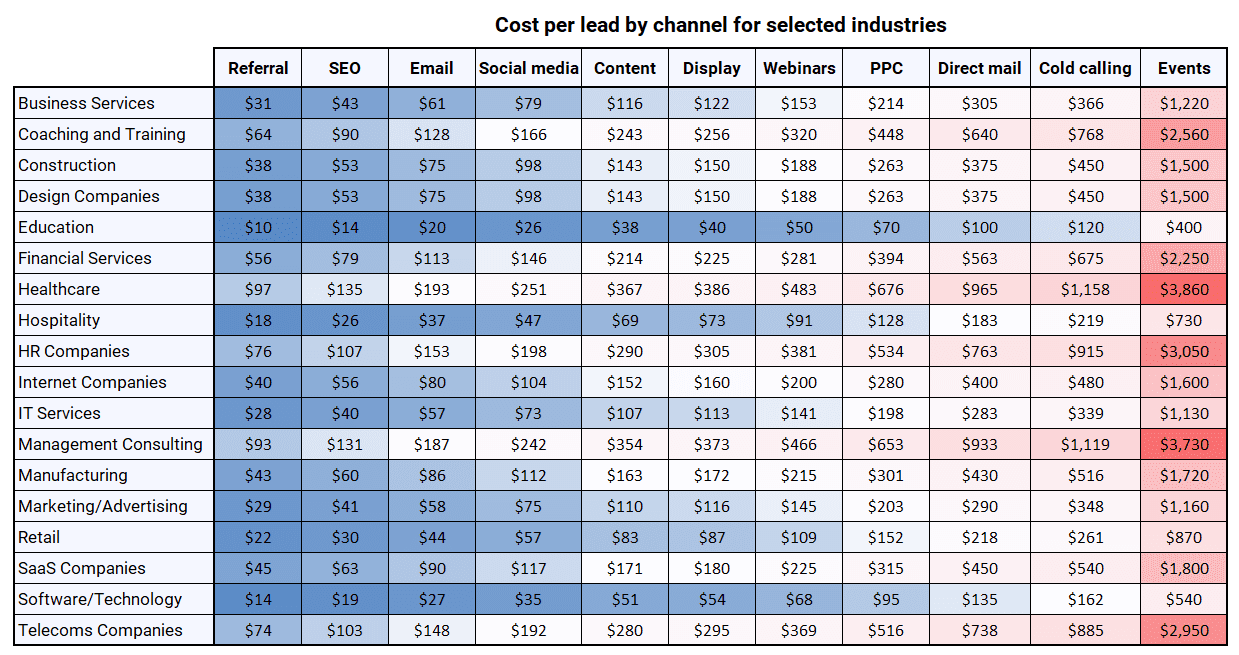 Note: this analysis looks at how the cost of a lead varies between each industry and applies that same percentage difference to the various channels. In reality, different channels will be more or less suitable for different industries, but it's the best CPL benchmark matrix we've found out there.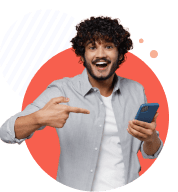 9 budget-friendly marketing strategies
Nine budget-friendly marketing strategies you can start implementing right now.
Read more
Get a lower CPL with email prospecting
If one of your takeaways from this article is "gosh, email marketing is cost-effective, maybe I should look into that", then have I got some good news for you!
Sopro brings a fully-managed B2B email prospecting service that drives new sales enquiries from your ideal customers, and a sales engagement platform packed with features to optimise your outreach and nurture your leads, further reducing CPL.
Sopro is unlike any lead generation service you have come across before. We combine a cutting-edge platform, world-class data, and unrivalled prospecting experience so you can concentrate on what's really important – closing deals and growing your business.