What is sales and marketing alignment and why do you need it?


Sales and marketing alignment (often referred to as smarketing) has been on the agenda for nearly 20 years.
And yet we're still not there yet.
Let's take a look at exactly what sales and marketing alignment is and why your business needs it.
What is sales and marketing alignment?
The alignment of a company's sales and marketing department aims to achieve more transparency, better communication, more collaboration and greater efficiency.
The end goal of course is to convert leads and achieve sales at enhanced profitability.
Historically, these two closely-related departments have developed independently of each other:
Using different business systems
Sitting separately
Reporting with separate metrics to different people
And even following divergent goals
Marketing teams have focused on customer targeting, product pricing and promotions, and have often see lead generation as a bolt-on to their essential roles.
Sales' focus has been on sales funnel management, customer relationship management (CRM), upselling and cross-selling.
It is the aim of sales and marketing alignment to break down these barriers and allow sales and marketing to work collaboratively.
A new B2B buying reality
There's no doubt that the first calls for alignment came from the realisation of a new reality.  https://sopro.io/the-changing-face-of-the-b2b-buyer-and-the-changing-place-of-b2b-sales
B2B leads were increasingly only engaging with sales teams much later on in the sales funnel. They were happy to research themselves through the interest phase and on into the consideration phase.
What buyers needed was help – not a sales pitch.
In effect, this meant that, more than ever, sales and marketing teams needed to be working together to nurture leads and ensure timely handovers from one team to another.
Sales and marketing alignment: how far have we come?
All the talk about sales and marketing alignment serves to cloud the fact that report after report suggests there is still a long way to go.
Indeed, HubSpot reveals that things look more aligned from the C-suite than they do at ground level.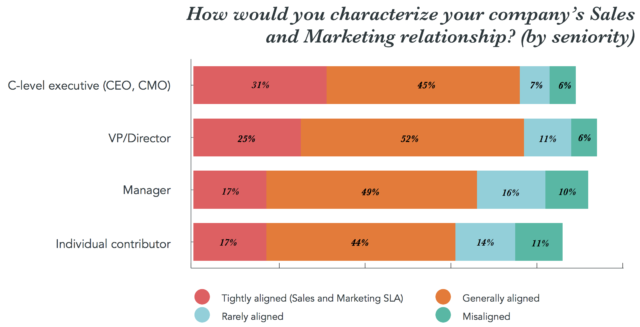 Nearly a third of the C-suite cast an eye over the two departments and see them as a cohesive, unified working unit.
But managers and team members beg to differ, with a quarter finding their teams to be, at best, rarely aligned.
Time and time again reports (from, for example, Bridge, HubSpot, Green Hat and Aberdeen) have discovered that where sales and marketing alignment is concerned we are a lot less further forward than we like to think.
Here's how one analyst sums up the current state of play:
'There's a genuine absence of relationship between the two functions. And this is holding back critical business growth. Aligning sales and marketing strategically, and tactically around joint purpose and success is the only way to drive growth and realise return from investments in both people and programmes.'
And here are some of the figures the analyst had just perused:
Half of all sales teams see very little value in what marketing does
Nearly two-thirds of marketers feel that sales teams do not use 'what we give them'
As many as four out of every ten marketers have no idea how many engagements are needed to generate qualified leads for sales…
… And five out of ten have no idea what the sales team's close rate is
Only half of the teams are collaborating on defining how leads are qualified
Wonky wheels
The reason that better alignment is needed between sales and marketing can best be illustrated by a supermarket trolley.
You know, the one you always seem to pick with wonky wheels.
If the wheels on your trolley are not aligned it can make achieving your goal of a quick shop impossible.
It's a lot of effort pushing a trolley when one wheel goes one way and another wheel tries to go in a different direction.
Any organisation without well-aligned sales and marketing departments has wonky wheels. It lurches and staggers rather than glides when it comes to generating, nurturing and converting leads.
How can you align your sales and marketing teams?
There are plenty of companies who have successfully aligned their departments – and much we can learn from them.
O2 recently restructured its sales and marketing processes and went on to smash its targets by 325%.
Similarly BabelQuest found alignment significantly increased inbound inquiries from prospects who offered a perfect fit for their services. They went from three out of four poor quality inbound leads to two out of three inbound inquiries becoming SQLs or being placed into a nurture sequence.
In our next post we're going to look at ways you can achieve this through nine tried-and-tested tactics to align your sales and marketing departments.
These practical ways to work together do not require any large-scale organisational change – or even any investment in new tech.
They are simply ways your B2B business can start to better align your sales and marketing departments today.
Circle back to find out how.