Which channels work well in a covid-19 crisis?
Posted on: October 9, 2020
Reading Time: 5 minutes
Category: Business growth
`
Which channels work well in a COVID-19 crisis?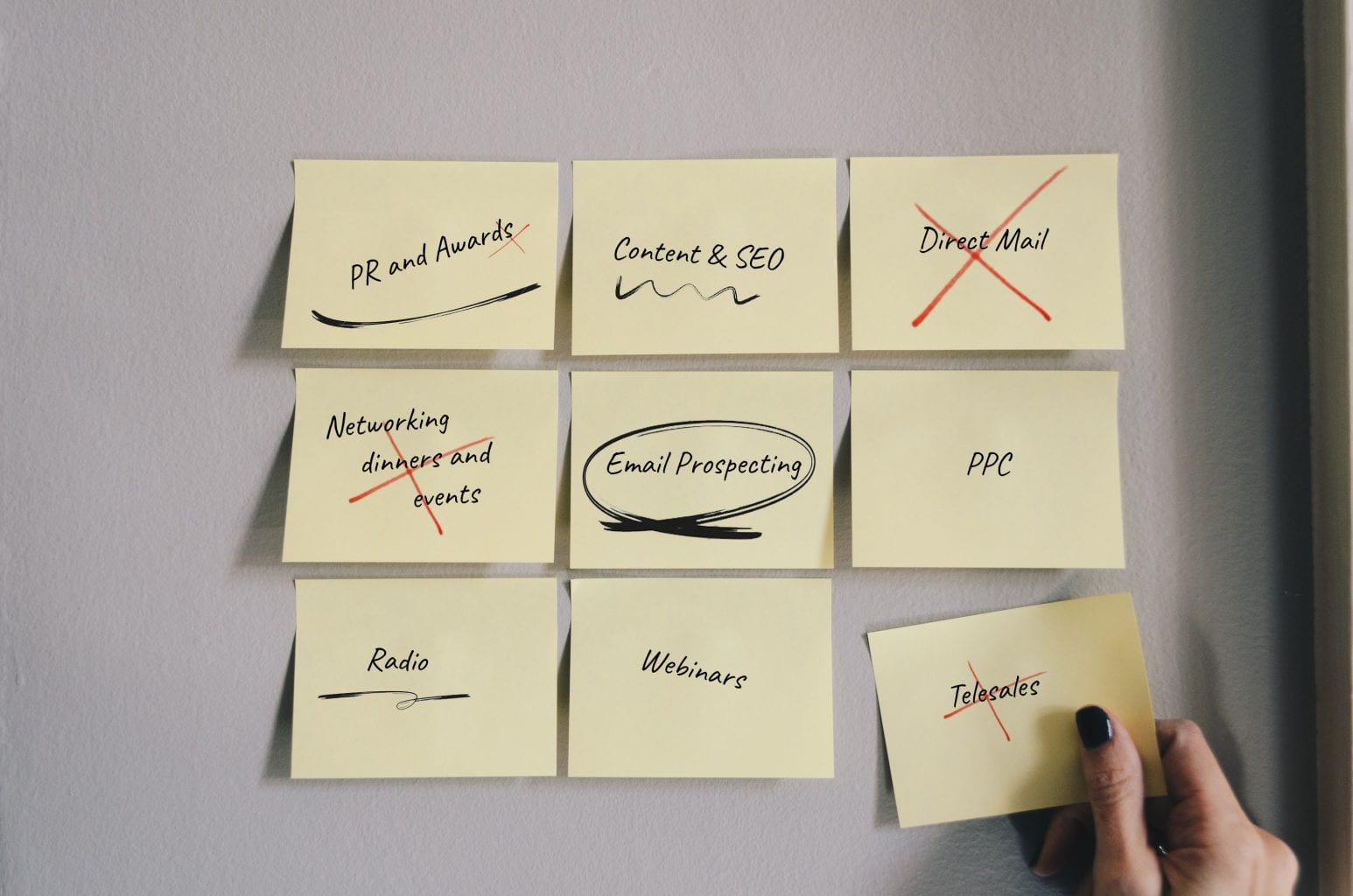 With talk of a second wave, local lockdowns in force and the recently introduced Rule of Six, it's clear that the COVID crisis is here to stay.
The frantic pivot scramble of March and April has passed for many, but the difficulties of driving business during a recession and while under the current conditions remain true for everyone.
There is plenty of evidence that increasing marketing and ad spend in a recession is the only way to get through (and even prosper) in a time like this, how do you go about it? When the world has been upended, which marketing channels should you focus on right now?
Which B2B marketing channels should you be considering right now?
Well the exact answer is; It depends. It depends on you sector. It depends on your situation. And it depends on your strategy.
But mostly it depends on which channels are available to you, because they are currently very limited.
We're producing lots of content to help businesses navigate the COVID-19 crisis. The table below highlights the marketing channels that will work well right now, and those that are either ineffective or unavailable in the current environment.
B2B Marketing Channel Availability Breakdown
MARKETING CHANNELS
VIABILITY
DESCRIPTION
PR and awards

NOT VIABLE

The go to channel for brand building and credibility for businesses with a story to tell. Sadly, this channel is on pause for now. Awards events are cancelled more-or-less globally for the foreseeable future.
Content and SEO

VIABLE

In a crisis, content really counts. And content & SEO are inextricably linked. Write what your customers want to know about and your content will be read and shared, traffic always gravitates toward great content. This channel remains online and in demand however it is worth noting competition for mindshare is currently high due to the volume of pandemic content being produced and promoted.
Direct mail

NOT VIABLE

Direct mail remains an option for targeting the self-employed or B2C, but the large-scale volume isn't possible while the majority of offices are closed.
Networking dinners and events

NOT VIABLE

A great solution to local relationship building for the right businesses. Hard to replicate online and simply not possible in lockdown/isolation scenarios.
Outdoor advertising

NOT VIABLE

Travel restrictions, limitations on movement and near zero footfall in public spaces make outdoor advertising an unlikely ally right now.
PPC

PARTIAL VIABILITY

Think wider than the two dominating forces in the PPC world; Google and Facebook/Instagram. There's Bidvertiser, RevContent, AdRoll, Bing, LinkedIn and Amazon, to name a few. If you can afford one, hire a platform specialist to manage your campaign. They'll know how to achieve your objective and, importantly, will guide you on the strategy, since, with reduced search volumes in most sectors, you're likely to be facing much higher costs for valuable key words right now.
Email prospecting

VIABLE

Done well, prospecting will out-perform every other B2B channel. Often by orders of magnitude. This channel's ability to identify, and engage new prospects is second to none.
Radio

PARTIAL VIABILITY

Top slot shows like breakfast and drive time did well when we had commuting and school routines. Remove the at work/office listeners and it is easy to see Radio is currently experiencing seriously reduced audience levels. Plus, committing to a script that's recorded, then aired for months on end is a big ask in such a fast-changing crisis, though some nimble footed businesses may see an opportunity.
Social media

VIABLE

Viable, but not always the most productive channel. Social is a big player in the digital world, with lots of platforms to choose from. Businesses generally favour LinkedIn and Twitter for sales generation, but Facebook, Instagram and YouTube have their advantages for less formal propositions.
Telesales

NOT VIABLE

Call centres are currently shut so outsourcing is not an option. Offices are also closed and unfortunately most calling databases contain office numbers so connect rates are non-existent.
We might be sitting ducks, working from home. But we're also paddling frantically under the water. Now is not the time for a cold call.
Tradeshows and exhibitions

NOT VIABLE

A channel that already had as many cons as it did pros. Sadly, due to large crowds, high contact rates and the requirement for face to face interaction, this channel is totally offline for now and for the foreseeable future. It's a sector to watch as technology is there to support a transition to digital, but solutions take time.
Webinars

VIABLE

Webinars take time and energy but they can be highly effective when delivered well. In light of the increased internet usage in connection with the current pandemic prevention measures, many businesses are reporting personal bests for webinar attendance. As with any content, the subject matter needs to be hot.
Word of mouth marketing

PARTIAL VIABILITY

If you're doing something interesting, then people will talk about it. This avenue is hampered by reduced social interaction and reduced opportunity for word to spread, but it is certainly possible to incentivise word of mouth with partner arrangements. The two most popular tactics here are referral terms and affiliate programmes.
Your website

VIABLE

You may not realise it, but your website is undoubtedly the most important digital channel.
Now's the time to ensure that your content and messaging reflects your revised proposition, and its relevance during the current scenario.
Sell more. Book a demo today.