How to kick tyre kickers into touch
Posted on: September 27, 2021
Reading Time: 4 minutes
Category: B2B sales
`
How to kick tyre kickers into touch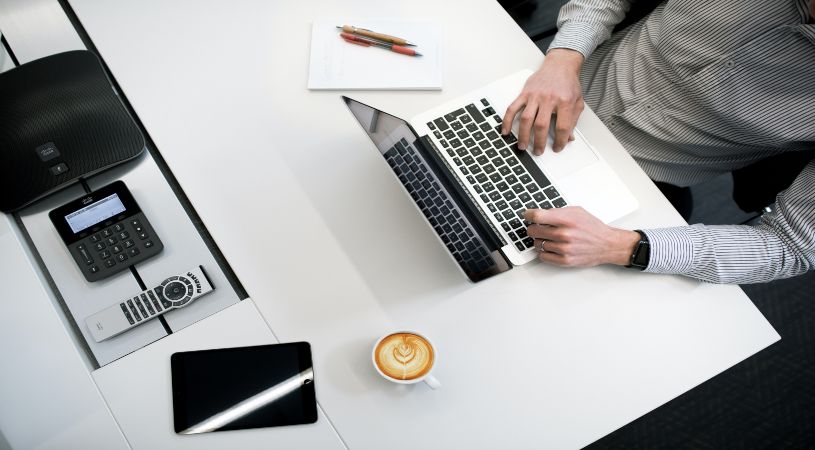 Tyre kickers are time wasters.
They are prospects who are coming along for the ride without any intention of paying their fare.
Ask any salesperson and they will tell you that the world is full of tyre kickers… but, ask any salesperson how they spot tyre kickers and the room falls mysteriously silent.
After all, most genuine prospects start their buying journey by gathering info, but how long should this go on before you decide they are just hanging around rather than swinging toward a sale?
Let's see if we can help you spot the difference between a tyre kicker and a potential buyer.
So many tyre kickers, not enough time
Marc Wayshak's research suggests that more than 50% of our prospects are likely to be a bad fit for our company.
Regardless of how much effort you put in, they will never buy.
That's a lot of prospects to weed out – and here's the best way to spot them.
Three critical signs will be:
A lack of match with your buyer personas
A lack of research into the solution they need
A lack of available budget to but what you are selling
If at least two of these three signs are combined with someone who can talk the hind legs off a donkey and dwells endlessly on each feature or benefit, then you are probably on the presence of a tyre kicker.
And as the relationship drags on you will also begin to see:
A lack of urgency – most problems actually require a solution in a relatively short time
A lack of belief – the missing commitment will often express itself as seeking, highly specific, unrealistic reassurances
A lack of authority – quite simply, they do not have the ability to say yes
Let's try to tabulate all this into a guide to spotting tyre kickers (and telling them apart from potential buyers).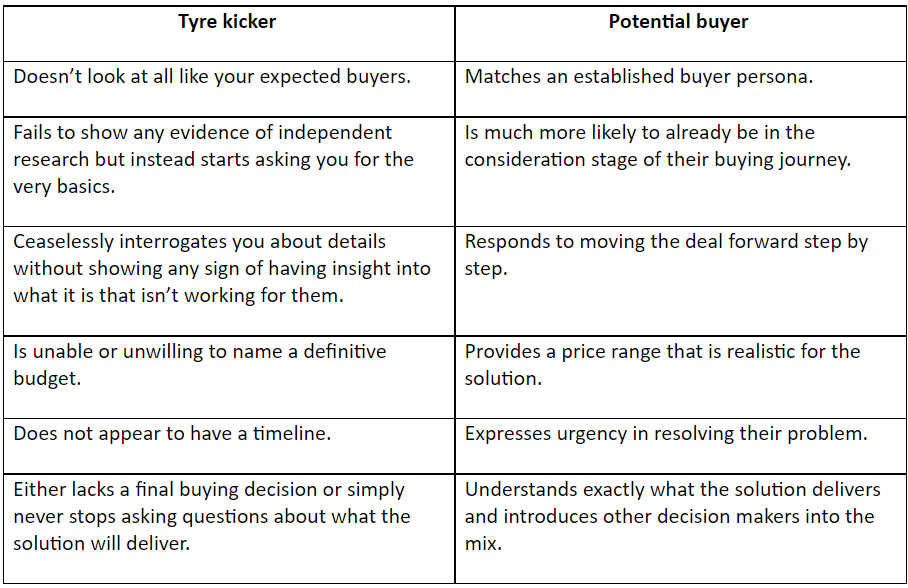 How to deal with tyre kickers
The most successful salespeople will have no hesitation in leaving a tyre kicker behind. In fact, they'll be very quick to politely show them the door so they can concentrate on leads that may go somewhere.
It's worth here bringing up the 80/20 rule.
Rather than divide your time equally across tasks, look for the 20% of your sales activity that is driving 80% of your sales results. And, you can do a lot worse than relying on your buying personas as a shortcut to finding the golden fifth.
And for those that don't fit…
Make sure every conversation has a clear next step attached to it. If this is not met simply observe that 'we don't seem to be able to make any progress, perhaps now is not the best time to work together.'

A genuine buyer will be happy to put in work that moves them toward a solution. So, ask your tyre kicker to flesh out their buying needs (i.e., their challenge, the changes they need, their budget, their timeline and their relationships with other suppliers).

If it appears that budget is the issue mention more economical options or free resources. Be clear that these will tide them over for now but they may want to re-open a conversation when their budget is more suitable.
No more tyre kickers
Why not add to your buyer personas with the characteristics of a tyre kicker – the faster you can spot them the less of your time they will occupy.
Hopefully now you have a good idea of what to look out for in – and how to deal with – those prospects in your pipeline who want to kick tyres rather than help you hit targets.