Don't get ghosted: how to write a killer follow-up email
Don't get ghosted: how to write a killer follow-up email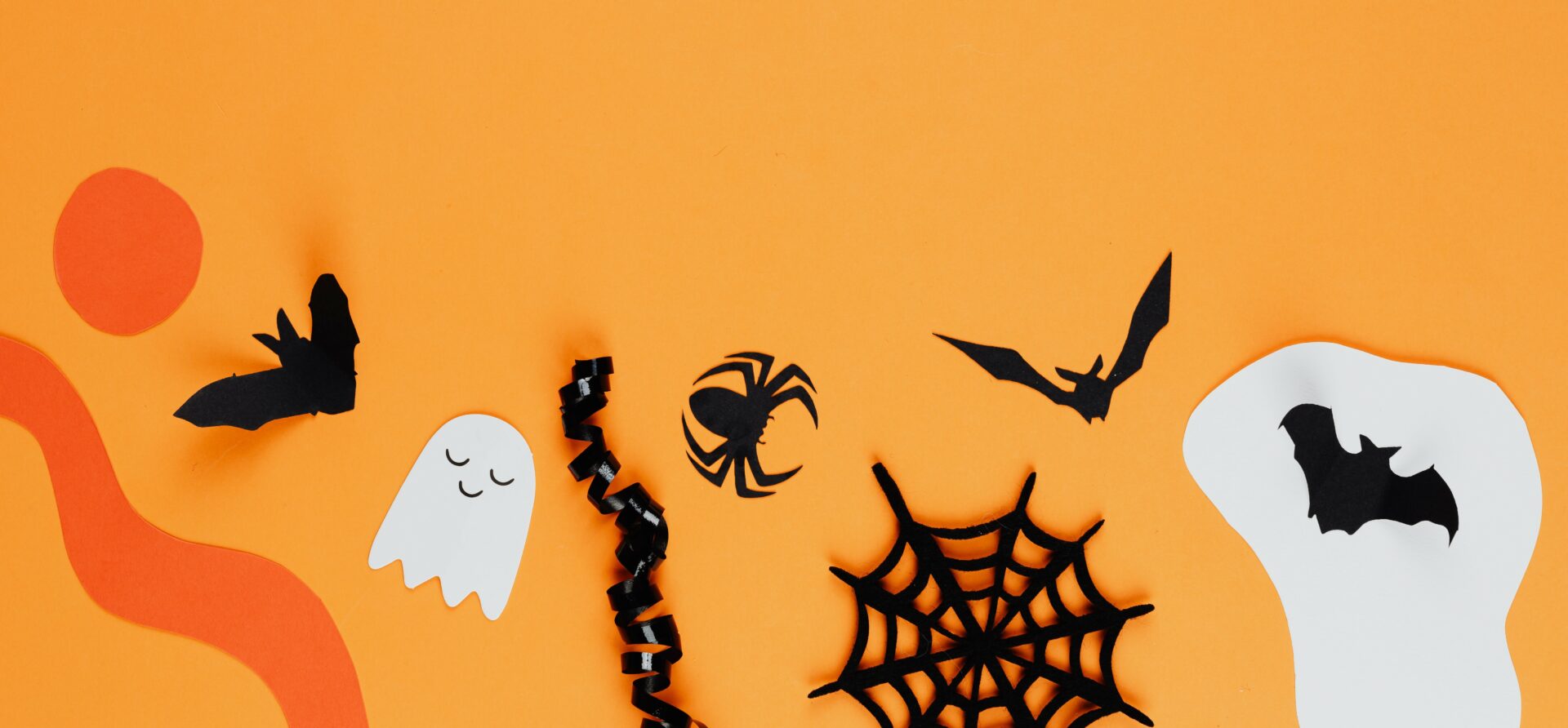 Why you need to be sending follow-up emails to your prospects, examples of good chaser emails, and the DOs and DON'Ts of pursuing your potential clients.
---
🎵 Salespeople scream in the dead of night
This is prospecting, everybody make a scene
Trick or treat 'til the prospects gonna die of fright
It's our town, everybody scream
In this town of Prospecting…
This is prospecting, this is prospecting… 🎶
Ok. We'll stop. But welcome to a spooky edition of our blog. We take Halloween very seriously.
Everyone's had a downright creepy follow up email in the past – we certainly have. So we thought there's no better time to tell you how to write the perfect chaser email (that won't give your prospects the heebie-jeebies).
I see no responses: Should I even be sending follow-up emails?
In short, yes, you absolutely should be sending follow-up emails. In fact, you could be missing out on over 79,000 leads if you don't (that's a lot of pumpkins). Okay, maybe not you individually but in 2021, out of the 11 million emails we sent, 79,000 of the 106,000 leads we got came from the chaser emails.
What's the magic number?
Spoiler alert it's not 666. Majoritively people respond after the second email. In 2021, just 20.1% of prospects responded after the first email but that jumped to 32.1% for the second email. It just goes to know that a little persistence works; if you haven't heard back from your prospect from the initial email that isn't a no. Did Jigsaw give up… ever? No, he went on to torture people for one, two, three, four, five (I'm getting tired)… seven films, and a spin-off. Now that's commitment to the cause.
The second chaser is the most effective but don't give up there if you don't hear back. People still respond after the second and third chasers. But how can you get their attention and improve your open rates, response rates, and ultimately, generate more leads?
Hereeeeee's a good follow-up email
Take a look at this example: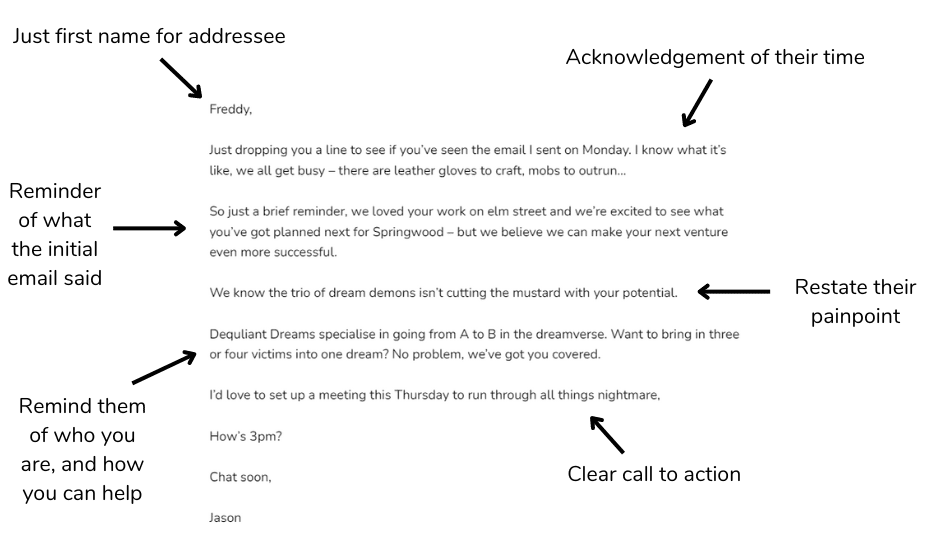 How to write a follow-up email
Personalisation: always make sure your email sounds like it's coming from a human – or a vampire or a witch or a zombie, just not a robot (sorry robots) – you want all your communication to sound 121. And yes, we go on about it a lot but personalisation is absolutely essential in B2B prospecting.
Everyone's busy. Show them that you value their time and they might be more inclined to speak to you.
Remind your prospect what the previous email said, they may have glanced it over or not even looked at it – but that's not their responsibility to open and read your emails. It's yours. Even better include the previous email.
Restate why they should be interested in the first place – what do they need help with? What are their pain points?
And how can you help? Remind them of who you are and what you do.
End with a clear call to action with a time and date.
Mr. Krueger is going to appreciate these small touches, it shows you value your prospect and ultimately, builds rapport with them.
As well as a friendly reminder of who you are and what you do, if you've met your prospect at a networking event or teenager's house party in the middle of nowhere while a lunatic is on a killing spree (always the best time for a party), mention that too. "Remember me?". People are always more inclined to reply to people they've met face-to-face.
And don't forget the all-important subject line. You want your prospect to know you've already tried to contact them – they're so important to you that you're trying again – that's why you should mention that in your subject line. But always remember the golden rules.
Keep it short (10 words or less/ 0-30 characters)
Use "you" in the subject line
Use questions like "do you wanna play a game?"
Mention a partnership or collaboration
Mastering the perfect prospecting follow-up email is a great start but they're things to avoid as well – running up the stairs, having sex, saying you'll "be right back" – and coming off too strong and scaring off your prospects.
Be afraid. Be very afraid: How not to write a chaser email
We cut to a scene: a young woman walks alone along a suburban street at night. The streets are lined with trees, plenty of places to lurk. She thinks she hears something behind her. A quick look. No one there. She heightens her pace. She can hear footsteps behind her now. Heartbeat races. She's still two blocks from home. Suddenly, out from the bushes – it's Michael. But not Michael from Halloween, Michael from B2B Sales R Us: "didn't you get my email I sent his morning?!"
There are ways to send a polite chaser email without scaring the crap out of your prospects, or even just boring them to death.
Big bad don'ts for sending prospecting chaser emails:
Don't come on too strong.
Don't bore your prospects.
Don't make your prospects do the hard work for you.
But people still send out these tired, zombie-like emails. Don't believe us? Here are some examples of emails we've received in the Sopro marketing team.

This email expects you to do the work for them – first can you find our initial email and then can you reply to say you've received them. I suspect this one is going straight to the bin.
And then this one…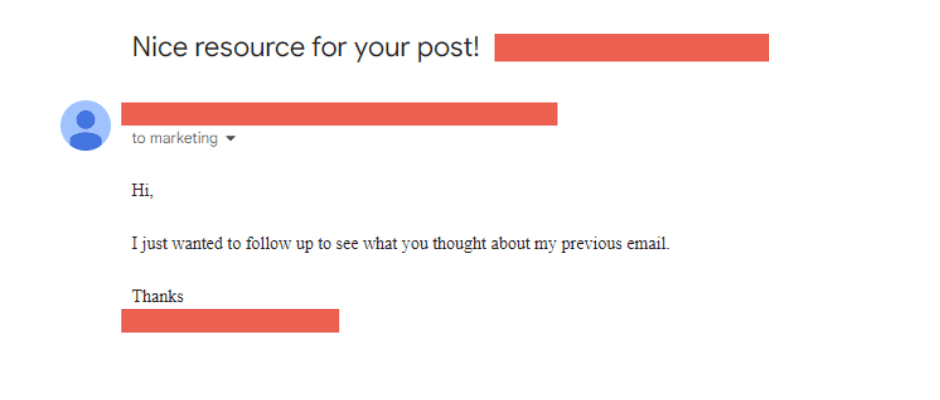 It's obvious that they put zero effort in. It doesn't make a prospect feel like they want to respond. Imagine if Ghostface asked Sidney to come over to his because he was too lazy to go over to hers. What a naff film that would be. She'd never go over and that would be the end of it. You need to put a little effort into enticing your victims… er we mean prospects! Otherwise, you'll get nowhere.
Still no responses?
All work and no play makes prospecting a dull task, so why not inject a little comedy into your emails? If your prospect hasn't replied in three emails then what have you got to lose? Just like Wendy Torrance in The Shining, it's time to give it your all – you're a fighter, aren't you? That's a lot of rhetorical questions but stick with us.
Comedy works. Just take a look at our funny cold email templates – they're hilarious. People get sick of the same old thing, so surprising them with something different in your final chaser can be a great way to elicit a response. Yes, it can be risky so read the room, but people receive on average 121 emails everyday so you want to stand out. Besides we all love a good comedy-horror crossover.
So you're ready to ace your follow-up emails, but what about that all-important first email? Take a look at our guide: how to write prospecting emails.
But why not take a step back? We're all busy people, just like Mr. Krueger, and we can't always do everything ourselves. Sopro is a B2B sales engagement platform that targets your ideal customers and sends perfectly crafted, personalised emails. Let us be the Lydia to your Beetlejuice, the Shaun to your Ed, the Dewey to your Gale – we do the hard work, so you can do your best work.
Book a demo today to see what we're all about.
And we'll leave you with this…