Digital strategies & communications to increase b2b leads
Digital Strategies & Communications to Increase B2B leads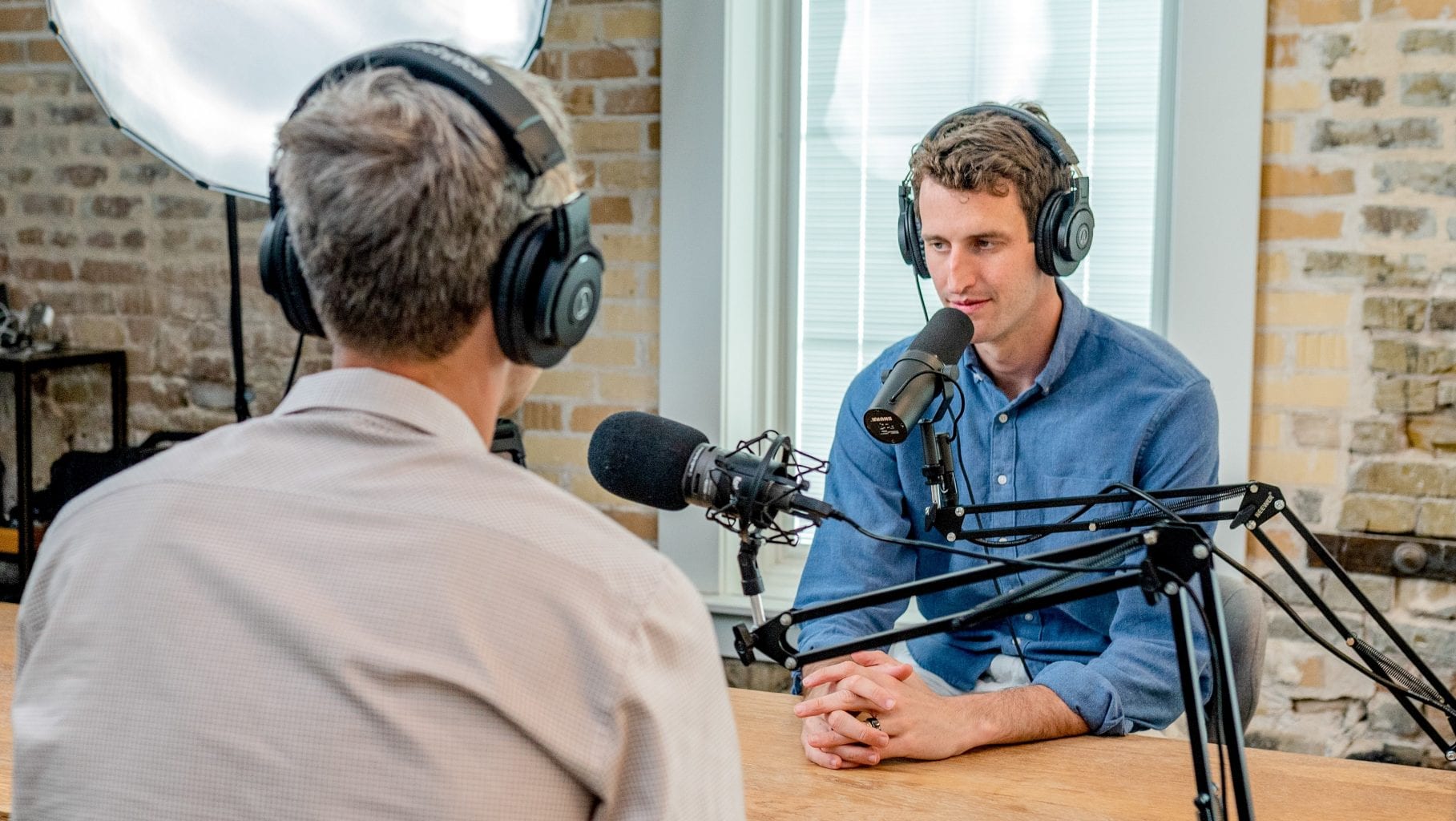 Digital Strategies & Communications to Increase B2B Leads
In many ways we've been living in a digital world since before the turn of the century, but if you ask me… in March 2020, the world went "digital first".
What does "Digital First" mean?
It means products, services, experiences, processes, transactions, interactions… every facet of modern living has finally been reconfigured to exist in a primarily digital format.
Right down to the food we eat.
Think about it:
Trips to the barber have evolved to grooming kits, ordered from Amazon and paired with ad-funded instruction videos on Youtube.
Industry awards events are taking place via webcast, with winners announced live on Twitter.
Education has moved globally to a remote learning model, facilitated by connected devices, learning portals and video attendance.
Retail… High street retail as we know it… is gone.
Healthcare – jump on the Gov website, call a number if advised, if it sounds serious expect a video consultation.
Even your local pub quiz has gone digital.
The list goes on.
Like it or lump it, these digital developments are here to stay.  Our beloved internet offers the perfect substrate for our global switch to Digital First.
So what does Digital First mean for your Business? 
Every business is affected.
Every department is affected.
But mostly marketing.
The Sales and Marketing Reset
Marketing has not just been turned upside down. It's spent three months in your grandad's old rock tumbler.  Marketing budgets have been frozen, defrosted and re-costed.
Lead flow is more important than ever, but the rules of the game have changed, we must now rebuild our marketing strategies from the ground up.  Digital First.
So… clear the decks and let's start from the top.
What are Marketing Qualified Leads (MQLs)?  
MQLs are essentially contact data with a sophisticated name.  The term Lead is often used by whoever is selling the data but avoid this trap if you can.  These are not Leads by any stretch of the imagination.  We call this Qualified Prospect Data, and it is abundant and generally free to source.
What are Sales Qualified Leads (SQLs)?
Every SQL should tick these 4 boxes:
Fully qualified prospect (I.e. Right person, right company, right location)
Verified contact details
Buying intent demonstrated
Engaged in active communication
Where do SQLs usually come from?
I tend to divide the channel set into Inbound, Outbound and Event based channels.
The table below sets out which of the traditional inbound, outbound and 'other' channels are available for use right now.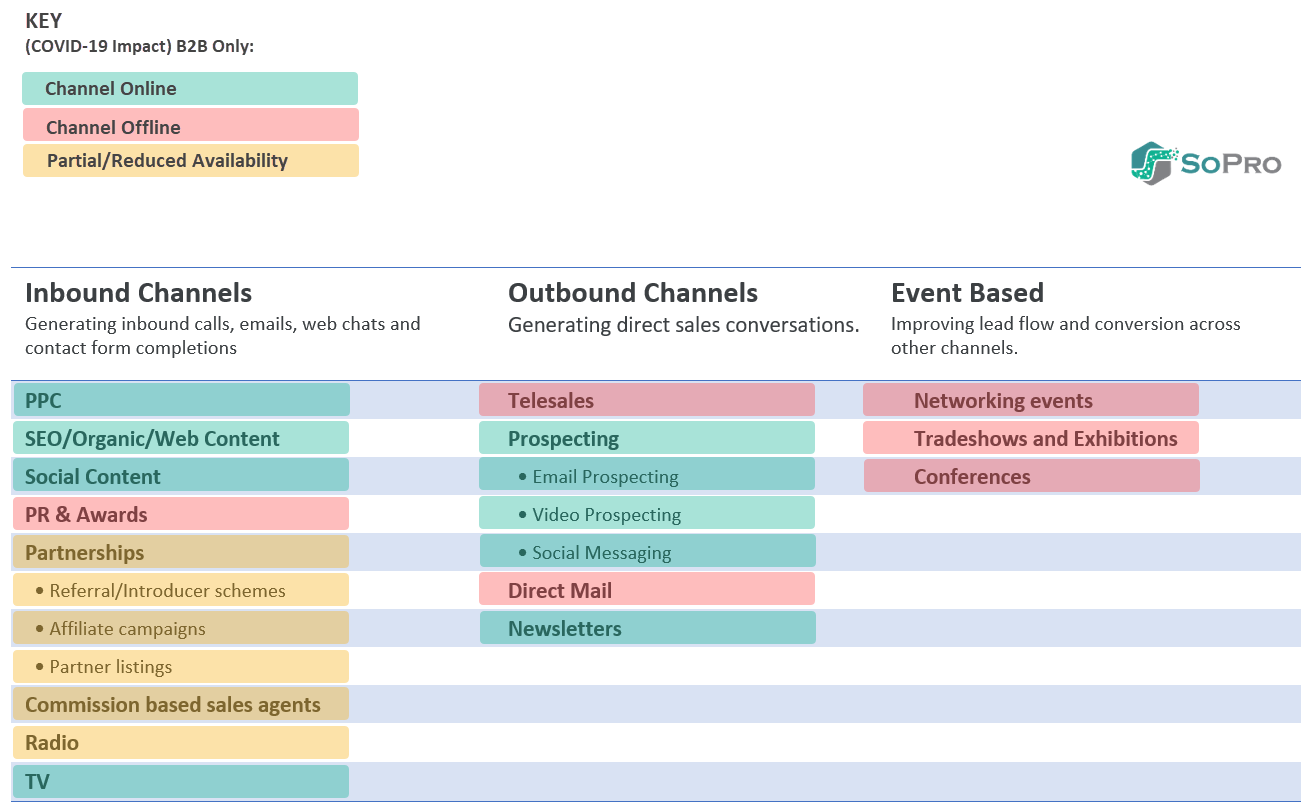 In summary
B2B Inbound: most channels remain online or partially online.
B2B outbound: 2/3 Lead generative channels are offline due to COVID-19 response measures. *We are considering Newsletters non lead generative.
B2B Events:  All channels offline.
So it is clear the lockdown measures will disproportionately impact those businesses relying on outbound sales channels.  Company size is the best indicator for that.
Here is a rough breakdown of Inbound/Outbound lead split, by company size.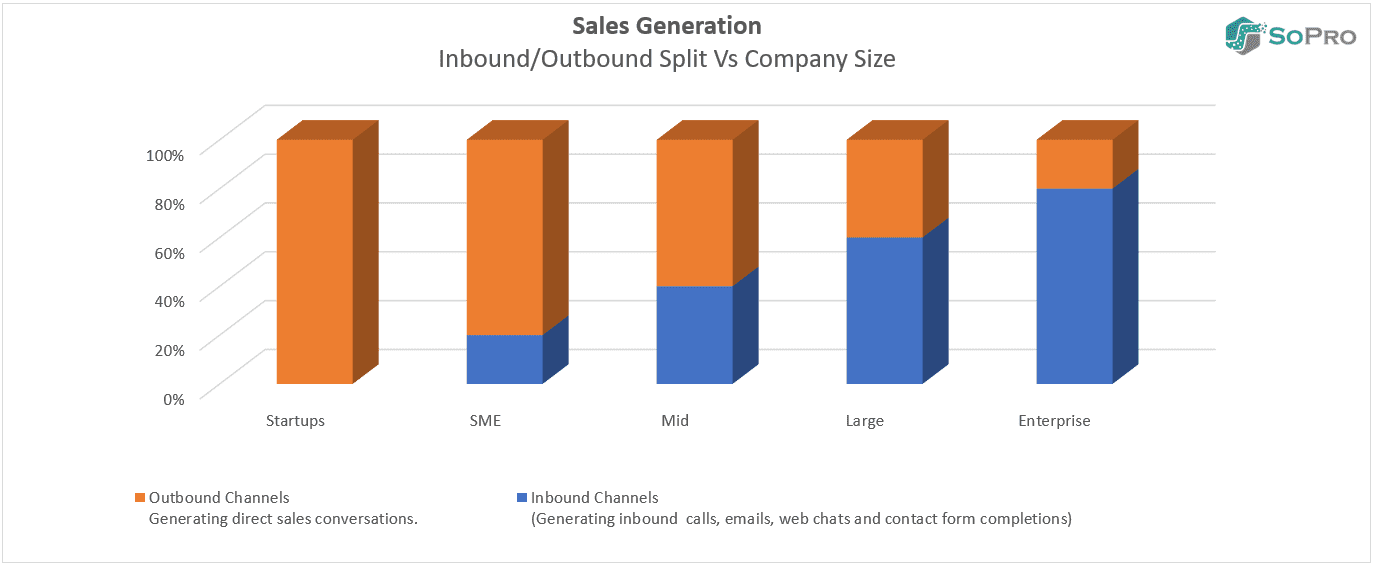 In essence,  larger companies tend to have stable inbound lead-flow due to brand status.  As a result, in percentage terms these companies are less affected by the reduced availability of outbound channels.
Smaller companies on the other hand have a huge reliance on direct outreach and have very few options right now.  In these scenarios it is important that direct prospecting is implemented as a priority.
Should you send a COVID-19 business communication to clients and community?
This was useful in March.
You missed the last boat in early April.
May – just no.
Should you set up a COVID-19 support centre on your site?
These are useful when executed well. Terrible when executed badly.  If you choose this option, be prepared to invest heavily in content.  SoPro has produced somewhere in the region of 75 COVID resource pages to date. Some of our partners have invested considerably more into the endeavour.
Double down on video, source and present unique stats, unseen insights and pertinent surveys.
Avoid lackluster opinion pieces, these are being overdone right now, it is difficult to cut through, due to volume.
Should you be adjusting PPC Ads to use pandemic safe language?
Definitely.  Businesses are experiencing improved CTR and post click conversion after adjusting Ad copy to better reflect revised customer profiles and priorities.  Avoid referencing COVID/Coronavirus in ad copy, instead focus on revising add copy to speak to the revised customer landscape.
As an example SoPro has seen increased PPC traffic across ad copy subsets specifically targeting smaller businesses, logic being that smaller businesses are likely to require sales support due to outbound channels being offline and minimal inbound traffic to compensate.
Should you be running a COVID offer?
Short answer:  Yes, if your product or service is part of the fix.
Selling multi-functional printers… enterprise vehicle management solutions… commercial window cleaning services… COVID discount codes are probably not a great idea right now.  A more sincere tone will go far further than crow-barring coronavirus into your pitch.
Selling accounting support, commercial financing solutions, help with employee mental health management, remote working solutions… then absolutely.  Lead with COVID, businesses absolutely do want to hear from you and presenting your proposition as part of the solution is not only sensible but very well received right now.
Is it okay to prospect now?
Yes.  SoPro support several hundred clients the vast majority are seeing great results.  When the lockdown commenced in March SoPro implemented revised messaging across all client campaign activity.  In many cases the adjustment involved a short pause.
Once the appropriate level of tact and sensitivity had been applied to all messaging, SoPro cross campaign performance was roughly as follows.
March:  Lead rates at 85%
April:  Lead rates at 88%
May: Lead rates at 94% (and rising)
June: Forecast Lead rates 120%
Are there different types of prospecting?
B2B Prospecting comes in a few shapes and sizes.  All three are fully functional right now.
Email Prospecting – Reliable as ever.  Scalable and cost effective.  Absolutely unaffected.
Social Prospecting – Be careful, LinkedIn inboxes are increasingly overwhelmed with offshore introductions.
Video Prospecting – We're exploring this now.  Results are looking promising.
Pandemic prospecting: Should you adjust targeting?
Yes. Adjust targeting to support sectors still able to avail your products/services.
Pandemic prospecting: Should you adjust the proposition?
Yes.  Adjust your proposition to directly meet new or revised demand scenarios.
Pandemic prospecting: Should messaging be adjusted?
Yes.  But probably not in the way you think.
Avoid over-doing the COVID care and support angle.  This is a sales communication after all.  We all understand that you care, yes your business cares too, you are sensitive to the current scenario and conditions, but your recipients are simply not interesting in receiving disingenuous well wishes and support messages from strangers.  Nothing torpedoes the integrity of your COVID support blurb faster than a bolt on sales pitch.  Sales messages are no place for humanitarian condolences.
Adjust your messaging to reflect the contextual relevance of your proposition within your recipient's COVID response strategy. That is the only thing on their mind right now.  Help them solve it.
Should you expect to pay more for leads during the pandemic?
This is an easy one.  Prices are generally up across most channels.  Prospecting remains low.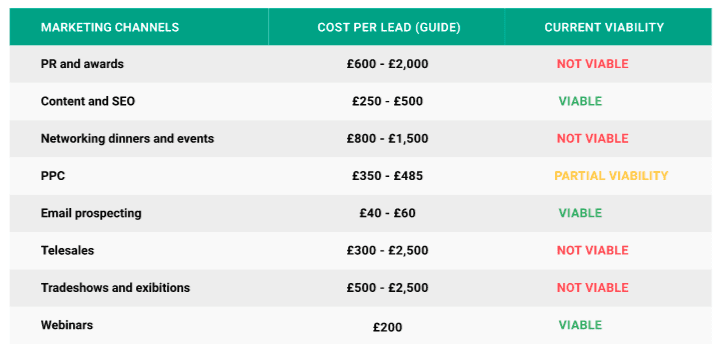 What type of content should you be promoting?
With a significant increase in the volume of content being published and promoted socially each day, it is harder than ever to cut through the noise.  To stand out now, businesses and brands must invest in high quality content, and lots of it.
Your social reach is a simple multiple of your reach, your post volume and your content quality. Now is the time to invest in all three.
Build Your Reach:  Invest in building your social audience (I.e. LinkedIn, Twitter, Facebook and Instagram page followers).
Invest in Quality Content:  Move away from entry level content where possible.  Social articles or quickfire opinion pieces. Insights, stats, studies, surveys and white papers are all being well received.  Video is by far the most popular content format right now with >10x the social engagement levels vs standard text content.  Still important to differentiate though. Professional shoots and animated video is one way to stand out from the current deluge of home-made video posts we are seeing.
Ice the updates.  Keep product launches and brand updates and other good news stories in the bank for now.  They will be lost in the noise if you push out at this stage.
Amp up the Volume:  Time to up the ante.  To stay visible, you will need to move to multiple posts per day.  This should be done by investing in more (and better) content, not by simply reposting the same content more frequently.
Should you be thinking about changes to your communications style?
Be briefer. Be more sincere, do your homework and be overtly relevant.
Respect people's time and value their attention.
And That's a Wrap.