Covid-19: your guide to recession-proof prospecting
Posted on: September 29, 2020
Reading Time: 6 minutes
Category: Business growth
`
Covid-19: Your guide to recession-proof prospecting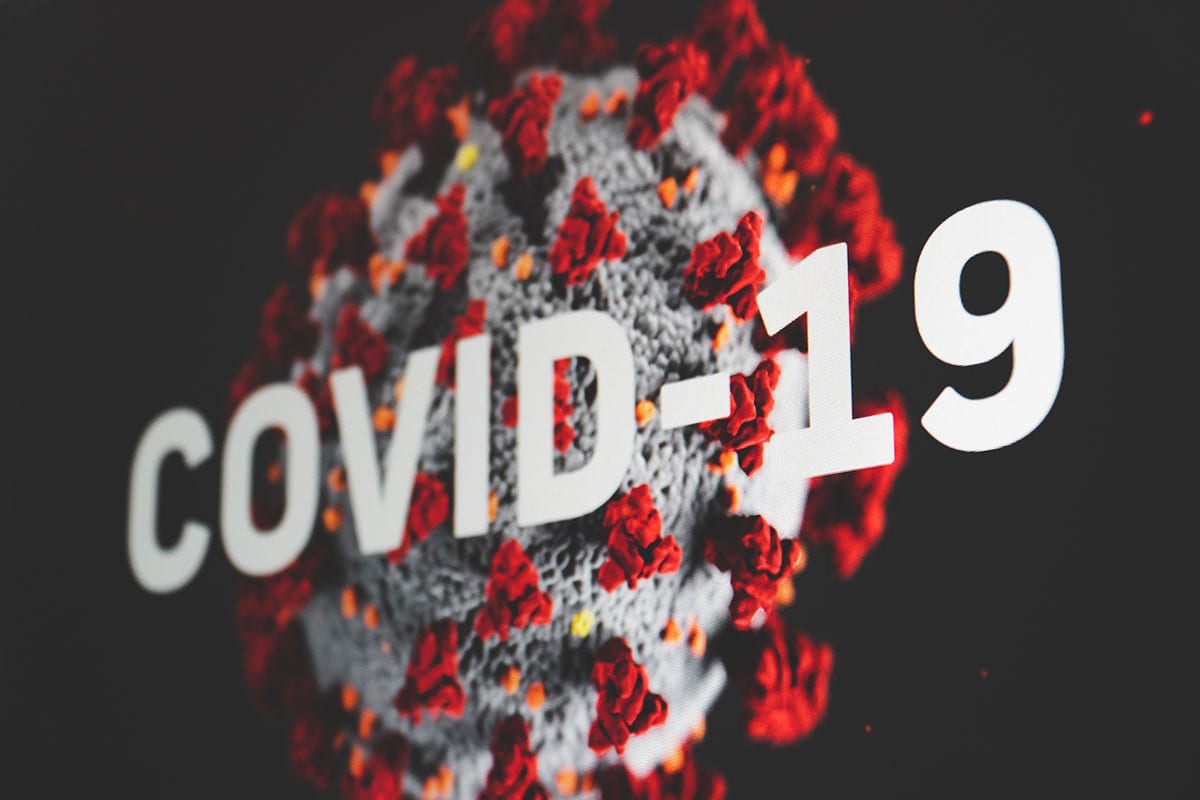 Six months after the UK's initial lockdown was announced, the government have made the decision to reverse the gradual easing of restrictions and introduce new measures.
With workers encouraged to avoid offices once more, the 'rule of six', and increased limits on events, businesses are understandably worried about what this means.
While the economic reality is undoubtedly harsh for many businesses, there are also many reasons for a level of optimism and a clear path through troubled times.
The first thing to note is society has got better at this than we initially were. Better treatment and increased survival rates means a repeat of total lockdown is unlikely. Supply chains have been strengthened, people and businesses have adjusted and reliance has been reduced on the industries less able to function.
Our unwavering capacity to adjust in real-time to a new reality is just as well: the indications are that we might be living under COVID for a long time. The UK government says these latest rules could be in place for six months. 
So if we can't just wait it out, how do businesses ensure they are surviving, and even thriving amidst the chaos?
The recession aggression lesson
Taking a look at different strategies of businesses during previous recessions provides stark evidence of the best strategy to adopt.
The lesson has three facets:
Advertising and marketing have long term impacts.
Inexperienced or nervous competitors will cut ad spend in challenging circumstances.
Share of voice and market share will increase as a result.
Following the 2008 recession, the biggest businesses saw the same dip that all companies saw. But these brands, with their strong brand equity and ability to maintain or increase spending, saw a recovery that far outstripped those brands that did not, or could not, spend. Over the following ten years, these brands saw a 317% increase in their share price. The global average was below 60%.
The 1981 recession provides another lesson. By 1985, the companies that maintained or increased advertising spend during the recession saw sales 256% higher than those that decreased spend.
The Great Depression of the 1930s is yet another example. A steady hand in that recession is responsible for us eating Kelloggs' delicious Crunchy Nut for breakfast, and not… well… whatever cereal Post used to produce.
While market leader Post cut their expenditure and advertising spend, Kelloggs went on the offensive and doubled its ad budget, even introducing a new product in Rice Krispies. In the middle of the worst recession ever seen, Kelloggs grew revenues by 30% and become the market leader, a position they still enjoy.
Sell more. Book a demo today.
How to approach prospecting in a recession
Even if continued or increased marketing is the way forward, realities have changed and sales approaches should too.
We've put together a whole host of research and resources, each with practical information on how to approach marketing and prospecting in the age of COVID and during the associated recession.
Supply and demand
First, we assembled a Think Tank of experts, who together compiled 2,100 unique market impact assessments.
This data helps gauge the effects of government measures taken to curb the spread of the coronavirus on your industry – and on those of your clients – so you can adjust where possible and necessary.
A positive piece of news also came out of this research:
As many as two-thirds (65%) of all industries will experience stable or increased demand.
The marketing mix
We've covered the viability of channels in the marketing mix, so you can consider which other activities could complement your prospecting.
Content, SEO, PPC, Website, Social Media and Prospecting were the only channels to come out of the assessment as viable channels. However, some have longer lead times (I'm looking at you, SEO) or take bigger teams to implement (webinars or content marketing), so are not likely to move the needle sufficiently for many. 
Prospecting can have a more immediate impact for all, and using a service like SoPro means you get experts grafting for you, whatever the size of your team, delivering sales opportunities today, tomorrow and next week, rather than this time next year.
Optimising prospecting
We've covered how you can tweak your prospecting to increase your success rate:
Adjust industry targeting
Look at our performance by industry report above and adjust targeting where possible.
Adjust target business profiles
Consider the strain certain smaller businesses are under and target larger companies where appropriate.  
In these larger companies, the C-suite is tied up with business continuity. Business as usual is sitting with empowered senior management. 
Modify your messaging on a 'per industry basis'
Think critically about the key issues target industries are facing. Be sensitive and respectful, and constantly review as conditions evolve.
Prospecting results continue to be strong
Using the research and techniques outlined above, our data demonstrates that prospecting is still generating great results, throughout the pandemic and the lockdown.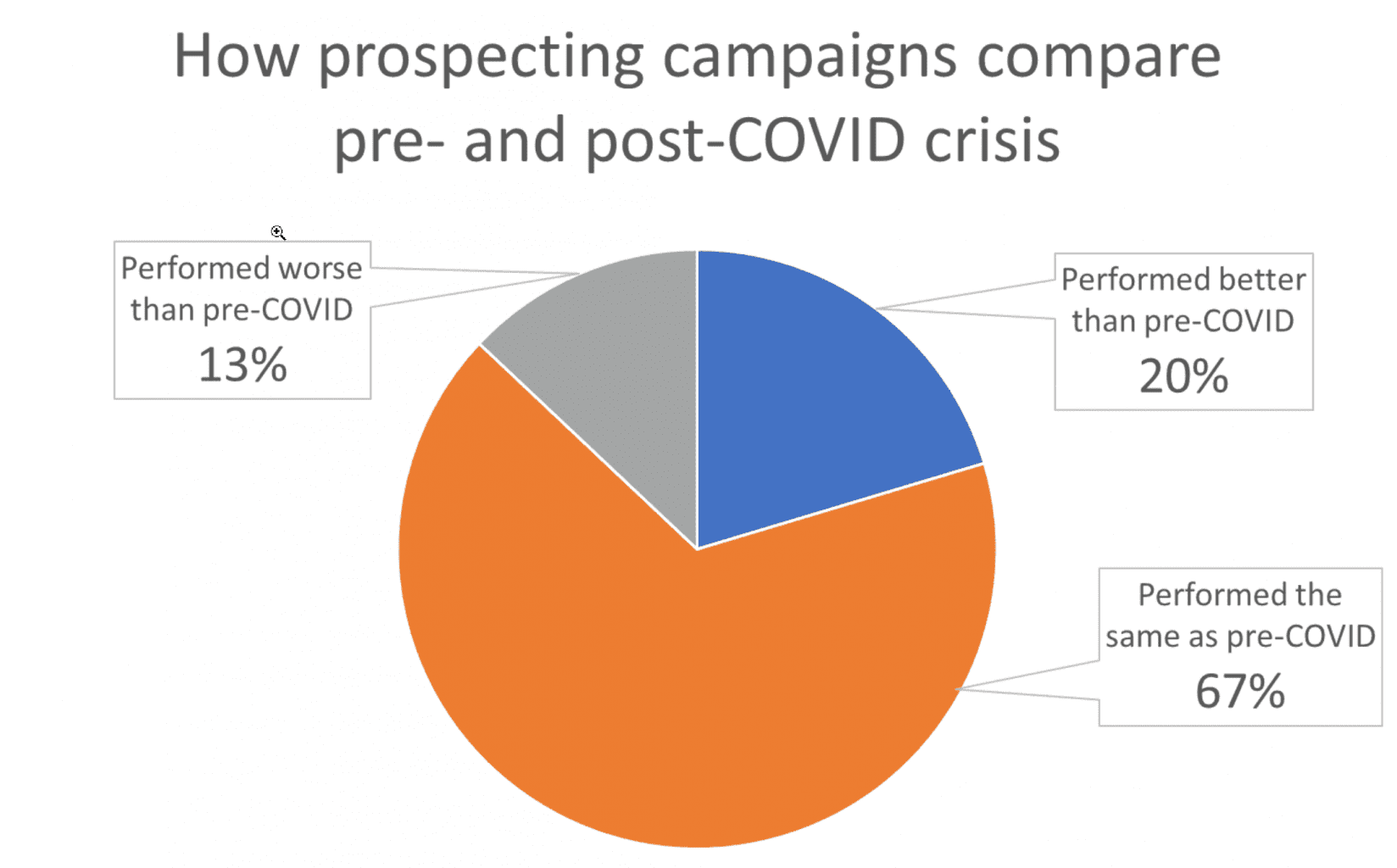 While it will be different for every industry and business, it is reassuring to see prospecting is still delivering leads into our client's sales pipelines.
The fear of marketing during COVID
While prospecting is a strong part of the marketing mix and is still delivering results, some may be nervous of potential damage to brand image. 
We've covered the potential objections to marketing at this time. While the adjustments to prospecting campaigns outlined above will reduce the chances of disgruntled prospects, some still fear responses like the below:
Do you really think this is top of my list right now?
Thanks but I have far more pressing issues with the COVID situation right now.
How can you possibly be asking if I need help with recruitment right now?  
A simple polite response can ensure that won't negatively affect your brand:
Please accept my apologies if I caught you at a bad time.  Totally understandable.  I'll put this on ice for 3 months.
Best,
Ryan
And you will still be marketing, driving vital revenue and increasing brand share while nervous competitors cut their spend. The risk of pausing marketing and sales activity is far greater than the risk of an upset prospect.
If you are not sure if prospecting is right for your business at this time, chat with my team and we'll share some success stories so you can avoid any minimal risks and reliably shore up the pipeline.
It's time to turn this uncertainty into an opportunity.