The urgency of business as usual
The urgency of business as usual

Today, the leaders of the business world share a collective responsibility to keep our economic engine running.
If we fail to keep our industries alive, those industries will not be there to support us when we need them next.
As of today, worst case scenarios predict a 20% concurrent sickness rate, together with restrictions on international travel, non-essential domestic movement, crowd limitations and supply chain difficulties.  The effects of these measures will be felt by all industries, in all countries.
In some cases, we have witnessed demand for goods or services disappear overnight.  We have seen the Travel and Events industries face sudden and devastating cessations in demand, and we have seen the knock-on impact quickly affect our Hospitality and Catering industries among other connected verticals.
It is bad.
But it is not all bad.
The challenges facing some of our most beloved industries are not facing all industries.
In many cases, demand has increased significantly.  Medical suppliers, information services, financial services, insurance, accounting, risk management, logistics, cleaning service providers, communications vendors, to name a few, are currently swamped in demand. There are many more.
This situation is not going away soon.  It may be many months before normality returns, maybe years.  For that reason we have a duty to adjust our businesses now, to reposition for the best possible chances of success now.
It is the time for decisive action, not defensive indecision.
I cannot emphasise strongly enough how critical it is to the future of our economy, that wherever possible, we take a business as usual approach to all aspects of our COVID-19 business continuity and strategic planning.
As scary as it sounds that means:
Hiring as planned
Marketing as planned
Keeping to contractual commitments
Investing in the same systems and infrastructure that we were reviewing last month before the nerves kicked in
Sell more. Book a demo today.
We will say goodbye to many wonderful businesses this year, the list is heart-breaking already, and it is accelerating.
For business owners wondering how they can help, right now you can make a difference, simply by operating as normal.
We must keep our economic engine running.
Now is not the time for caution.  Now is not the time for cutting budgets and retracing until things blow over.  Now is the time for bravery, leadership and integrity.  Entrepreneurial grit, determination and resolve.
This is where we earn our stripes.
SoPro understands that bunkering down to weather this storm is not an option, it will have direct consequences on the very businesses we rely on for the incredible products and services that power our business.
We also understand that we need our partners and suppliers as much as they need us.
To demonstrate our commitment to this cause, today I have added a Business as Usual badge to the SoPro website.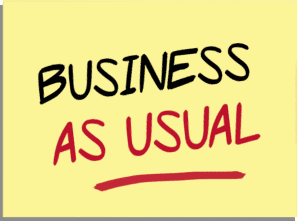 Nothing special.  Not branded.  It just took three minutes to make.
It's a free badge.  A pledge actually.  A statement of intent.  It tells the world that while it sits on our home page
All suppliers will be paid on time.
All new hires will join on time, as planned.
All product and service contracts will be honoured in full.
All client performance SLAs will be met without exception.
I urge you to wear it with pride if you can.  Now is most definitely the time.
Best,
Ryan