Sopro portal offers you real-time performance visibility and crm integration
Sopro portal offers you real-time performance visibility and CRM integration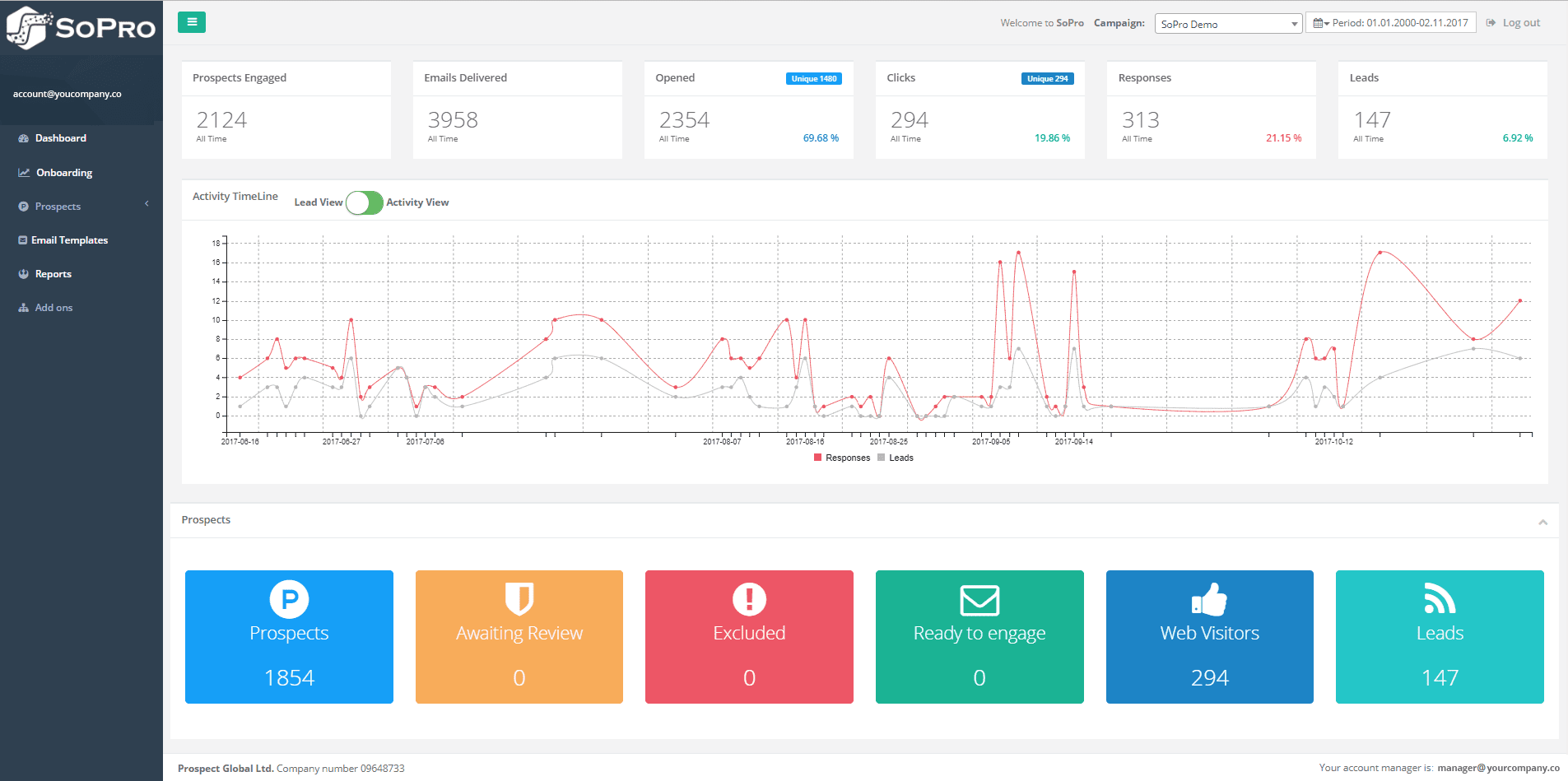 Myself and the Sopro dev team are proud to welcome the latest addition to the Sopro prospecting platform, Sopro Portal.
You now have instant access to every aspect of your campaign as it progresses. Also, you can plug your prospect data directly into your HubSpot, Pipedrive or Salesforce CRM account.
With 24/7 visibility of your campaign activity, you have never had greater visibility or control over your campaign performance and data.
Prospecting campaign data at your fingertips
Real-time reporting
View campaign performance and headline stats.
See exactly which prospects have been engaged.
Access a timeline detailing ongoing communication with each prospect.
Get 'at a glance' summaries of positive responders and other lead types.
Review campaign performance by market segment.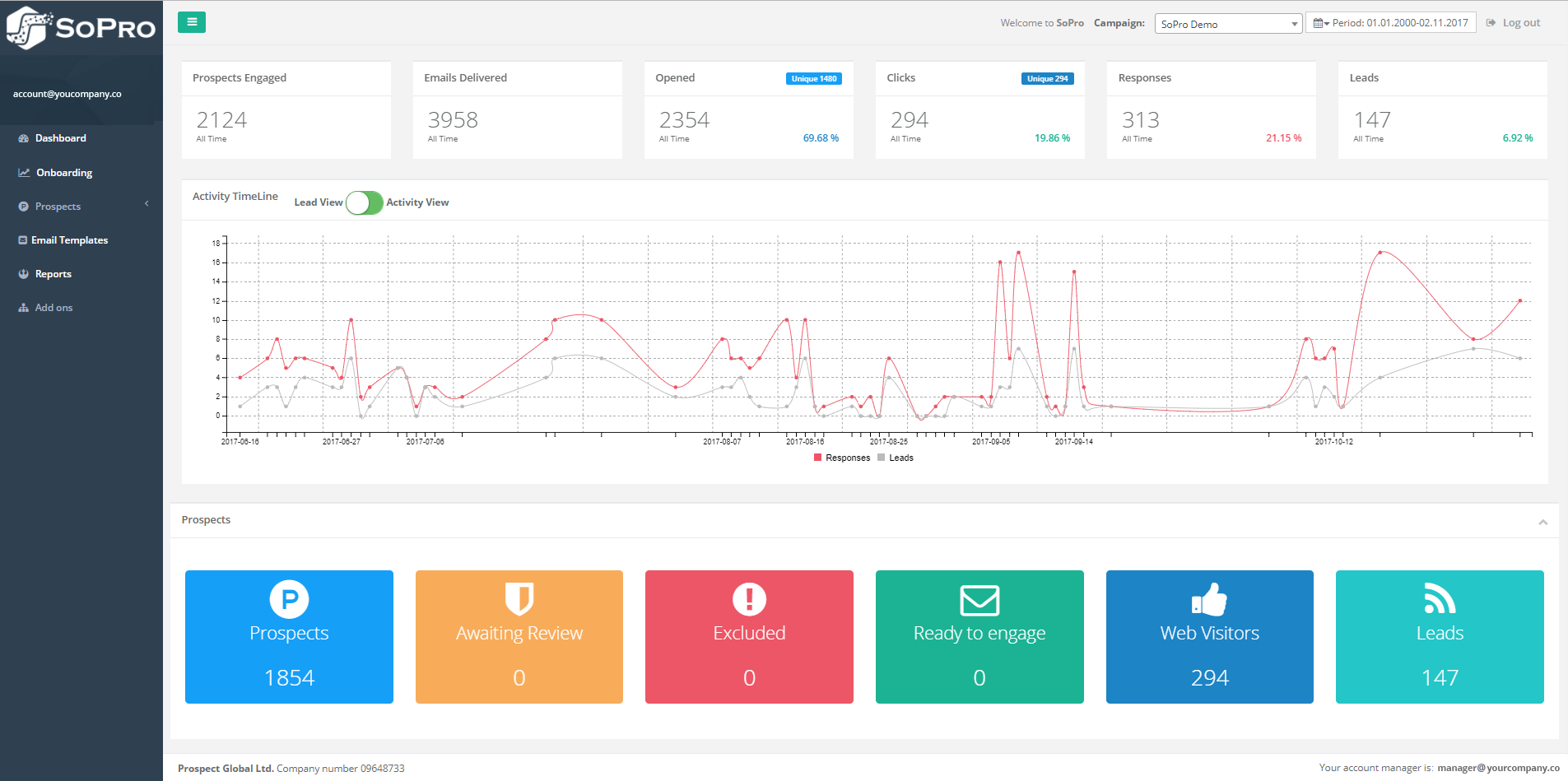 Add prospects directly into your sales funnel
Integrations with HubSpot, Pipedrive and Salesforce allow you to:
Automatically inject prospect details directly into your own CRM.
Spend time converting leads rather than entering data.

Let's take a look at a typical campaign to see exactly how the benefits of the web portal translate into higher visibility and easier prospect management.
Prospect identification and research
We work closely with you to identify your target prospect profile, excluding known contacts, locations, sectors, job roles, business sizes and more.
Next, we combine leading social networking tools with real-time professional databases and our panel of integrated third-party data services to produce a list of active prospects matching your exact criteria.  We then source the contact details for each prospect, making a fully contactable list of the right individuals in the right businesses.
This is uploaded to our portal for your review – making the process of making any last-minute exclusions quick and easy to manage.
This prospect list can be integrated with your CRM, adding all prospects directly into your sales funnel – simplifying the tracking of leads as they develop into customers.
You are free to review and manually suppress any prospects prior to engagement if needed.
Engagement
Our prospecting team then contact 50 prospects per day, engaging each with a personalised intro, inviting them to discuss your product or service over a brief call or meeting.
There's no need to wait for a weekly report of how things are going – you can see every detail of the campaign in real-time whenever you need to.
Communication timelines for each prospect let you track any follow-ups or positive responses made.
It's simple to get an instant feel for the success of a campaign from very early days – and we are always happy to make tweaks and changes to any aspect.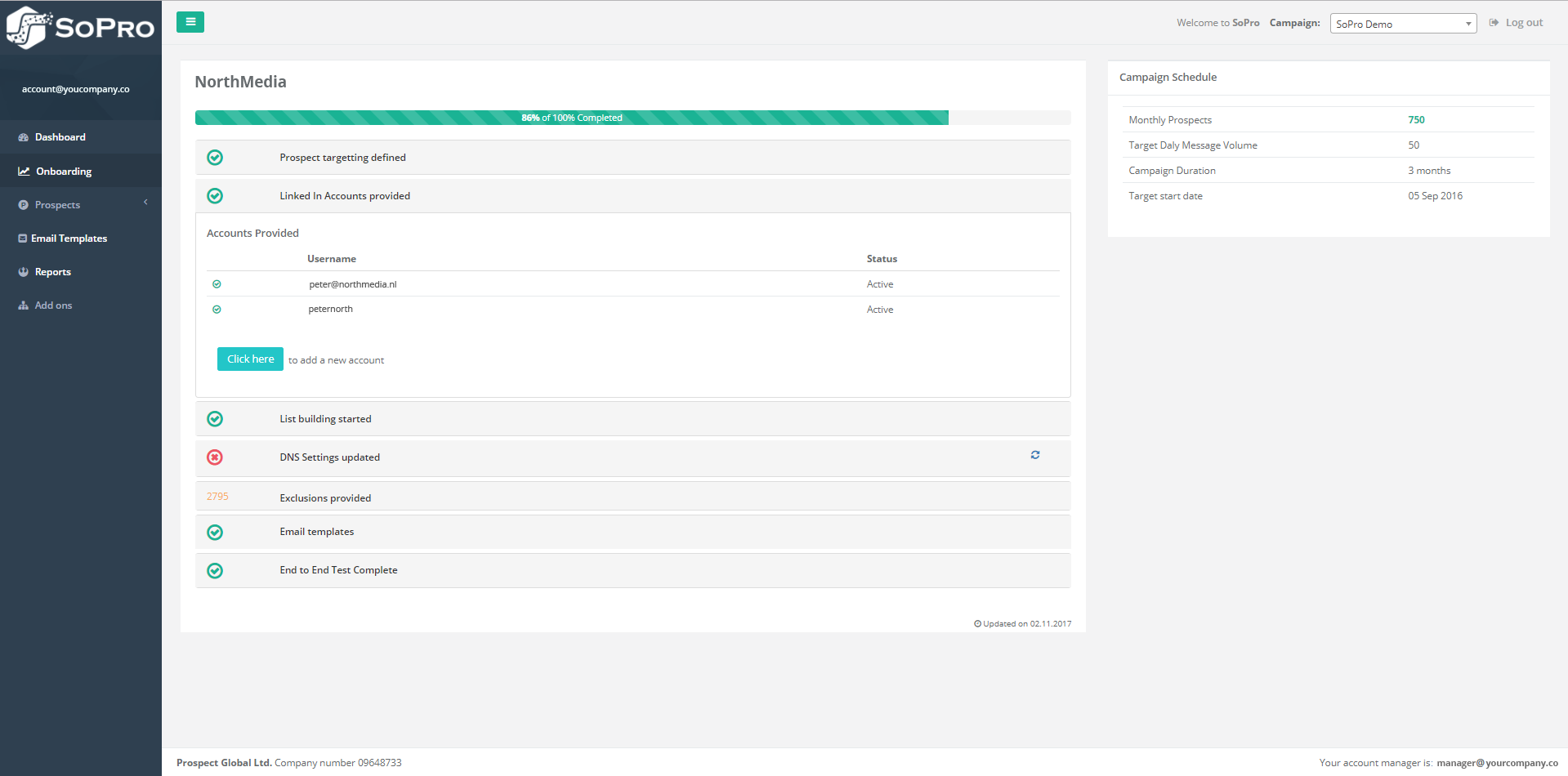 Over to you
As you can imagine, engaging with 50 qualified prospects per day is enough to keep any salesperson busy. And it is important that you deal with the interested responses, meetings and calls, managing them through your pipeline as you normally would.
In that regard, we are really just a very high quality, very reliable mechanic to market.  You are the experts in what you do.
They're in your sales pipeline now – it's over to you!