New LinkedIn changes – Jan 2017
It's a new day, it's a new dawn, it's a new year… and you're feeeeeling good.
The product team at LinkedIn have busy already.  Over the next few weeks, if you haven't yet had the pleasure, you will receive a notification from LinkedIn advising of changes to the various features and functionality available within the free and premium account packages.
LinkedIn dons a shiny new set of pants and shapeshifts unceremoniously into 2017 as the bastion of prospects yet to be…
Despite the usual, immutable and hilarious human resistance to change, in actual fact there is no need to panic. Aside from some basic colour and layout improvements, the platform functionality remains broadly similar for professional users. The only non-cosmetic changes relate to the location and accessibility of certain search functionality.
Free and Business Plus users are affected far more significantly by these changes. Top Tier users are relatively untouched.
Here is a summary of notable changes:
Home page
Revised layout
Much simpler menu
Circular profile pics (high res)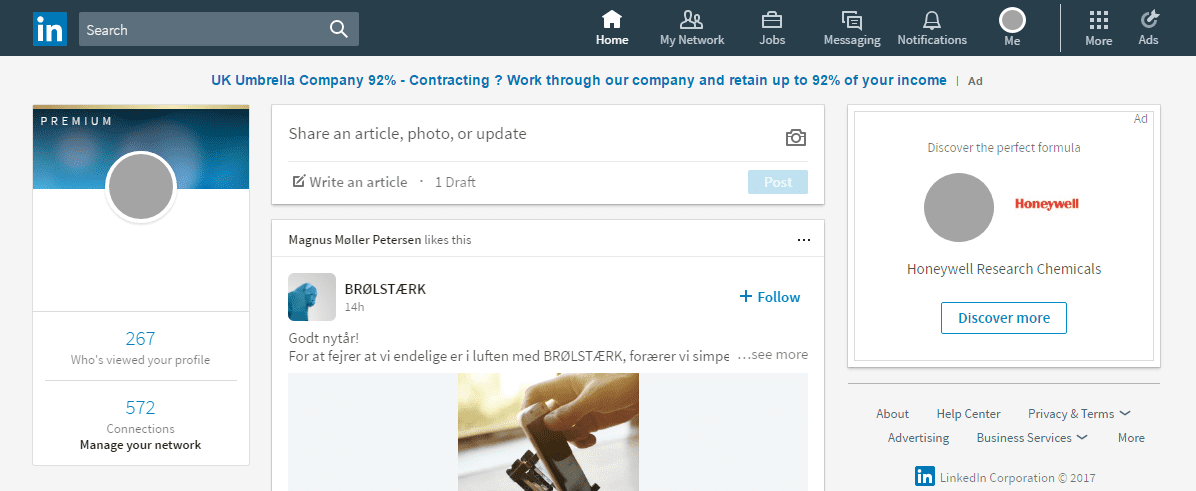 Search Functionality – Free Tier
Search filters and tools are reduced considerably.
Advanced search panel no longer exists.
No longer able to filter by keyword, name, location title or seniority.
Saved searches are no longer available.
Boolean search still works in both the free and Business Plus tiers. However we are hearing rumours of differing results before and after the switch (awaiting confirmation of this being an improvement or not).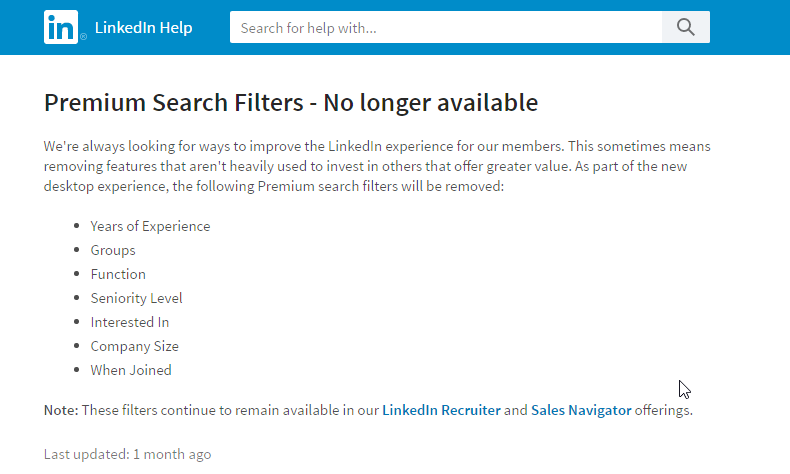 Search Functionality – Business Plus Tier
Search filters and functions are also reduced in the Business Plus Tier.
Advanced search panel no longer exists.
Saved Searches no longer available.
No longer able to filter by keyword, name, company size, location, seniority or job title.
Clear path to Sales Navigator or Recruiter offered as a means to access the "additional 10 filters".
As a result of these changes we no longer see the Business Plus tier as an effective tool for searching the market for either sales prospecting or recruitment purposes.
We anticipate LinkedIn are planning to phase out the Business Plus account type in favour of the Sales Navigator and Recruiter packages.
We advise Business Plus users to upgrade while the 3 month Sales Navigator trial is available.
Search Functionality – Sales Navigator Tier
All search filters and tools are available.
No notable improvements.
It's a great toolkit and worth the upgrade from the Business Plus tier which has been rendered more or less redundant by these changes.
LinkedIn is currently offering three months of free access to Sales Navigator to business plus users.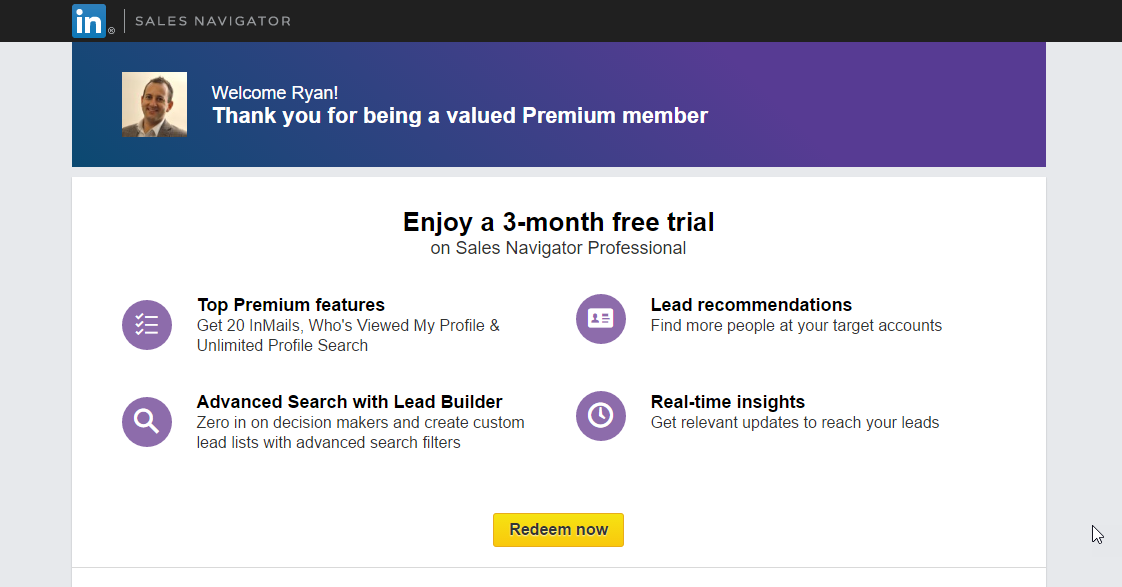 Search Functionality – Recruiter Tier
All search tools and filters are available.
No notable improvements.
Again, this tier offers a great toolkit and is worth the upgrade if not already using. We assume recruiters will already be using the recruiter tier and will not be affected by this change.
In Summary
There is no additional functionality of note. Upgrades seem largely cosmetic.
The search restrictions are commercially focused. Lots of heavily used search tools are removed from the lower and free package tiers, remaining only in the Sales Navigator and Recruiter premium tiers.
This will have the obvious effect of migrating most search dependent Business Plus users to the more expensive Sales Navigator and Recruiter packages.
A logical move and a likely indicator of Microsoft's forthcoming plans to work the commercial socks off it's latest ($26b) acquisition.
We do not believe many Free users are particularly reliant on LinkedIn search, we therefore expect most free users will continue to use LinkedIn as a professional web based resume, networking and job seeking tool.
Verdict
Probably a good thing.  Business Plus users can't argue too much with paying a bit more for the best professional search tool on the planet. Suck it up soldier.